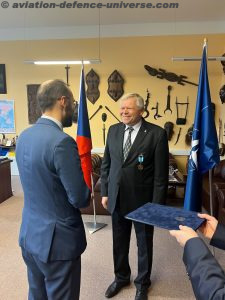 Prague. 06 December 2022. Jaromír Lang, Chief designer of the new Czech L-39NG jet aircraft, received the Commemorative Medal of Army General Karel Janoušek. The award was given as an expression of appreciation for the significant development of Czech Air Force.
The Deputy Minister for Industrial Cooperation, Tomáš Kopečný presented the Medal at the proposal of Col. Lubomír Sitta, Director of the Military Aviation Authority of the Ministry of Defence of the Czech Republic. During the ceremony, Jaromír Lang said: "This award is a great honour for me, and I appreciate it very much. I believe that my work and the work of the entire AERO Vodochody team contributes to the development of Czech aviation and strengthening its reputation in the world."
Lang has worked at Aero for more than 36 years. Since the beginning of his career, he has been involved in the development of aircraft and aircraft components. He has contributed to several innovative approaches to jet aircraft design. Jaromír Lang comes from the Czech design school. He is a successor of the engineering legend Jan Vlček, who was behind the development of the L-39 Albatros aircraft, which is still flying today and is known all over the world. Mr. Jaromír Lang is a respected personality in the world of aviation. He has made a significant contribution to military aviation in the Czech Republic and worldwide. The L-39NG which he designed predestines this state-of-the-art jet for worldwide success.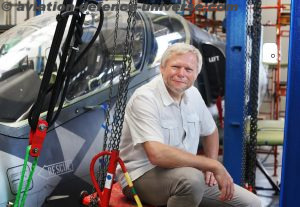 "What the Rublič, Tomáš and Vlček were for L-29 Delfín and L-39 Albatros, Jaromír Lang is for L-39NG. He has devoted 10 years of his life to the development of this aircraft, and I am happy that because of his hard work, considerable effort, and determination in difficult times, when Aero was teetering on the edge of survival, it was possible to bring the aircraft from sketch to production. If it wasn't for Jaromir and his colleagues, the dream of producing a brand-new Aero aircraft would never have become a reality. Without these dreams, L-39NG would not fly and maybe even the entire company would not be here. Thank you, Jaromír," adds Viktor Sotona, President and CEO of Aero Vodochody.
Jaromír Lang is the Chief designer of the L-39NG aircraft at Aero Vodochody. The new jet is the leading aircraft of the Czech aviation industry and the only complex aircraft system produced in the Czech Republic today. Mr. Lang is behind the creation of this aircraft from its design through development to successful production and certification, which the L-39NG received this July. The whole project started 8 years ago and was finalized this year when Aero started producing the aircraft.