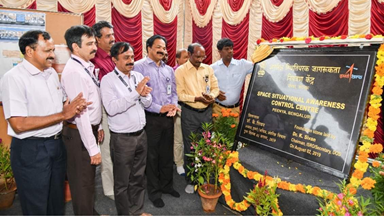 Bengaluru. 03 August 2019. ISRO Chief, K Sivan laid the foundation stone forSpace Situational Awareness Control Centre at Peenya, Bengaluru. It is an important milestone in the growth of ISRO, the control centre will boost activities forecast   for  Space Situational Awareness and Management which has now considered a globally essential area because of the ever-growing man created space detritus figure and the multiple collision threat with functional satellites and space vehicles.
This step will secure India's expensive and strategically important satellites and future spacecraft from space detritus such as dead satellite remains, parts of orbiting bodies, near-earth asteroids and extreme weather situations.
The control centre would assimilate the tracking data of dead satellites from indigenous observation facilities produce important data from bare observations by inspection, it also permits research activities to find solutions for space debris, space debris modelling and reduction.