India gives terse message to China through its visiting Foreign Minister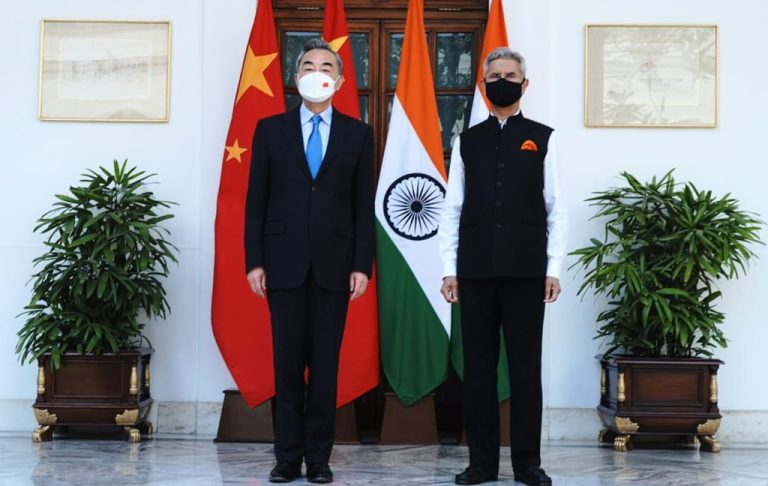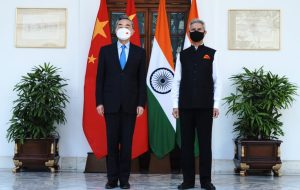 By Sangeeta Saxena
New Delhi. 28 March 2022. When the world was looking towards Kiev and the cynosure of all eyes was Russia-Ukraine conflict, India had a surprise visitor, one who attracted eyeballs in the region and made India cautious. And this unannounced but not unknown visitor was Chinese Foreign Minister Wang Yi, who came to India at 7.45 p.m. on 24th March from Afghanistan on an unannounced visit and left the country around 3 pm next day.
India was naturally cautious but evidently annoyed over his statement on Kashmir in Pakistan , prior coming to India. Indian External Affairs Minister S. Jaishankar showed India's displeasure on Wang's statement in OIC meeting on Kashmir and mentioned that China should have "an independent policy in respect of India, and not allow its policies to be influenced by other countries and other relationships."
India adopted a tough posture and gave a terse message to the visiting Minister, who also holds the rank of State Councillor. He wanted to meet Prime Minister Modi but the government politely turned down the request, mentioning that the prime minister is scheduled to visit Lucknow to attend the swearing in ceremony of Chief Minister of U.P. Yogi Aditya Nath. It was quite a stringent rebuff to Wang Yi who also visited Pakistan in this visit. In Islamabad he attended the OIC Conference and stated that "On Kashmir, we have heard again today the calls of many of our Islamic friends. And China shares the same hope" The Ministry of External Affairs spokesman Arindam Bagchi stated that Kashmir is an internal matter of India and "Other countries including China have no locus standi to comment. They should note that India refrains from public judgement of their internal issues."
Wang Yi met National Security Advisor Ajit Doval, for an hour, on 25 March, however Doval made it clear that the restoration of peace in the border areas is essential to develop mutual trust. NSA mentioned that there should be complete troops withdrawal from the conflict areas in eastern Ladakh and the obstacles in path of negotiations should be removed. Doval also stressed that the present tense situation in eastern Ladakh is not good for both the countries. NSA emphasised the need of diplomatic and military communications between both the countries as it is essential for establishment of peace and tranquillity. Doval insisted that the outstanding issues should be resolved at an early date.
The visiting Foreign minister invited Doval to visit China. The NSA answered positively but mentioned that the visit would be good if it is made after solving immediate issues. Both Doval and Wang are the special representatives for the boundary negotiations between India and China and they had long telephonic discussions on the border issues in 2020.
In May 2020 Chinese forces intruded in Indian territory and violent clashes occurred at Galwan river valley in which 20 Indian soldiers including a Colonel were martyred. Although Chinese had not disclosed the right figures but according to media about 40 Chinese soldiers were also killed in this battle. The senior military officers of India and China had 15 rounds of talks to settle the disputes but matter could not be resolved so far. At present both sides have stationed large number of troops and are developing the infrastructure at the borders.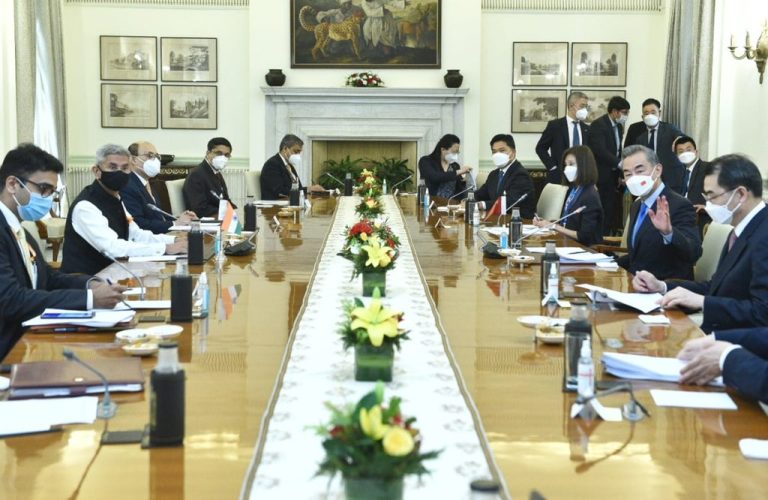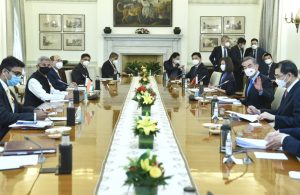 Although Wang Yi talked about the friendship between both the countries but did not invite India to attend a meeting on Afghanistan scheduled to be held in Beijing later in March. The visiting Chinese dignitary had about three hours meeting with External Affairs Minister Jaishankar. Both the ministers discussed several issues including Afghanistan, Ukraine etc. The issues pertaining to education, travel, and trade were also discussed. In the meeting Indian foreign minister made it clear that the relations between both the countries became "disturbed as a result of Chinese actions since April 2020." Jaishankar also pointed out that the relations between both the countries are not normal and the deployment of such large number of forces of both the countries at the borders is also not normal not to forget that China is also in contravention of agreements. Hence there is a need of restoration of normalcy in the border areas.
The meeting also discussed "disengagement and de-escalation." Jaishankar said, "the impact of the tensions in the border areas on the overall relationship has been visible in the last two years. I was very honest in my discussions with the Chinese Foreign Minister, especially in conveying our national sentiments on this issue. The frictions and tensions that arise from China's deployments since April 2020 cannot be reconciled with a normal relationship between two neighbours. Foreign Minister Wang Yi spoke about China's desire for a return to normalcy, while also referring to the larger significance of our ties. I was equally forthcoming that India wants a stable and predictable relationship. But restoration of normalcy will obviously require a restoration of peace and tranquillity. If we are both committed to improving our ties, then this commitment must find full expression in ongoing disengagement talks."
Beijing is keen to host Prime Minister Modi at the forthcoming BRICS summit in China later this year and it was an important reason that Wang Yi visited India and wanted to have cordial and normal relations. The Chinese state-controlled news agency Xinhua reported that in course of his meetings with Doval and Jaishankar Wang "proposed a three-point approach to achieving that end. First, both sides should view bilateral relations with a long-term vision. Second, they should see each other's development with a win-win mentality. Third, both countries should take part in the multilateral process with a cooperative posture".
The visiting foreign minister also mentioned that China and India are not threat to each other but both offer opportunity for the development. He also stated that the differences should be dealt at a proper position and bilateral ties should continue strengthening. He also remarked that China welcomes India's development and supports India's vital role in world affairs as China does not want "unipolar Asia". He emphasized that if China and India speak together the whole world would listen it. Easier said than done. China can feign amnesia and forget its behaviour vis-à-vis India in the past both remote and recent. But India has burnt its fingers and has lessons to learn from China's preposterous behaviour in the past.
Wang in his whirlwind tour visited several countries including Pakistan, Afghanistan, India, and Nepal but announcement for India's visit came quite late although the visit was not impromptu. China was of the view that India slowly but steadily moving towards U.S. camp with malafide intention of suppressing China, hence Beijing adopted a stringent posture on Indo-China border conflict. Nevertheless, in the current Russian Ukraine war India took a balanced view and not supported U.S. Hence Wang visited India to assess Indian position.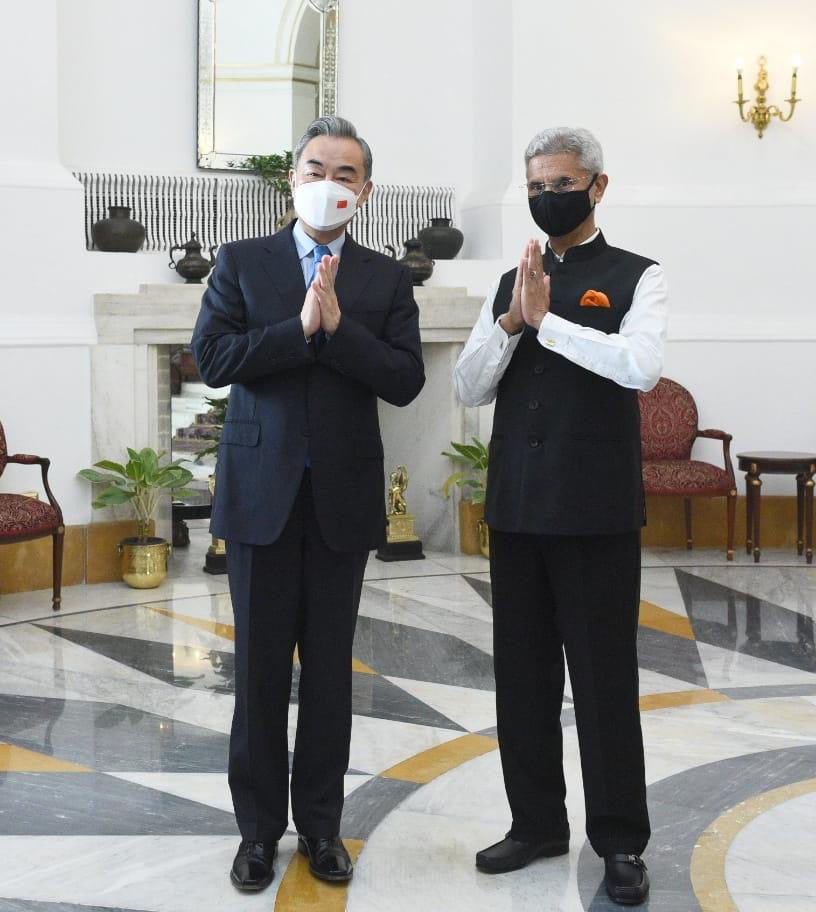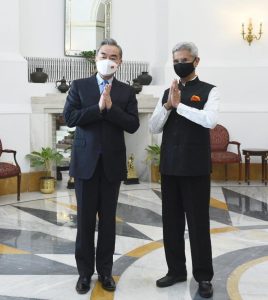 Wang spoke about Kashmir in OIC meeting on behest of Imran Khan just to divert attention of Muslim countries about the pitiable plight of Uighur Muslims. In future China may soften its attitude on India-China border issues due to international pressure and hardened attitude of India. But China is an expansionist and an untrustworthy country hence India must remain prepared for some eventuality and should continue making its defence preparedness.
It appears that the present visit of Chinese Foreign Minister was unable to make any specific breakthrough and India made it clear that the relations cannot be normal unless there is disengagement at the borders. China's desire that it continue capturing Indian territory and also utilise India as a big market is not acceptable to Delhi. India should strengthen its 'Make in India' campaign so that import from China can be curbed.