East & South China Seas dominate Biden-Suga talks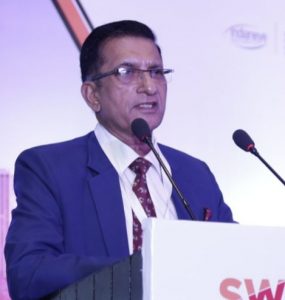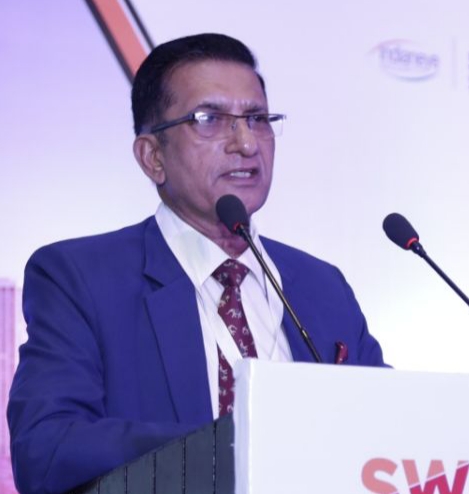 By Jai Kumar Verma
New Delhi. 26 April 2021. All geo-political eyes were on Washington when Japanese Prime Minister Yoshihide Suga met United States President Joe Biden recently. Both the leaders are new to their hot seats and are still settling down. And the Japanese PM's first overseas visit to US reiterated that the two geo-political allies are friends indeed.
This summit amidst corona times focussed on expansionist China who is not only threatening Taiwan but attacked India and shows its strength in South China Sea as well as East China sea. The meeting was also Biden's first in-person meeting with a foreign leader after taking over as the president of U.S. in January 2021.
Both the leaders held a joint press conference in the Rose Garden of White House in which Biden stresses on the U.S. promises about the defence of Japan and made it clear that the U.S. is Japan's treaty ally, and they would "prove that democracies can still commit and win." The bonhomie was visible between the two leaders.
Suga informed that both of them also talked about "China's influence over the peace and prosperity of the Indo-Pacific, and the world at large". Suga further mentioned that "We agreed to oppose any attempts to change the status quo by force or coercion in the East and South China Seas and intimidation of others in the region." Japanese Prime Minister also commented that "we agreed on the necessity for each of us to engage in frank dialogue with China, and in so doing, to pursue stability of international relations, while upholding universal values."
Japan is in difficult situation about its relations with U.S. and China. U.S. guarantees the security of Japan while its economy depends largely on China. U.S. and Japan had signed the Treaty of Mutual Cooperation and Security in 1951 at San Francisco, which was amended in 1960 in Washington DC which states that in case of any attack on either Japan or on U.S. forces in Japan, both countries together will face the danger and combat the enemy. The treaty also provides that U.S. can maintain military bases in Japan however Americans should not interfere in the domestic politics of the country. Although the treaty was for 10 years but there was a provision that it will continue unless one party gives one year notice for the dissolution of the treaty, which is still continuing.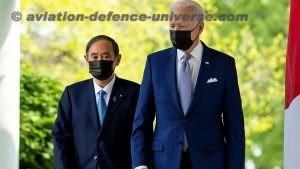 On the other hand, Japan is China's third biggest trading partner, and the current trade is about $317 billion. China which is Japan's biggest export market accounts for more than 20 percent of Japan's total trade. Japan's investment in China is more than $ 124 billion at the end of 2018. In 2018 about 8.4. million Chinese visited Japan and spent about $13 billion. At present about 800 thousand Chinese students are studying in Japan. Few months ago Chinese President Xi Jinping and Japanese Prime Minister in an bilateral talk had agreed to increase the economic cooperation to minimise the ill effect of pandemic.
Prime Minister Suga mentioned in the joint communique with President Biden about peace and stability in Taiwan and it also urged to solve the dispute amicably. It is the first time after 1969 when Japanese Prime Minister mentioned Taiwan with United States in a joint communique. In 1969 Richard Nixon and Eisaku Sato had mentioned Taiwan in the joint statement. Suga also mentioned that he and President Biden talked about their lives and careers. He contended that "I think we were able to establish a good relationship of trust."
It appears that Biden administration feels that China is progressing very fast and soon it will challenge the lone super power status of the U.S. hence China needs to be managed carefully. U.S. is withdrawing the troops from Afghanistan so that more attention can be given to East Asia.
Chinese State Councillor and Foreign Minister Wang Yi had a 90-minute-long telephonic conversation with his Japanese counterpart before Japanese Prime Minister's visit to U.S.A. Wang Yi gave a strong message and a 'timely reminder' that Japan should not gang up with "certain superpower" against China. Wang told that China has done its best to maintain bilateral ties and now Tokyo being an independent country should not be carried away by any country which is biased towards China. Wang also stated that Tokyo should not interfere in the matters related to Hongkong and Xinjiang which are internal matters of China.
According to Global Times Wang Jian an expert with the Chinese Academy of Social Sciences mentioned that the phone call was a clear warning that Japan should not conspire with U.S. against China. U.S. does not want cordial relations between Japan and China. Beijing also threatened that China-Japan ties will go down sharply if Japan is involved in the Taiwan question. China also warned that Japan besides U.S. is also building up military ties with other countries. A British aircraft carrier would take part in joint exercise with the U.S. and Japan this year. Japan and Germany's foreign and defence ministers would hold two plus two dialogue on line in April.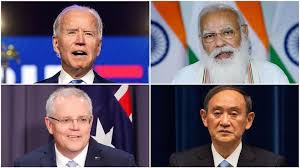 The Quadrilateral Security Dialogue (QSD), which is known as the Quad has four members including Japan, U.S., India, and Australia. Quad was constituted on the initiative of Japan and the alliance is to defend against the expansionist designs of China. President Xi Jinping has made wide-spread territorial claims and also deployed ships and frigates in South and East China seas. According to Taiwanese Defence Ministry 25 Chinese war planes intruded into Taiwan's air defence identification zone on 12 April which is a major breach in Taiwan's airspace.
In view of Chinese aggressive posture Suga was eager to meet Biden and the one-to-one meeting was fixed despite COVID 19 pandemic. In the joint statement besides Taiwan, they also expressed concern about human right violations in Hong Kong and about persecution of Muslim minority groups especially Uighur Muslims residing in Xinjiang Autonomous Region in Northwest China. Although Suga tried to be cautious not to hurt China but he was more outspoken in comparison to his predecessors. Besides the historical differences between Japan and China there are disputes pertaining to Japan controlled Senkaku Islands on which China stakes claim. Taiwan is also an issue of difference, Japanese- American security treaty, Japanese chemical weapons discarded in China and issue of war reparations are also bone of contention between Japan and China. Japan is also concerned as China has developed military installations on disputed territories in the South China Sea.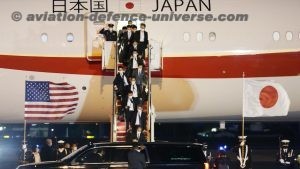 U.S. ships are regularly patrolling in the area although China claims the area as its territory. Biden has approached U.S. allies so that a joint front can be made against China. Suga also planned to visit India and Philippines in late April and early May but the visits had to be postponed due to spread of coronavirus pandemic. It appears that Japan is afraid of China's expansionist policies and wants international assistance especially of U.S. to counter China. Suga also wanted to visit India as China has border dispute with India and Delhi stood firm against China in border clashes.
A look at Japan's situation gives a feeling that the Asian giant is in the devil and the deep sea situation. Both US and China are important to it , and it will have to walk on a tight rope. Security dependency on US and economic on China makes Japan akin to a tomato in the geopolitical sandwich. But probably Suga will find a way to manage this situation with ease just as his predecessor did.
(Jai Kumar Verma is a Delhi-based strategic analyst and member of United Services Institute of India and The Manohar Parrikar Institute for Defence Studies and Analyses. The views in the article are solely the author's. He can be contacted at editor.adu@gmail.com)