PLA crosses LAC & India reacts
China tries to divert world attention from COVID-19
Finally adapts diplomacy to continue with the good neighbour act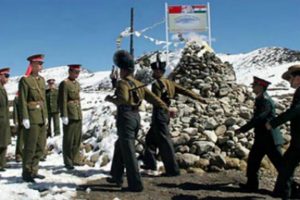 By Jai Kumar Verma
New Delhi. 31 May 2020. Pangong Lake , Galwan Nala and SirijapRange are names which never blew fuses on Sino-Indian borders but have for the last one month become cynosure of world eyes.
The People's Liberation Army (PLA) intruded the LAC, interrupted Indian patrolling, demolished Indian posts and destroyed the bridges on Galwan Nala at Chang-Chenmo. The PLA and Indian soldiers had physical brawls at Sirijap and other places on May 5, 6 and 11. In Ladakh out of 857 sq KMs India China border only 368 KMs are International Border while remaining 489 sq KM is LAC. Not only this the Sirijap range on the northern bank of the lake is most troublesome because of 1 to 8 "finger series".
And this has not scared India off. It has not suspended the construction work near the borders. The Border Road Organisation (BRO) is also constructing roads, bridges and culverts in the border areas which is resented by PLA. It may be an important reason of present PLA incursions at the border areas. The BRO after completion of 255 KMs long all weather Darbuk–Shyok-DBO Road in eastern Ladakh near Line of Actual Control, is also developing infrastructure at other places. PLA wanted to restrain India from developing infrastructure in Galwan area.
Not only the Indian soldiers who are kept in reserve areas are deployed to match the Chinese troops but the reserve is being filled by fresh troops as acclimatisation is required in these areas which is the height of more than 14,000 feet. India is prepared for a long standoff. But India has not retaliated at all by doing the tit for tat.
All of us heard Anurag Srivastava the Indian Ministry of External Affairs stating, "Any suggestion that Indian troops had undertaken activity across the Line of Actual Control in the western sector or the Sikkim sector is not accurate. Indian troops are fully familiar with the alignment of the Line of Actual Control in the India-China border areas and abide by it scrupulously. All Indian activities are entirely on the Indian side of the LAC. In fact, it is the Chinese side that has recently undertaken activity hindering India's normal patrolling patterns. Indian side has always taken a very responsible approach towards border management."
In the present incursion 5,000 PLA troops took position near LAC and they selected Galwan river valley which is a new area and more or less not contentious. This time Chinese are not returning early as they have pitched tents and made incursions at more than one location. They are also building bunkers in the area. This time their action is more aggressive, and several rounds of talks have failed to resolve the dispute. The Indian army has to follow the standing instructions not to use the force to eject the PLA troops. Chinese strength is three times more than Indian force, nevertheless the ratio is in favour of India partially it is a defensive force and partly because of its position in the area. India was building a bridge and a road in the area which Chinese objected.
"At the same time, we are deeply committed to ensuring India's sovereignty and security. The Indian troops strictly follow the procedures laid down in various bilateral agreements and protocols to resolve any situations which may arise due to difference in perception of the LAC. The two sides have established mechanisms to resolve such situations peacefully through dialogue. Both sides remain engaged with each other to address any immediate issues. In accordance with the consensus reached in Chennai, Indian side remains firmly committed to work for the common objective of maintenance of peace and tranquility in border areas. This is an essential prerequisite to the further development of India-China bilateral relations," Srivastava added.
Chinese have developed massive infrastructure in the area and claim more areas. China wants to snatch the lake at Lukung area and some other strategic areas so that India's hold on Siachen can be endangered. China might also be ogling the waters of the Shyok, Galwan and Chang-Chenmo rivers and may like to divert it to waterless Aksai Chin.
The statement also stated, "India and China, attach utmost importance to maintenance of peace and tranquility in all areas of India-China border regions. Prime Minister Modi and Chinese President Xi Jinping, in their informal summits in Wuhan in 2018, and in Chennai in 2019, had reaffirmed, that both sides will continue to make efforts to ensure peace and tranquility in the border areas. This is essential for the overall development of the bilateral relations. The two leaders had also directed the militaries to earnestly implement various confidence-building measures agreed upon between the two sides, including, the principle of mutual and equal security and strengthen existing institutional arrangements and information sharing mechanisms to prevent incidents in border regions. As a result, India-China border has largely been peaceful. Occasionally, however, on account of difference in perception of the alignment of LAC, situations have arisen on the ground that could have been avoided if, we had a common perception of the LAC. The two sides have established mechanisms to resolve such situations as and when they arise, including, border personnel meeting, flag meetings, and working mechanism for consultation and coordination on India-China border affairs, as well as diplomatic channels. The Indian side remains committed to the objective of maintaining peace and tranquillity in the India-China border areas. So, this is the statement which is on the incidents on LAC."
These PLA incursions are not only routine border skirmishes but also results of a troubled Chinese resentment to India defanging Article 370 and abrogating Article 35A. The dragon also objected when India declared Ladakh as an Union territory and mentioned India's move as "unacceptable" and also took the issue to UNSC. India rightly mentioned that it was an internal matter of India and it has no connection with LAC or with the external boundaries of the country.
China slowly but steadily has not only developed the massive infrastructure at the borders but also gained control over parts of disputed areas since 1980s. The areas include 45 KMs long Skakjung pastureland in Demchok-Kuyul sector, Nagtsang in 1984, Nakung in 1991 and Lungma-Serding in1992. The Shyam Saran Report of 2013 also mentioned that PLA has already occupied 640 sq KMs of land illegally.
But suddenly China has taken a very diplomatic view of the crisis it has created at its borders with India. Chinese Ambassador to India Sun Weidong stated that China and India should enhance the mutual trust and should not allow the differences to overshadow the bilateral ties, while speaking at an online interactive session organised by Confederation of young Leaders (CYL)recently. He reiterated that both China and India should resolve their differences through negotiations and must understand that they are no threat to one another.
Chinese Foreign Ministry Spokesperson Zhao Lijian said, "China's position on the China-India boundary question is consistent and clear. We follow in real earnest the important consensus reached between leaders of the two sides, strictly abide by relevant bilateral agreements, and stay committed to upholding national territorial sovereignty and security as well as maintaining peace and stability in the China-India border areas. Currently the overall situation along the border is stable and controllable. There are full-fledged mechanisms on border-related issues and communication channels between the two countries. We are fully capable of properly resolving any issue between us through dialogue and consultation. There is no need for a third party to intervene."
This was surely motivated by US President Donald Trump's tweet, "We have informed both India and China that the United States is ready, willing and able to mediate or arbitrate their now raging border dispute". India also made it clear that although it has close relations with U.S. but it will like to solve the issue between itself and China bilaterally.
The Chinese Spokesperson added, "China's position on the boundary issue is consistent and clear. We have been earnestly implementing the important consensus reached by the leaders of the two countries, strictly abiding by the relevant agreements signed by the two countries, and committed to safeguarding China's territorial sovereignty and security as well as peace and stability in the China-India border areas. At present, the overall situation in the China-India border areas is stable and controllable. On border-related issues, there are sound mechanisms and channels of communication between China and India, and the two sides are capable of properly resolving relevant issues through dialogue and consultation. China and India have communication on the boundary question via existing mechanisms and diplomatic channels, including those between the border troops on the ground and between the diplomatic departments and embassies of the two countries. "
The statements of spokesman of Chinese Foreign Ministry and Chinese ambassador clearly indicate that China also does not want war with India. These intrusions are only to divert the world attention from its creation of the biggest health crisis the world is facing today and to give a message to New Delhi that it should not join anti-China lobby be it its issue of WHA for COVID-19, or Taiwan or Hong Kong. But this big brother bossy attitude cannot be taken lying down. It cannot be aggressive one day and softly diplomatic the next day. India will definitely not take this stand lying down. This is India of 2020 and not 1962. The world holds India in high esteem and China as a perpetrator of the global economic fall down and lockdown. And China knows that if it extends its activities against India to a point of no return, the world will be seen behind India.
As far as India is concerned it is a peaceful country and there is no question of initiating any war-like situation. However, India must remain prepared for more intrusions as China is an expansionist country and will try to bulldoze its way into Indian territory again. India should continue developing the infrastructure and strengthen its defence forces at the LAC and international borders. No reason to get disturbed by this migraine given by China, but this should be considered as a motivation to keep our side of the border as state-of-the-art as theirs.
(Jai Kumar Verma is a Delhi-based strategic analyst and a retired senior intelligence officer. He is also member of United Services Institute of India and Institute for Defence Studies and Analyses. The views in the article are solely the author's. He can be contacted at editor.adu@gmail.com)