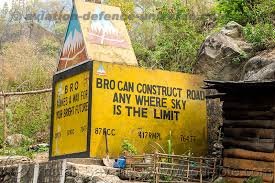 New Delhi. 

07 May 2018

. 
Border Roads Organisation
(BRO), is celebrating its Raising Day today. BRO, a leader in the arena of infrastructural development in the border areas of the country is celebrating its 58 years of glorious service to the nation. Since its inception in 1960, so far the Organisation has grown from 02 to 19 projects.
The works executed have ensured the territorial integrity and the socio-economic upliftment of the most inaccessible regions of the country as well as India's neighbourhood. Works executed in friendly foreign countries are a message of the Organisation's ideology 'Shramena Sarvam Sadhyam'. BRO shall endeavour to explore new frontiers while it undertakes systematic modernisation of its construction techniques. Its focus shall remain enhanced productivity and quality construction.
At present BRO is working on 852 roads (22803 Km), which include new construction, as well as improvement from single lane to double lane. BRO is also maintaining 322 roads of approximately 7315Km length and five Airfields besides now clearance of 138 roads (4,325 Km) to ensure connectivity of border regions with rest of the country.
On this occasion, Director General Border Roads Lt Gen Harpal Singh, conveyed his greetings to all veterans and BRO personnel and called upon all ranks of the Organisation to continue on the path of excellence with renewed vigour and dedicatio