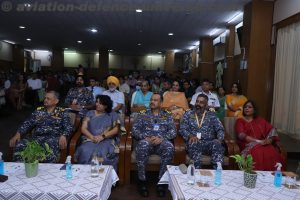 Navy Children School Delhi conducted Investiture Ceremony for Academic Year 2022-23 for Primary Wing on 30 September 2022. Commodore AA Abhyankar, Cmde (Naval Education), IHQ MoD (Navy) attended the function as Chief Guest. The function was also attended by Cmde Satish Shenai, NM Commanding Officer INS India, officers, PTA members and parents of the appointees.
36 students from Class V were bestowed the leadership roles after undergoing rigorous selection process. The students were presented with appointment sashes by the Chief Guest on this occasion. Master Suryaansh Bhargava and Miss Aadya Kant were appointed as Junior Head Boy and Junior Head Girl whereas Master Athang V Nadkarni and Miss Ritisha Patel as the Junior Deputy Head Boy and Junior Deputy Head Girl.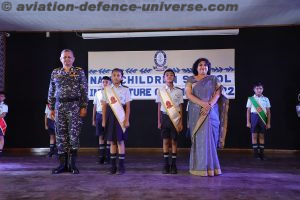 In his address to the students, the Chief Guest complimented the efforts of the previous appointees and exhorted the new incumbents to carry out their duties with pride, dedication and integrity. He also urged the new student council to lead by example and be dedicated towards service to the school and their fellow students. The Chief Guest congratulated the parents and stressed upon the importance of joint and concerted efforts of management, teachers and parents for overall development of the students. Later, the Chief Guest also interacted with appointees and teachers over tea.