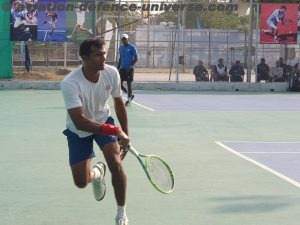 Nagpur. 15 December 2022. Inter Services Lawn Tennis Championship 2022 is in progress at Head Quarter Maintenance Command, Vayusena Nagar, Nagpur from 12 Dec 22 to16 Dec 22.
On 15 Dec 22, the first semifinal match was played between Army Green and Indian Navy. Army Green beat Indian Navy by 2-1. In team event finals, Army Red beat Army Green by 3-0. In open singles, Nb Sub Rishabh Aggarwal of Army Red beat Anuj Malik of Indian Navy by 6-1.
Open Singles match will be played between CPO Suraj Prabodh and Nb Sub Rishabh Aggarwal on 16 Dec 22. The event is being conducted under the aegis of the Services Sports Control Board (SSCB).