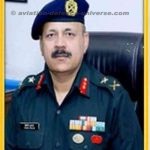 By Maj Gen Ashok Kumar, VSM (Retired)
New Delhi. 21 July 2022. When Late Gen Bipin Rawat was appointed as  first CDS of the country, he had certain clear cut mandates, one of the most important one being the restructuring of the defence forces into Theatre commands. While over the  time , work commenced followed by multiple discussions and deliberations but it did not progress with requisite clarity and speed. It also got adversely affected due to the sudden demise of Gen Bipin Rawat in a helicopter crash on 08 Dec 21 close to DSSC Wellington (TN). Government initially having appointed CDS for the first time in the history of the country was highlighting this as one of its biggest achievements though a question mark has now emerged on its intent as a new CDS has not been appointed till date despite a gap of more than seven months when international environment and national neighbourhood is under serious turmoil. One of the theatre commands was Air Defence Command apparently touted to be executed first amongst all the planned theatre commands.
Apparently simplistic looking, it had serious fault lines  right from the word go as it required a professional understanding of the current as well as future air threats and its mitigation. Invariably, service based considerations become more pronounced as against progressive nationalistic approach. Inter service fault lines widened once a statement was made by Late Gen Bipin Rawat wherein he declared that Indian Air Force (IAF) as a support service.
A comprehensive article with the title 'War in the Air, Resources on Ground: Checkmating the Threat' was written in Aviation and Defence Universe on 10 Jan 22 wherein the following major aspects were highlighted:
It is most important to factor the need of the Land force commander for all
All Air Defence resources (offensive as well as defensive) must be at the disposal of land force commander irrespective of geographical locations or organisational connects.
Era of fighter jets appears to be over as covered by Elon Musk during a fireside chat at an Air Force Symposium. While there maybe counter arguments to this view but emerging prominence of drones, swarm drones and hypersonic vectors do indicate reducing need of conventional aircraft. The importance may vary from country to country or based on the intensity of conflict.
There is rising employment of unmanned systems the world over. It also emerged during the ongoing conflict between Russia and Ukraine wherein substantial employment of Turkish drones was done.
Our primary adversary, China, is also investing heavily on drones, hypersonic missiles and space based weapons. We also need to realign our efforts to the emergency threats in this domain as against relying on conventional aircrafts to address our national concerns.
With the IAF Chief Air Chief Marshal Vivek Ram Chaudhari becoming the senior most officer after the superannuation of General M M Naravane, it was expected that he will steer the formation of  Air Defence Command more aligned to war fighting needs in synchronisation of operational need of Land Force Commander. This expectation also gained ground since CDS has not been appointed for a considerable time now.
As against this, while speaking at CENJOWS, a tri service think tank, he alluded his views which have created further confusion rather than bringing clarity on this complex issue. Inputs of his comments appeared on social media platform twitter on 15 Jul 22. While integrated functioning of all air defence systems may be needed for detection, identification and negation of the threat, a clear cut thought needs to emerge as to what all constituents of Air Defence Systems be at the disposal of Land Force Commander and which all need to be with the IAF. Having done this, a functional and efficient networked environment needs to be created to ensure timely detection of incoming air threat irrespective of the means employed by the adversary and not limited necessarily to the aircraft based threat as this misnomer of air threat getting linked to aircraft alone is a big myth which needs to be clarified in the minds of all the defence planners.
What is surprising is that the Air chief is calling for a larger integrated Air Defence System on one hand while negating the need of Air Defence Command altogether. It needs to be deciphered whether it is the perspective of Indian defence forces required to function in a unified manner or an exclusive Air Force perspective alluded by its service chief in furtherance of service interest. While there can be a counter argument to each argument including what is being articulated here, what is more important at this point is the need of structuring the defence forces in a manner that  optimises the output of each constituent besides ready to meet the present as well as the future threat.
Followed by coverage on social media platform on 15 Jul 22, a detailed article appeared based on his views in 'The Hindu' on 15 Jul 22which has covered the statements and inferences in greater detail. Some of the issues raised by IAF Chief covered in the said article indicates a major shift on the issue of Theaterisation of the Indian Defence Forces and outright rejecting the concept of creation of an AD Command, an organisation which was to be under IAF. It was more critical to identify all the constituents of Air Defence manifesting on the operational effectiveness of the  Land forces to be placed under them whereas resources in strategic domain as well as that part of space systems should be under IAF. Having done that,  a networked cum procedural norm was to be evolved to ensure that the incoming threat is timely detected and appropriately responded to. Alluding the current model being responsible for downing MI-17 requires reset to this approach as India, which will be having enhanced players in air space conflict space from majority of the Arms and services, will require synergy to not only avoid any conflicts in the flight paths and timings and altitude of movement but also to be effective in utilising the most potent resource. The emerging India cannot be made hostage to those thoughts which are not aligned to future war fighting.
While IAF chief may be right about inter-say linkages between offensive air operations and Air Defence operations but these linkages may still remain intact with all air defence operations being placed under the Land Force Commander under respective land Theatre Commands and can be efficiently managed with efficient networks and procedural controls.
While it is true that the Theaterisation must be carried out based on future wars but a pre condition by IAF to factor doctrines and strength of each service needs a review. When a unified approach is evolved, inter-say importance of each service component has to be modified based on the future threat and future threat constituents. To illustrate, if future threat by the adversary is aircraft based, it is obvious that we will need more potent missile air defence system and offensive air power. The constitution will be different based on the threat from the adversary and its threat constituents.
It is also true and abundantly clear that integrated detection and identification network will be needed for all constituents of Air Defence resources but linking this need to not have land based air defence  resources placed under regional theatre commands precludes the effectiveness of the land force commander. With theaterisastion coming in force in a planned manner wherein a Land Force Commander will be responsible for Pakistan on the Western borders and another Land Force Commander will be responsible for China, all resources including Air Defence Systems have to be placed under his command for enabling him to fight the battle efficiently. Banking on current IAF resources on 'coordination model' coming to the rescue of Land Force Commander is a defeatist model whereas an empowering model is needed.
There is a serious need to rethink on the contours of theaterisation and a professional view is required to be taken doing away with individual service considerations. Only this revised approach will allow India to handle both its adversaries and their collusivity and at the same time, place it on a pedestal in the regional as well as international environment to claim its due place amongst the commity of the  nations.
(Maj Gen Ashok Kumar, VSM (Retd) is a Kargil war veteran and defence analyst. He is visiting fellow of CLAWS and specialises on neighbouring countries with special focus on China. The views in the article are solely the author's. He can be contacted at [email protected]).