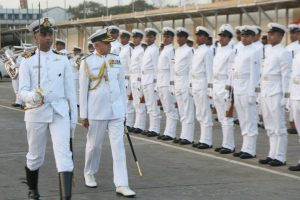 New Delhi. 09 May 17. Two minesweepers of Indian Navy, INS Karwar and INS Kakinada were bid adieu at a solemn ceremony in Naval Dockyard, Mumbai this evening. Admiral Sunil Lanba, PVSM, AVSM, ADC, the Chief of the Naval Staff, who was the second Commanding Officer of Kakinada, was the Chief Guest for the occasion.
INS Karwar (M67), was the first of the 'Natya' class minesweepers acquired from the erstwhile USSR. She was commissioned on 14 Jul 86 at Riga (Russia) under the command of Cdr RK Sinha. The ship operated from Vishakhapatnam till 2013 after which she was based at Mumbai. Manned by a crew of six officers and 90 sailors, INS Karwar has stood proud by her motto "Hamesha Tayyar" even as the last Commanding Officer Cdr Kaushik Dhar saluted the naval ensign for the last time on 09 May 17.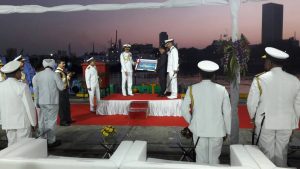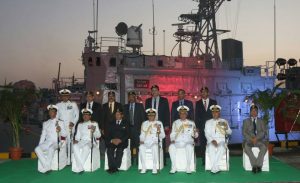 INS Kakinada (M70), was the second of the class and also commissioned at Riga on 23 Dec 86. Like her sister ship, Kakinada also operated from Vishakhapatnam till 2013 before shifting base port to Mumbai. Her first Commanding Officer, Lt Cdr Satish Soni, rose to the rank of Vice Admiral and retired as the Flag Officer Commanding-in-Chief Easter Naval Command in 2016. Cdr Amarjit Singh Yumnam, the last Commanding Officer, and her "Better Than the Best" crew bid an emotional farewell to INS Kakinada.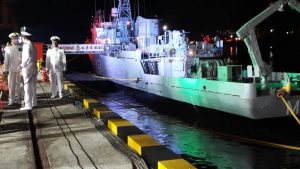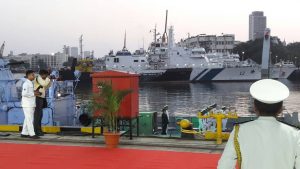 Both ships have rendered over 30 years of stellar service to the nation. The ships have undertaken countless minesweeping missions using both, the older mechanical sweeps as well as the modern Side-scan SONARS.