Dubai. 26 May 2021. Adoption of innovative technology, greater collaboration and commercialization will play vital role in enabling air navigation service providers (ANSPs) to support a sustainable and efficient recovery of the aviation industry in the post-Covid era, said Yahya Abdalla Al Hammadi, CEO, GAL ANS.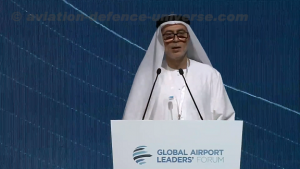 Delivering the keynote address on the topic 'How to Secure your Airspace in Digital Times' at the ATC Forum at Airport Show 2021, Al Hammadi said Covid-19 has a very significant global impact on the civil aviation industry as the industry has reported a loss of $290 billion in 2020.
"Governments have taken unprecedented measures to manage the pandemic and the initiatives have their impact on the industry which is confident of a faster recovery," he said.
"The recovery has to be achieved by sustainability and efficiency across the industry. Greater collaboration across borders and technological development and commercial competition will secure the industry in the challenging times," he added.
The relationship between ANSP, airports and airline customers need to be transformed to performance efficiency. Such transformation will help scalability which will be responsive to meet the need of customers in terms of efficient operation and cost effectiveness.
"With the challenges we are currently facing as an industry, there is need for greater collaboration across borders in non-traditional areas such as regulation, standards and technology solution. More cooperation will benefit the wider industry. The strategy of economies of scale will drive costs down for operators," he said.
Today through innovative technology, superfast fibre network and high definition cameras we are seeing a revolution in air traffic management. Remote digital towers are now being rolled out at an increasing rate around the world. With the greater acceptance of towers going digital, the key question is how we accelerate the adoption and implementation to reduce cost and unlock the additional benefit which can be realised from remote control towers.
Unified traffic management (UTM), which will see the integration of drones into the airfield, is another area of interest where regulatory support and greater industry collaboration is required to establish industry standard for service providers and original equipment manufacturers to support the growing industry. Remote digital standards and unified traffic management will help achieve sustainable recovery for the industry.