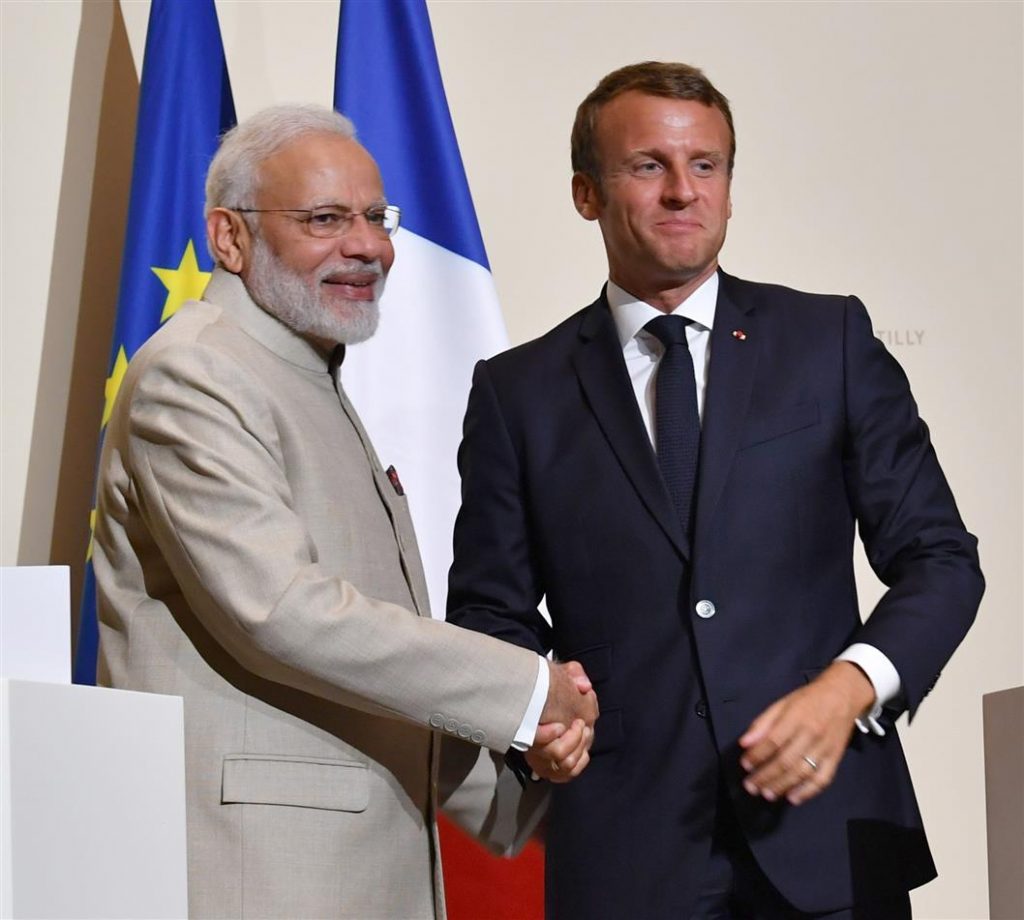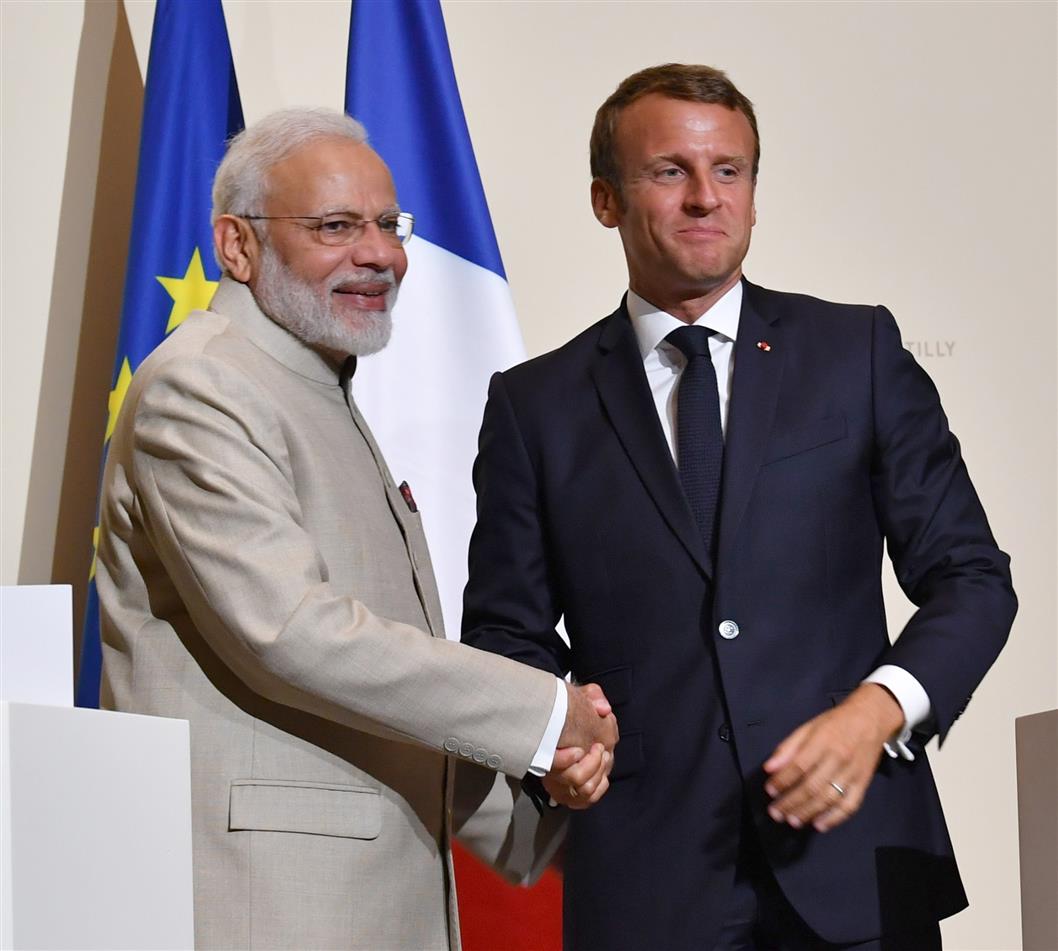 Paris. 23 August 2019. It is not a surprise nor news that the bilateral cooperation between India and France is notably forged on an ambitious partnership in the defence sector. And this was evident during Prime Minister Narendra Modi's ongoing visit to France and in his joint statement with French President Emmanuel Macron.
But the fact that this friend of India was concerned about the security situation in the Indian subcontinent was evident the most when President Macron referred to his talk with Prime Minister Modi on the J&K situation and said, "I told him that India and Pakistan will have to find a solution to the issue and no third party should interfere or incite violence in the region. I will also speak to Pakistan Prime Minister after a few days and tell him that the talks should be held bilaterally." France is India's friend indeed.
Then the two leaders happily hailed the success of the 2019 editions of the Naval Exercise Varuna and the Air Exercises Garuda while showing their positive expectancy as the preparations for the Shakti Exercise, which will be held in autumn in India, France and India are determined to further strengthen the cooperation between their armed forces and in this connection are working towards increased interoperability as well as pursuing deliberations to develop joint forces cooperation. The signing of Agreement regarding the Provision of Reciprocal Logistics Support is a manifestation of this endeavour.
Defence industrial cooperation is one of the mainstays of the strategic partnership between India and France. Both the leaders noted with satisfaction the progress made in the implementation of agreements signed, particularly the delivery of the first Rafale combat aircraft next month. They reaffirmed their commitment to further strengthen cooperation in defence industry field and extended their support to existing and upcoming partnerships between the defence companies of the two countries in the spirit of "Make in India" and for the mutual benefit of both countries.
Both sides noted with satisfaction that Indian MSMEs are increasingly becoming part of global supply chains of French Defence and Aerospace OEMs and reaffirmed to give further impetus to this trend. They welcomed the ongoing collaboration between aerospace and defence industrial associations of both countries, SIDM for India and GIFAS for France.
The two leaders reiterated their strong condemnation of terrorism in all its forms and manifestations including cross-border terrorism and terror-related incidents in France and India. Both leaders reaffirmed that terrorism cannot be justified on any grounds whatsoever and it should not be associated with any religion, creed, nationality and ethnicity.
Recalling the joint statement on terrorism adopted by the two countries in January 2016, the two leaders reaffirmed their strong determination to eliminate terrorism wherever it is to be found and urged the international community to strengthen the efforts to counter and prevent terrorist financing. They called upon all UN member countries to implement the UNSC Resolution 2462 on Fighting Terrorist Financing adopted last March 28 and welcomed the organization in Melbourne on November 7-8 of a new "No Money for Terror" International Conference on Fighting Terrorist Financing, which will build on the April 2018 Conference organized in Paris by the French Government and the Paris Agenda. Both the leaders agreed to work for early convening of the Global Conference, proposed by India, to tackle the threat of terrorism around the world.
They also called upon all countries to work together for rooting out terrorist safe havens and infrastructure, disrupting terrorist networks and their financing channels, and halting cross-border movement of terrorists belonging to Al Qaeda, Daesh/ISIS, Jaish-e-Mohammed, Hizbul Mujahideen, Lashkar-e-Tayabba, and their affiliates as well as terrorist groups threatening peace and security in South Asia and the Sahel region.
The two leaders, in addition to pursuing the excellent cooperation between the nodal agencies and the investigation agencies of the two countries, agreed to enhance their operational cooperation and launch fresh efforts to prevent and fight radicalization, especially Online Radicalization.
The two leaders reaffirmed their support for the implementation of the Christchurch Call to Action to eliminate terrorist and violent extremist online content adopted in Paris last May 15. Theyagreed to strengthen counter-terrorism efforts in Multilateral Fora such as UN, GCTF, FATF, G20 etc. They called upon all UN member countries to implement the UNSC Resolution 1267 and other relevant resolutions designating terrorist entities. The leaders also agreed to work together on early adoption of the Comprehensive Convention on International Terrorism (CCIT) in the UN.
Based on a shared commitment to maintaining the freedom of navigation, particularly in the Indo-Pacific zone, maritime security cooperation between France and India is a domain of excellence in their strategic partnership. In this regard, France and India welcomed the swift implementation of the conclusions of the Joint Strategic Vision of India-France Cooperation in the Indian Ocean Region, adopted during the State Visit to India of President Macron in March 2018.
For the implementation of the White Shipping agreement, India and France welcome the appointment of a French liaison officer at the Information Fusion Centre – Indian Ocean Region (IFC-IOR) in Gurugram.
France and India intend to coordinate their action at the Indian Ocean Rim Association (IORA) and undertake, along with interested States, a joint project for reinforcing assets for combatting piracy and all kinds of maritime trafficking in the Southern Indian Ocean. France also intends to work concertedly with India at the Indian Ocean Naval Symposium (IONS), over which it will preside from 2020 to 2022.

France and India cooperate actively for international peace and security, including in the regional crises threatening them. They support an inclusive peace and reconciliation process in Afghanistan which is Afghan led, Afghan owned and Afghan controlled, leading to a lasting political solution based on the preservation of the gains, including the constitutional order, human rights, particularly women's rights and the liberties gained over the past eighteen years. They call for timely holding of Presidential elections, cessation of terrorist violence; and end to terrorist safe havens and sanctuaries for enduring and sustainable peace, security and stability in Afghanistan.
France and India agreed that full compliance with the Joint Comprehensive Plan of Action (JCPOA) on the Iranian Nuclear Programme and the UN Security Council Resolution 2231 was needed to ensure regional and international peace and security and that current issues need to be resolved peacefully through dialogue, including through efforts towards de-escalation of ongoing tensions.
" I had pointed out the importance of cooperation between India and France for Global Challenges. Both our countries have to constantly face terrorism and radicalization. We have received valuable French support and cooperation in combating cross-border terrorism. We thank President Macron for this. We have intended to broaden cooperation on security and counter-terrorism. We have also decided to further strengthen our growing cooperation in maritime and cyber security. I am pleased that we have agreed on a new roadmap on cyber security and digital technology. Our operational cooperation in the Indian Ocean region is growing rapidly. This cooperation will be important in ensuring security and progress for all in the region," reiterated Modi in the joint statement.