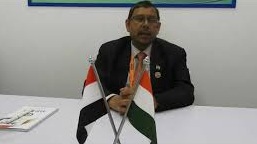 Barun Mitra IAS , Additional Secretary (DP) , Department Of Defence Production, Ministry Of Defence, Government Of India in a monologue interview with Editor Sangeeta Saxena at EDEX 2018 in Egypt. (Transcribed Video)
" I am Barun Mitra, Additional Secretary in the Department of Defence Production, Ministry of Defence. I have come to Cairo, Egypt to lead the delegation on behalf of the Government of India to represent our country In the Egyptian defence exhibition.
This is the first exhibition that the government of Egypt has organised and it is an exhibition which covers all the three forces of the defence and India is represented by four defence public sector undertakings, the Ordinance Factory Board, the Defence Research and Development Organisation. Apart from that we have some private industry players also, there are four of them who've come here including the Brahmos.
India and Egypt have a very close link historically as well as both the countries have a rich civilisational heritage. We have strong defence cooperation and the relationship between the two countries has strengthened with four interactions having taken place between honourable Prime Minister of India and President Sisi of Egypt at different platforms, which includes one state visit by the President of Egypt to India. Recently the Defence Minister of Egypt had also visited India and two or three months back we also had the visit of our honourable Raksha Mantri, Smt Nirmala Sitaraman to Egypt. It was decided that we should take all means and measures to strengthen the elements of defence cooperation between the two countries and that explains our presence in the pioneering effort which has been made by Egypt in organising an international defence exhibition in their country.
Our Defence public sector undertakings as well as ordinance factory board and DRDO have mentioned that they have had very good foot falls during this exhibition and there are several countries including Egypt, Cameron, Kenya, Nigeria, South Africa, they have all come and visited our stalls, and have made certain enquiries about certain platforms that are made in India in which they have shown interest. The business models also have been discussed and the defence public sector undertakings have indicated that they are going to have more prolonged discussions on the subject until the closure of EDEX.
We have also used this opportunity to disseminate information about the AERO India show in 2019 which we are going to post at Bengaluru from the 20th to 24th February 2019. It will be the 12th edition of our Aero India show and the new dimension to our show is that we have also subsumed civil aviation apart from the defence and aerospace sector and Ministry of defence is organising this Aero India show along with the Ministry of civil aviation. During the course of my stay here I have visited the stalls of some of the major global OEMs in the aviation sector and they've all expressed great enthusiasm to be present during the Aero India show. I must congratulate the government of Egypt, that though this is their first, and they made an attempt, this has been very well organised and I'm sure that it is going to improve with times to come."