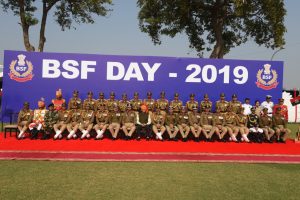 New Delhi. 01 December 2019. BSF completes sterling 54 years in the service of the Nation on 1st December 2019. The force is celebrating its 55thRaising day to commemorate this historic milestone. The country's history will record the contribution of the first wall of defence's i.e. BSF's valour, sacrifices and utmost dedication to the motherland.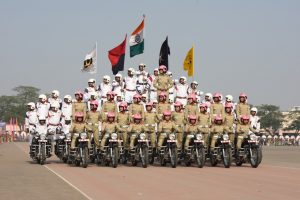 An impressive parade & march past conducted at BSF Campus Chhawla, New Delhi during 55thBSF Raising day parade had MOS (Home)Nityanand Rai taking the salute from assembly of contingents representing various frontiers & wings. 12 marching contingents including one Women contingent, Canine contingent Camel contingent, Horse contingent, Artillery and Communication contingent. Tableau of Water wing and Air wing were also the part of parade displaying multi-dimensional prowess of BSF.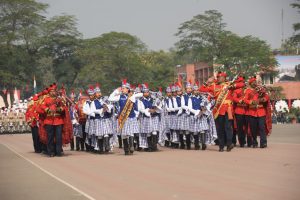 The misty morning air of Chhawla Parade ground was filled with the joyous reverberation and spontaneous clapping of the audience in attendance. The BSF musical band dressed in its smart attire lent a tune to the cheering audiences, who enjoyed the colorful and disciplined display of the force.
Attraction of today's parade was acrobatics performed by of BSF camel contingent and combined dare devil performance by all women BSF motorcycle riders and their male counterpart 'Janbaz'. They displayed different acrobatic skills on 350cc Enfield bullet motor cycles.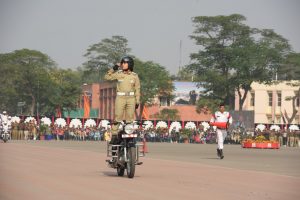 The minister released BSF Annual Magazine–"Bordermen". The magazine is a collection of stories of accomplishments by our soldiers who have given their blood and sweat for the country. He presented the medals to the brave soldiers for their gallant heroic acts and to Officers for their distinguished service. He presented 04 (four)Police medal for gallantry, and 11 (eleven) President's Police Medal for distinguished service.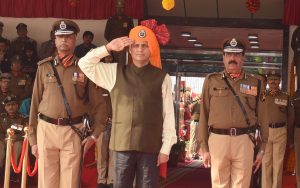 In addition he also presented the prestigious trophies to the winners. The General Choudhary Trophy–2019 won by 74 Battalion BSF and received by Kamal Kumar, Commandant, Ashwini Kumar Trophy (Sports & Training) – 2019 won by BSF Gujarat Frontier and received by GS Malik, IPS, IG.
On this occasion, Director General Border Security Force, Vivek Johri also addressed the audience. He recalled Border Security Force journey since 1965. He said that BSF has successfully faced several challenges and crises over these years, and enjoys an excellent track record. He further stated that BSF is ready to face the challenges and is preparing itself in terms of doctrine, infrastructure, weaponry and training. He stated that BSF is carrying out relentless vigil along the borders.