New Delhi. 15 July 16. In a demonstration of India's 'Act East' policy and Indian Navy's increasing footprint and operational reach, Indian Naval Ships Sahyadri, Shakti and Kirch under the Command of the Flag Officer Commanding Eastern Fleet, Rear Admiral S V Bhokare, YSM, NM have arrived at Port Kelang on a four day visit, as part of deployment of the Eastern Fleet to the South China Sea and Western Pacific.
During the visit, the IN ships will have professional interaction with the Royal Malaysian Navy towards further enhancing co-operation between the two forces. In addition, calls on senior Government and military authorities, sporting and cultural interactions and sharing of best practices, aimed at strengthening ties and mutual understanding between the two Navies, are also planned.
The visiting IN ships are also likely to conduct exercises with the Royal Malaysian Navy, aimed at enhancing interoperability in communication as well as Search and Rescue procedures, post departure from Port Kelang.
Bilateral relations between India and Malaysia are characterised by strong bonds of friendship based on cultural, religious and economic ties between South India and the Malay Peninsula over two millennia. Today, economic and commercial relations are the mainstay of India-Malaysia relationship.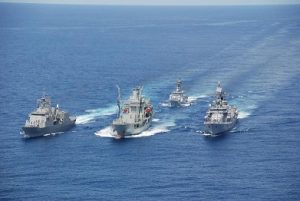 Malaysia is the third largest trading partner of India from ASEAN. India-Malaysia defence ties dates back to the colonial days when troops of Madras Native Infantry served in Malacca, Singapore and Penang. Currently, there is considerable naval cooperation between the two countries bolstered by regular reciprocal port visits, high-level delegations and training exchanges. The Indian Navy has been a regular participant at the Langkawi International Maritime and Aerospace Exhibition (LIMA) in Malaysia. The last visit by an IN ship Malaysia was in May 2015, when Saryu berthed at Penang.
The current visit seeks to enhance maritime cooperation between the Indian Navy and the Royal Malaysian Navy. It will further bolster the strong bonds of friendship between India and Malaysia and contribute to security and stability in this vital part of the world.