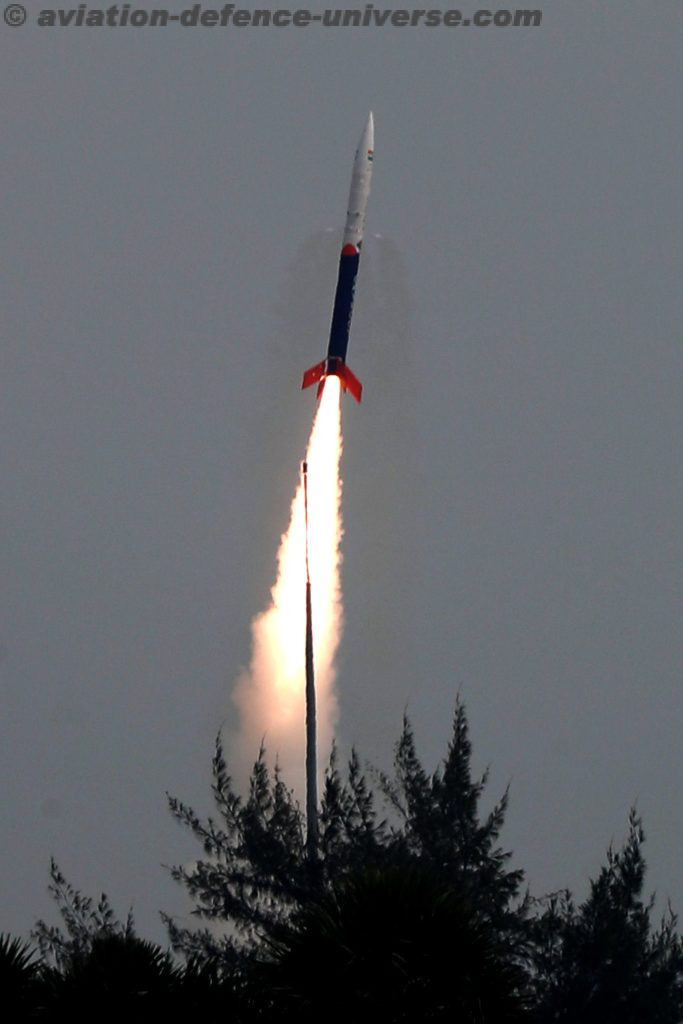 Mission PRARAMBH takes off
Aatmanirbhar Bharat becoming a believable reality
By Sangeeta Saxena
New Delhi. 18 November 2022. It will not be a cliché to say Sky is not the limit for Skyroot, for they have gone beyond into the space. Skyroot launched its maiden rocket under the launch mission named 'PRARAMBH' meaning 'the beginning', signifying a new era for the private space sector in India and the first mission for Skyroot.
The lift off of VIKRAM-S from Sriharikota happened at 11.30 IST today. 89.5 Kms peak altitude achieved. Vikram-S rocket meets all flight parameters. Indians saw history in the making . It is the result of  seamless joint efforts of various ISRO centres including SDSC SHAR, ISTRAC and VSSC, Skyroot team and IN-SPACe. The Technical Mission Readiness review committee members from ISRO and IN-SPACe rigorously reviewed launch vehicle and integration preparation and gave final launch clearance.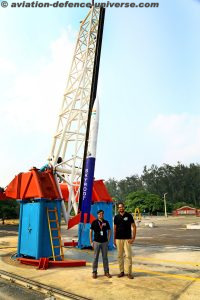 The rocket Vikram – S is a single-stage solid fuelled, sub-orbital rocket developed over two years by incorporating advanced technologies including carbon composite structures and 3D-printed components. Equipped with a gross lift off mass of 545kg, and payload mass of 80 kg, Vikram-S carried with it three customer payloads, which will map the measurement and validation of certain flight parameters and payload integration processes.
"We made history today by launching India's first private rocket. It is a symbol of new India, and just the #Prarambh of a great future." Pawan Kumar Chandana, Co-Founder Skyroot Aerospace. Founded in 2018, by former Indian Space Research Organization's (ISRO) scientists Pawan Kumar Chandana and Naga Bharath Daka, Skyroot Aerospace is the first company in India to have successfully tested a liquid propulsion engine, a solid rocket stage and pressure tested their high-strength carbon composite third stage. Its core product, Vikram series — named after the pioneer of India's space program Dr. Vikram Sarabhai .
"The Vikram series of rockets are built on upgradeable architecture which can be assembled and launched in less than 72 hours and can take satellites up to 720 kg to low Earth orbit in the most cost-effective way," said Chandana "It also comes with a space tug as its upper stage for the last mile of delivery and can reach multiple orbits in a single launch — giving our customers the benefit of both a rocket and space tug in one."
The startup is supported by the ISRO, allowing them access to the government's unique testing and launch sites, which keeps infrastructure costs low and helps the team focus on core product development and accelerated launch timelines for customers. Looking to build their presence in the U.S., Daka, COO of Skyroot  had earlerstated, "We are targeting weekly launches and are actively engaging customers in the United States for bookings. We're pleased to offer our first 10 customers who sign up, a significant discount as an introductory offer."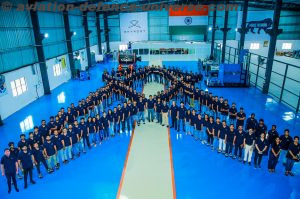 It is just over a year since they tested India's first indigenously made cryogenic  engine Dhawan-1, running on two high performance rocket propellants LNG and LoX. "Dhawan-I is a 100% 3D Printed cryogenic engine with regenerative cooling. The Vikram-S is a single-stage, spin-stabilized solid-propellant rocket with a mass of around 550 kilograms. It carries three customer payloads, including one from a customer outside India. Made of all-carbon fibre core structure, the six-meter-long rocket was developed in two years. Skyroot reached another key milestone in the development of its Vikram-I launch vehicle: a full-duration test of the rocket's third stage, in  May 2022 in a private test range in Nagpur. The third stage is named Kalam-100 in homage to India's missile man and former President A.P.J. Abdul Kalam. Vikram-I includes three solid fuel stages, plus a liquid-fueled kick stage that's designed to serve the small satellite launch market. It's designed to carry up to 480 kilograms to low-inclination orbits, and the company claims that it's designed to be assembled and launched from any launch site within 24 hours.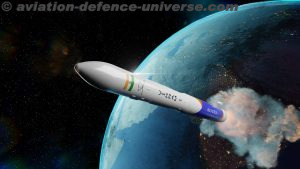 Skyroot's successful test fire of the upper-stage engine, which is nicknamed "Raman" after Indian physicist and Nobel prize winner C.V. Raman, was an important step in validating this key component, which will handle the final insertion of any payload satellites into their target orbit once Vikram-I is operational. This was also a key step for Skyroot's overall rocket building technology, as it represents full qualification of its 3D-printed propellant injector, which the company says reduces the mass of the engine by 50%, and drops the components required in its construction, as well as its lead time for manufacturing, by 80%. And when all this was happening one was pleasantly surprised at the leap being taken by the start up which had not long ago been awarded the Winner for 'Space' in the category 'Launch Vehicles' for Start Ups.
Many put their faith in Skyroot led by Greenko Group founders Anil Chalamalasetty & Mahesh Kolli; and there was participation from other public listed entity Solar Group (a major Space & Defence supplier); Former-Whatsapp CBO Neeraj Arora; existing investor Mukesh Bansal (founder of Myntra & CureFit), Vedanshu Investments, Worldquant Ventures, Graph Ventures, Sutton Capital and others.
The global space industry is expected to be worth about $1 trillion by 2040. India hopes to tap into this increasingly lucrative market, but the country presently holds only about 2% of the world's space economy. To change that, it is now encouraging private players to drive innovation in space technology. This launch by Skyroot today is a step ahead in India's dream to achieve this goal.