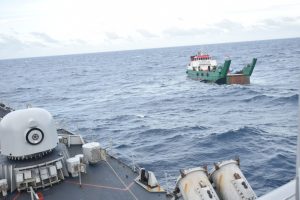 New Delhi. 26 May 2017. Indian Ambassador to Maldives applauded the crew of the Indian Navy Dornier, Indian Navy ALH, and INS KIRCH and their MNDF colleagues for their exemplary coordination and cooperation to ensure success of the humanitarian operation.
It was a vivid display of the traditional spirit of India-Maldives friendship and partnership . Ambassador Mishra said "I feel very proud of the professionalism, unflinching courage and commitment to duty displayed by the Indian Naval officers in undertaking the search and rescue operation in an extremely challenging weather."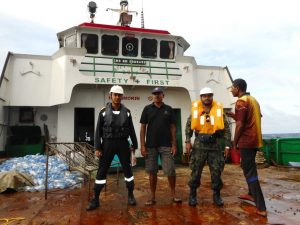 On 20th May evening it may be recalled that the Dornier aircraft picked up a vessel floating about 60 nm away from last known position and informed INS Kirch who was about 50 nm away. INS Kirch then located the landing craft Maria 3. The ship's forward ramp had collapsed due to which she was unable to propel. Kirch ensured the safety of all crew members .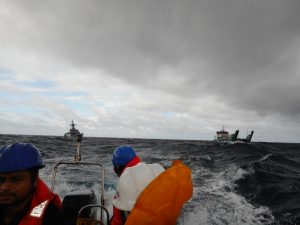 The vessels location was 120 Male 135nm. Nearest land – 112Nm due West. A joint boarding party was sent with first light to provide assistance.