By Jai Kumar Verma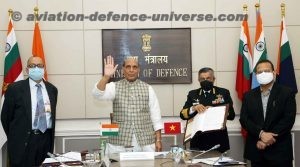 New Delhi. 07 December 2020. In a fresh diplomatic offensive India contacted its neighbouring as well as countries located at its extended neighbourhood. Defence Minister Rajnath Singh talked to Vietnamese Defence Minister, National Security Advisor (NSA) Ajit Doval visited Sri Lanka and had a trilateral talks, Minister of External Affairs S Jaishankar had a five-day tour of Bahrain, United Arab Emirates and Seychelles while Foreign Secretary Harsh Vardhan Shringla visited Nepal. It is unusual that NSA, Foreign Minister and Foreign Secretary all three were out to different countries at the same time and the defence minister also talked to his counterpart of Vietnam which has tense relations with China. All these visits occurred at the time when world is suffering from coronavirus pandemic.
On 27 November Rajnath Singh told Vietnamese Minister of Defence and Chief of the General Department of Politics of Vietnam General Ngo Xuan Lich that "India firmly stands for the freedom of navigation and over-flight, and unimpeded lawful commerce, in the international waters, in accordance with international laws". He also mentioned that India and Vietnam has strong defence relationship. Both countries are working together on shipbuilding and enhancing their capabilities in sea.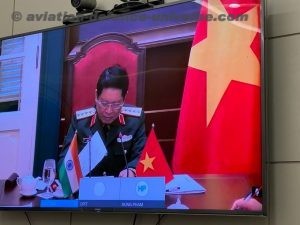 The leaders of both the countries will have a virtual summit this month. The present phone call of Indian Defence Minister is significant as besides the previous tensions between China and Vietnam currently there is a tension between both the countries on the deployment of a Chinese survey ship near Spratly Islands. The Chinese survey ship is deployed near the Spratly Islands since July which is irritating Vietnam as the latter has several oil and gas projects near the Islands. The MEA spokesman stated that "South China Sea is part of the global commons. India, therefore, has an abiding interest in the peace and stability in the region."
Foreign Secretary Shringla in his recent visit to Nepal met President Bidya Devi Bhandari, Prime Minister K P Sharma Oli, Foreign Minister Pradeep Kumar Gyawali and Foreign Secretary Bharat Raj Paudyal. Shringla after meeting mentioned that the differences between both the countries are resolved as both the countries "need" each other. Foreign Secretary's meeting with Oli was very positive and both the countries would try to surmount over the border issue and Nepal's disputed map.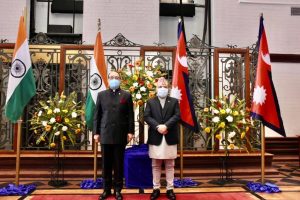 Nonetheless just two days after the visit of Shringla, China's Defence Minister Wei Fenghe reached Kathmandu and met Nepal's President, Prime Minister, Army Chief and others. The Chinese defence minister told the media that the purpose of his visit was to implement the bilateral agreements signed between both the countries. However, it was the highest visit after the visit of Chinese President Xi Jinping in October 2019. The Nepalese Foreign Ministry gave no details of the visit of Fenghe but the visit was significant as it came just two days after the visit of Indian Foreign Secretary and a military standoff is going on between India and China. Delhi is also concerned about the rising influence of China in Nepal. China which has deep pockets invested billions of dollars in Belt and Road Initiative (BRI). Chinese ambassador in Nepal Hou Yanqi also played an important role in retention of Prime Minister Oli when PK Dahal alias Prachanda revolted against Oli.
Army Chief Manoj Mukund Naravane and R&AW chief also visited Nepal to clear the misunderstanding between both the countries. Nepalese Foreign Minister Gyawali would be visiting India this month to attend the joint commission meeting. It appears that the attitude of Oli is softened towards India and his inclination towards China is also lessening. According to reports the latest visit of Fenghe was not very successful and Oli told to Chinese Ambassador in Nepal that he will take care of the rebellion within party.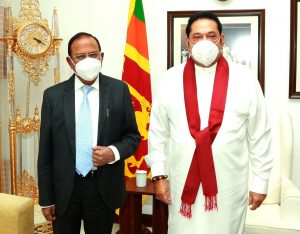 NSA Doval who reached Sri Lanka on 27 November called on Sri Lankan President Gotabaya Rajapaksa, Prime Minister Mahinda Rajapaksa, Defence Secretary Major General (Retd) Kamal Gunaratne and others. He also had a trilateral dialogue with Sri Lankan Defence Secretary and Maldivian Defence Minister Mariya Didi. All the three countries agreed to establish a Maritime Security Secretariat in Colombo which will coordinate maritime security programmes. The Security Secretariat is important as China has entered in Indian Ocean and also constructing China Pakistan Economic Corridor (CPEC) in Pakistan.
Sri Lankan President tweeted that they "Had a fruitful discussion with Shri Ajit Doval". Doval assured that India would strengthen the maritime security of Sri Lanka which will help the island nation to curb drug smuggling and terrorism. The NSA also visited Sri Lanka in January 2020. Doval's current visit would also help India, Sri Lanka and Japan to develop and operate Eastern Container Terminal in Colombo sea port. The NSA's visit is important as it may contain the rising influence of China on the economy of Sri Lanka. NSA also met R Sampanthan of Tamil National Alliance which has 10 seats in Sri Lankan Parliament.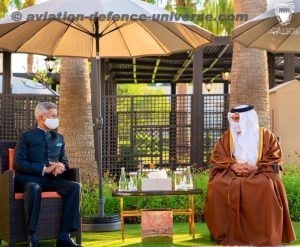 The External Affairs Minister S Jaishankar also held a three-nation tour from 24 to 29 November in which he covered Bahrain, UAE and Seychelles. Bahrain where 350,000 Indians work Jaishankar met his counterpart Abdullatif bin Rashid Al Zayani and discussed important bilateral, regional and international issues. After Bahrain the foreign minister visited UAE where he met Abu Dhabi Crown Prince Sheikh Mohammed bin Zayed Al Nahyan and discussed important regional and international issues. The visit is significant as more than 3 million Indians live and work in UAE. He also met UAE Vice President and ruler of Dubai Sheikh Mohammed bin Rashid Al Maktoum. Dubai ruler appreciated India's role as a dependable partner and discussed about enhancing the economic cooperation.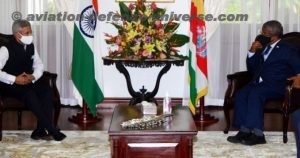 In the last leg of his six day tour the Foreign Minister visited Seychelles where he called on President Wavel Ramkalawan who is of Indian origin, he also met his counterpart Sylvestre Radegonde. They discussed important bilateral and regional issues. Seychelles follows 'India First' policy and it was the first stop of Prime Minister Modi in 2015 during his tour of Indian Ocean. Seychelles is important for Indian navy to gain access in Indian Ocean Region (IOR).
The current diplomatic offensive was necessary as China is reinforcing its grip over the extended neighbourhood with the help of infrastructure and security projects. India should also revive its old historic ties, establish relationship with its diaspora and should strengthen economic ties. On New Year Prime Minister Modi also talked with important neighbours including Sri Lankan President and Prime Minister, King and Prime Minister of Bhutan, Prime Ministers of Bangladesh and Nepal and President of Maldives. Prime Minister Modi invited leaders of South Asian Association of Regional Countries on his first swearing in ceremony while he invited the leaders of the Bay of Bengal Initiative for Multi-Sectoral Technical and Economic Cooperation in his second swearing in ceremony. Nonetheless the bilateral ties are very important as China besides infrastructure projects is also inculcating political and economic relationship.
Indian Foreign Secretary had a 50-minute one-on-one discussion with Prime Minister Oli and it is expected that the relations between both the countries would be normalised which became tense due to inauguration of 80 kms long border road at Lipulekh region.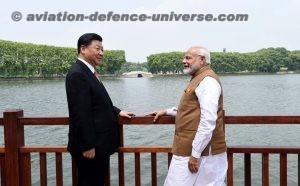 China which is an expansionist country is also claiming village Pangda in Bhutan which is about two kms inside Bhutan borders. China has not only occupied Hambantota port in Sri Lanka, few villages of Nepal are also seized by China. Kazakhstan also had to surrender about 1000 Square KMs of land to China. In South China Sea Beijing has fortified the areas claimed by Philippines and Vietnam. Pakistan which is becoming more and more dependent on China will certainly loose Gwadar port and some arable land of Gilgit and Baltistan. China is also eyeing on the mineral resources of Balochistan. India should try to enlighten these countries as well as other countries about the evil designs of China.
It is expected that US President elect Joe Biden would be soft to China which will further embolden Beijing hence India should be more cautious and should try to strengthen its relationship with its neighbours. India should also try to be friendly with countries like Vietnam, Australia and Japan as well as other countries which have some dispute with China.
(Jai Kumar Verma is a Delhi-based strategic analyst and a retired senior intelligence officer. He is also member of United Services Institute of India and Institute for Defence Studies and Analyses. The views in the article are solely the author's. He can be contacted at [email protected])