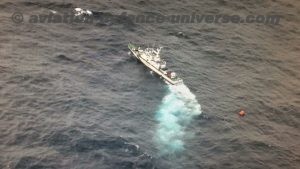 New Delhi. 20 July 2017. Indian Coast Guard Ship Rajkamal and a Dornier Aircraft rescued 11 survivors from a sinking ship MV ITT Panther at high seas off Andaman Island.
At about 0625 hrs on 20 Jul 17, Maritime Rescue Coordination Centre (MRCC), Port Blair received distress message from MV ITT Panther reportedly listing dangerously about 206 NM from Port Blair. The master and the crew had abandoned the vessel in a life raft/ rescue boat.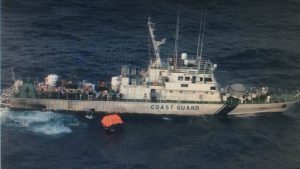 On receipt of the information, Indian Coast Guard Dornier aircraft was launched immediately and Coast Guard Ship Rajkamal was deployed from Port Blair for sea air coordinated search and assistance. The aircraft located the survivors in a life raft at 0900 hrs waving for assistance. MV ITT Panther has reportedly sunk due to loss of stability resulting from flooding.
While continuous monitoring of the survivors was carried out by the aircraft, Coast Guard Ship arrived in area at 1610 hrs and all the 11 crew were rescued and taken onboard by the ship at 1645 hrs, braving rough sea and inclement weather conditions in area. All the survivors were provided first aid, food, water and were observed to be in a healthy condition. Indian Coast Guard Ship Rajkamal with survivors is heading to Port Blair.