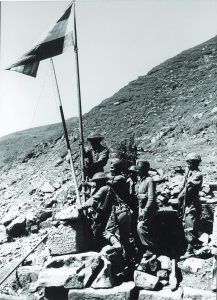 New Delhi. 28 August 2020.  It was the original surgical strike Indian Army conducted. 28 August  marks the Hajipir Day when Indian Soldiers from 1 PARA and 19 Punjab led a daring assault on the 8600 feet,  overwhelmed the enemy , pushing it down on its knees before the enemy reinforcements arrived in 1965.
After a failed Pakistani plan of igniting chaos and rebellion in Kashmir which was given the codename Operation Gibraltar , India decided to take the fight to the other side of the border and raid the posts and positions used by Pakistan Army to push in infiltrators into the Kashmiri territory. 68 Infantry Brigade, also known as the Hajipir Brigade was given the task to get back Hajipir Pass.  1 PARA and 19 Punjab which were placed under the 19 Infantry Division supported by 4 Rajput , JAK Rifles , 4 Sikh LI , 164 Field Regiment less one battery (12 field guns),144 Mountain Battery (6 howitzers), 39 Medium Regiment (3 medium guns), 18 Field Battery (6 field guns)and One section of 4.2 inch mortars, who would assault and capture the Hajipir Pass which was code named Operation Bakshi. They would link up with 25 Infantry Division at Poonch under code-name Operation Faulad.
The plan involved a pincer movement with simultaneous movement of troopers from two sides. Before this 7 Bihar was tasked to take down Ziarat and Tilpatra while 6 Dogra was tasked to take down Mehandi Gali. This was done to fool the enemy about India's intentions. 1 Para was tasked to capture Sank and Lediwali Gali while 4 Rajput would then pass through 1 Para and capture Hajipir Pass. 19 Punjab would capture Ring Contour at Pathra and then link up with 1 Para.
The attack commenced on 26 August with 1 Para crossing the border and attacking Sank , taking the enemy by surprise. The enemy fled leaving their weapons behind. 1 Para pressed on capturing Sar and Ledi Wali Gali with some 20 injured on Indian side.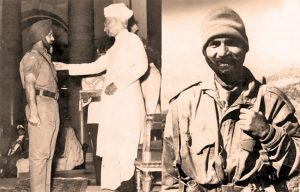 1 Para under Major Ranjit Singh Dayal started pressing on in harsh conditions where they had to climb steep mountains under enemy fire in pure darkness and heavy rain. Major Dayal and his men however reached the Uri-Poonch Road and the pass bottom . After a brief nap , he allowed the lead platoon and artillery to engage enemy while he himself flanked the enemy surprising the enemy and capturing the point by August 28 which is known as Hajipir Day know.
The point was consolidated completely by August 30. 19 Punjab also captured the Pathra and Bedori while 4 Rajput captured Bisali. The whole of Hajipir Pass was under Indian control and this success was attributed to the element of surprise with Indian soldiers , tactics which out maneuvered the enemy and above all the dauntless bravery of our soldiers and leadership of Major Dayal which forced enemy to its knees.