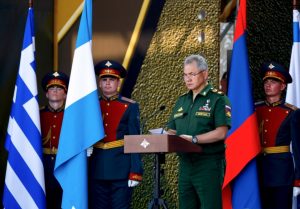 New Delhi. 01 August 2017. Indian Army Team of T-90 Tanks is participating in Tank Biathlon 2017 ,which took off in Russia amidst aplomb and anticipation. Nineteen nations with three crews each are competing with each other in the Stage I individual races to qualify for the Stage II which will be a relay race. Top twelve teams will be selected for Stage II relay race out of which top four teams will qualify for the final stage relay race scheduled on 12 August 2017. The Tank Biathlon commenced with the opening ceremony of International Army Games at Alabino Ranges, Russia on 29 July 2017.
Presently, one crew each of all nations has participated in the first two days of the competition wherein the Indian crew's race was conducted on the 30 July 2017. The individual race of balance two Indian crews is scheduled on 04 and 06 August 2017. The top twelve teams for stage II will be selected on the basis of least aggregate time of all three crews.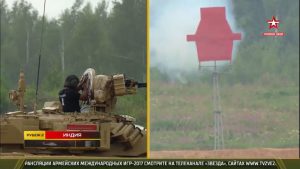 The Tank Biathlon competition is an international event conducted as part of the International Army Games held every year since 2013 at Alabino Ranges, Russia. International Army Games involve 28 events organised in five Countries i.e. Russia, Belarus, Azerbaijan, Kazakhstan and China. The Indian Army team has been participating in the competition for the past three years since 2014. The team stood 6th in the previous year out of the 17 countries which participated in the event in July 2016. This year, for the first time, the team would be participating with own T-90 tanks which have been shipped to Russia.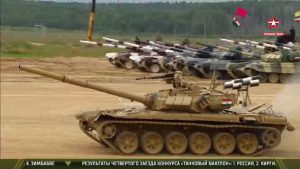 A total of 19 countries including China, Russia, Kazakhstan, Mongolia, Israel & South Africa will showcase their prowess, skills and endurance on the tanks in this prestigious event this year. The competition involves firing on tanks on the move by conventional machine guns and anti tank projectiles at a range of two kilometres, whilst negotiating rugged obstacles. The competition simulates actual battle field conditions involving driving at high speed and entails switching from one mode of operation to another at a fast pace which requires mental mobility and exceptional level of physical fitness and training.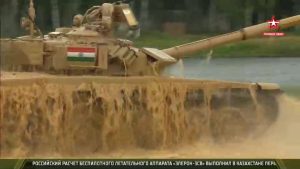 The team has been selected through a rigorous selection process on the basis of technical expertise, physical fitness, mental endurance and consistency in accuracy of firing the tank weapons while driving the tanks through a replica of the original circuit in Russia, at Babina Field Firing Ranges in Central India. The tanks were transported to Russia by Sea and the team moved to Russia on 20 July 2017 for participation in the competition from 29 July to 12 August 2017.
---