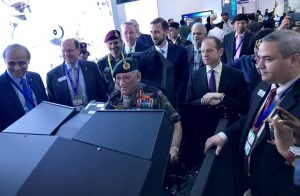 Yelahanka, Bangalore. 21 February 2019. The AH-64 Apache Heavy Attack Demonstrator is a centerpiece of Boeing's Apache training. The high-fidelity flight simulator is used by pilots and crews to practice aircraft procedures and rehearse missions. The demonstrator is containerized and deployable, allowing in-theater training under a wide range of conditions. The Heavy Attack Demonstrator is the only high-fidelity, full-flight simulator accredited for training of Apache attack helicopter aircrews.
Indian Army Chief of Staff, General Bipin Rawat experienced the demonstrator at Aero India today, in the presence of senior Boeing defense executives David Koopersmith, vice president, Vertical Lift; Jeff Shockey, vice president, Global Sales and Marketing; Dennis Swanson, vice president, International Sales; Michael Koch, vice president, Boeing Defense, Space & Security in India; and Brad Rounding, Vertical Lift, Global Sales & Marketing. 
Boeing is showcasing a full flight and mission simulator of the AH-64 Apache, at the Aero India 2019, which provides customers with an insight into basic flight operations, target ID & tracking, weapons engagement, network centric operations, cognitive decision aiding, instrument flight (IMC/IFR) and manned-unmanned teaming.
Boeing provides ongoing maintenance and support of AH-64 training devices, including upgrades that keep the trainers concurrent with the software and technology of the real helicopter. Boeing offers a range of training for AH-64 Apache maintenance technicians and maintenance test pilots, including hardware-based training aids and interactive virtual trainers.