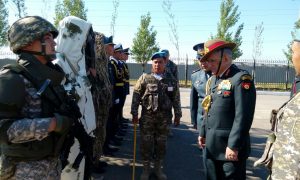 New Delhi. 03 Aug 2017. Gen Bipin Rawat is on a six day visit to Kazakhstan and Turkmenistan. He met Commander-in-Chief Land Forces of Kazakhstan and discussed with him various aspects of cooperation among the two armies. Both sides mutually agreed to take forward the joint exercise which is to be held at Bakloh, Himachal Pradesh this year in Nov 2017. Gen Rawat conveyed Indian support for deployment of Kazakhstan in UN peacekeeping operations.
Kazakhstan further sought assistance for capacity enhancement in the areas of counter insurgency operations, military education and training of cadets in India. COAS assured them of whole hearted support. He complimented the Kazakh Army for their professionalism as witnessed during the demonstration while visiting the 36 Air Assault Brigade.
Ground Forces include four regional commands.Regional Command "Astana" (Headquarters Karaganda) – the administrative boundaries of Akmola, Karagandy Province, Kostanay Province and North Kazakhstan. The command acts as the Supreme Commander's reserve. The commander of the district is Major General Vladimir Shatsky (as of April 2008). The District includes the 7th Separate Motor Rifle Brigade at Karaganda.
Regional Command "East" (Headquarters Semipalatinsk) – in the administrative boundaries of East Kazakhstan and Pavlodar Province (Families, Ust-Kamenogorsk, George, and Ayagoz Usharalsky garrisons). Commander of the district is Lieutenant General Nikolai Pospelov (as of September 2008). The District has the 3rd Mechanized Division (formerly the 78th Tank Division) at Ayaguz, three (?) bases for storage of military equipment, 3rd Separate Motor Rifle Brigade at Usharal (Military Unit No.40398, formed on the basis of a motor rifle regiment of the 155th Motor Rifle Division), 4th Separate Motor Rifle Brigade at Novo-Akhmirovo, Ust–Kamenogorsk (Military Unit No.27943), a cannon artillery brigade, and an air defence missile brigade.
Regional Command "West", (Headquarters Atyrau) – in the administrative boundaries of the West Kazakhstan Province, Aktobe Province, Atyrau Province and Mangystau Province. The main task is ensuring the integrity of state borders, territorial integrity, sovereignty and economic interests of Kazakhstan in the Kazakh sector of the Caspian Sea. In 2008, the commander of the district appointed general Alimzhan Kanagatovich Erniyazov. The District has separate motor rifle and artillery brigades.
Regional Command "South", (Headquarters Taraz) – in the administrative boundaries of Almaty Province, Zhambyl Province, South Kazakhstan Province and Kyzylorda Province. The district's main task is ensuring security in the south-eastern borders of the country. In 2008, General Alikhan Brimzhanovich Dzharbulov was appointed commander of the district. The District includes the 4th Motor Rifle Division at Sary-Ozek in Almaty Province, the 5th Separate Motor Rifle Brigade (Taraz, Military Unit No.85395, 1,500 personnel), the 6th Separate Motor Rifle Brigade (Shymkent, Military Unit No.35748, with five motor rifle and tank battalions, two artillery battalions), a mountain battalion, and the 210th Training Center. The 206th Reserve Division was previously stationed in this command area.
There are also the Air Defence Forces, the Airmobile Forces with four brigades, and the Artillery and Missile Forces (formed as a separate branch on 7 May 2003).[