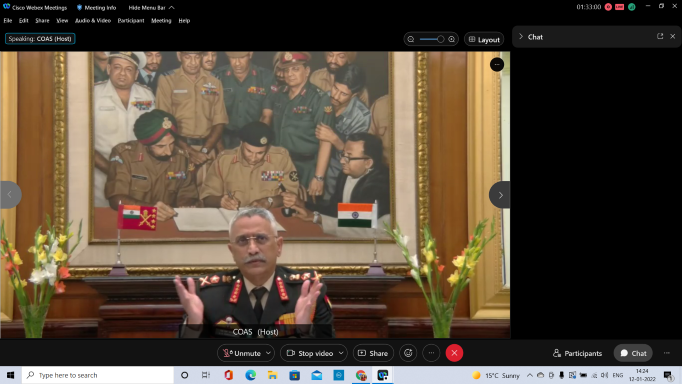 Reiterates the force's preparedness to face any contingency
By Sangeeta Saxena
New Delhi. 12 January 2022 In his last press conference as Army Chief , General MM Naravane, softly but firmly stated, " The Indian Army will continue to deal with the Chinese PLA in a firm and resolute manner in eastern Ladakh and it has been maintaining the highest level of operational preparedness in the region. We have continued to maintain the highest levels of operational preparedness while at the same time engaging with the Chinese PLA through dialogue. Good thing that talks are going on, it shows that we can resolve our differences through dialogue. Each time we talk we narrow down to the issues, that is why this mechanism is important."
He was addressing the media at the annual press conference before Army Day 2022 in the national capital and in a first of its kind the press conference was held online due to the Covid 19 third wave in the country currently.
Responding strongly on China's new border law, he said "Any law, which is not binding on other countries, is not legally tenable, and is not in keeping with the agreements that we have had in the past, obviously cannot be binding on us."
Not to forget the terrorism abetted from Pakistan's soil, Gen Naravane said, "We, on our part, have resolved to show zero tolerance to terror, and commit ourselves to extract dire costs, should that be forced upon us. The combined intelligence inputs suggest 350 to 400 terrorists on the other side at the launch pads or in various training camps. This threat has in no way receded. We have to remain alert . A threat on the western front is very much there and cannot be ignored," he said.
On the demilitarisation of the highest battle field in the world Gen Naravane said, "We are not averse to demilitarisation of Siachen glacier. But the precondition for that is to acceptance of the Actual Ground Position Line (AGPL). Pakistan has to accept it."
Speaking on the emergence of drones as a weapon of war both in conventional and proxy war the Chief said, "Drone threat is very much there. Not for infiltration purpose per se but drones are for logistics purposes and carrying arms, ammunitions and even drugs across LC and IB. It is the favoured way of doing it as it is low cost, lesser threat and less chances of getting caught when you are doing it. Not only Army but also Ministry of Home Affairs is very much alive to this developing threat and a number of measures are being put in place to counter this drone threat. In case of swarm drones – we are going ahead – after technology demonstration last Army Day Parade. We will not be found wanting in drone warfare if need arises."
The Chief also was positive about Indian Army's technological advancement. "To meet the future challenges the Indian Army will have to be a technology empowered Army. Quantum Technology & Artificial Intelligence Lab has been set up at MCTE MHOW in collaboration with National Security Council Secretariat (NSCS). It is an array of fields like Quantum Key Distribution, Quantum Communication, Quantum Computing and Post Quantum Cryptography. And we are in no ways lagging behind in state-of-the-art technologies and capabilities," he stated.
Speaking on the theatre commands he said, "As far as Army is concerned we are carrying our internal deliberations on theatre commands. It was also one of the recommendations of the Kargil Review Committee. Every country has its own set of threats and challenges and whatever structure and organisations we arrive at will be India specific and we will not be in any manner trying to force fit any other model which is there in other armies of the world. There is only one aim in mind which is assured victory."
In a question on Indian Army in peace keeping missions General Naravane informed, "India is a significant contributor to UN Peace Keeping Missions abroad. We have 5300 plus personnel deployed in 8 peace keeping missions. Over the years we have contributed more than 2 lakh troops to various UNPK Missions and more than 150 have also lost lives while serving. There is a proposal to send a Battalion Group to UN Interim Security Force within the next month or so."
Elaborating on the capability development plan he informed, "What HQ IDS has promulgated now is the ICADS which is Integrated Capability Development System, which is itself a five stage process. Once that is formulated the we will come to Integrated Capability Development Plan( ICDP). After that it will be to five year Defence Capability Acquisition Plan (DCAP). We are still at the ICADS stage. It is quite different from Long Term Integrated Perspective Plan or LTIPP, which was bottom up approach which did not have the required degree of synergy, consideration and collaboration between the services. And this new system will be top down. First we will see what are the threat and capabilities which need to be achieved and then what are the ways and means to acquire them. So we will be acquiring in the coordinated manner."
He reiterated at the end, "Women cadets in NDA is not a big deal and we are fully conversant with all the requirements which are gender specific. The training at OTA Chennai is combined apart from the staying part for both men and women. We are fully prepared to have lady cadets at NDA. We will make sure those gender specific needs will be taken care of."
On the close down he thanked the media for its continued support to the Indian Army and to him as Chief .