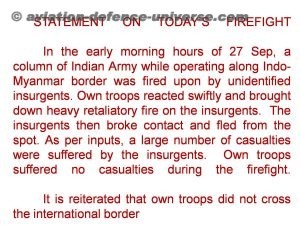 New Delhi. 27 September 2017. A team of Para Commandos of the Indian Army carried out a strike at 4:45 am which caused heavy casualties to the NSCN(K) insurgents close to Langkhu Village near the Indo -Myanmar border. The Army says it was a retaliatory fire which resulted into heavy casualties inflicted on NSCN(K) cadre an no casualties suffered by Indian Security Forces.
This was done with the help of Assam Rifles and the action was planned by local Army Commanders. NSCN(K)has been hit in its own backyard. Despite the death of the NSCN(K) leader in June the cadre still enjoys support in the area. The presence of Myanmar armed forces in this area is very less and Khaplang group has a strong footprint in the area.
Army reiterated that its troops had not crossed the borders, so all talk about a planned surgical strike seems to be the media going overboard and loosely using a strategic term. Army has been restrained in talking about it but has given clarifications. The matter has been handed very skillfully and maturely.