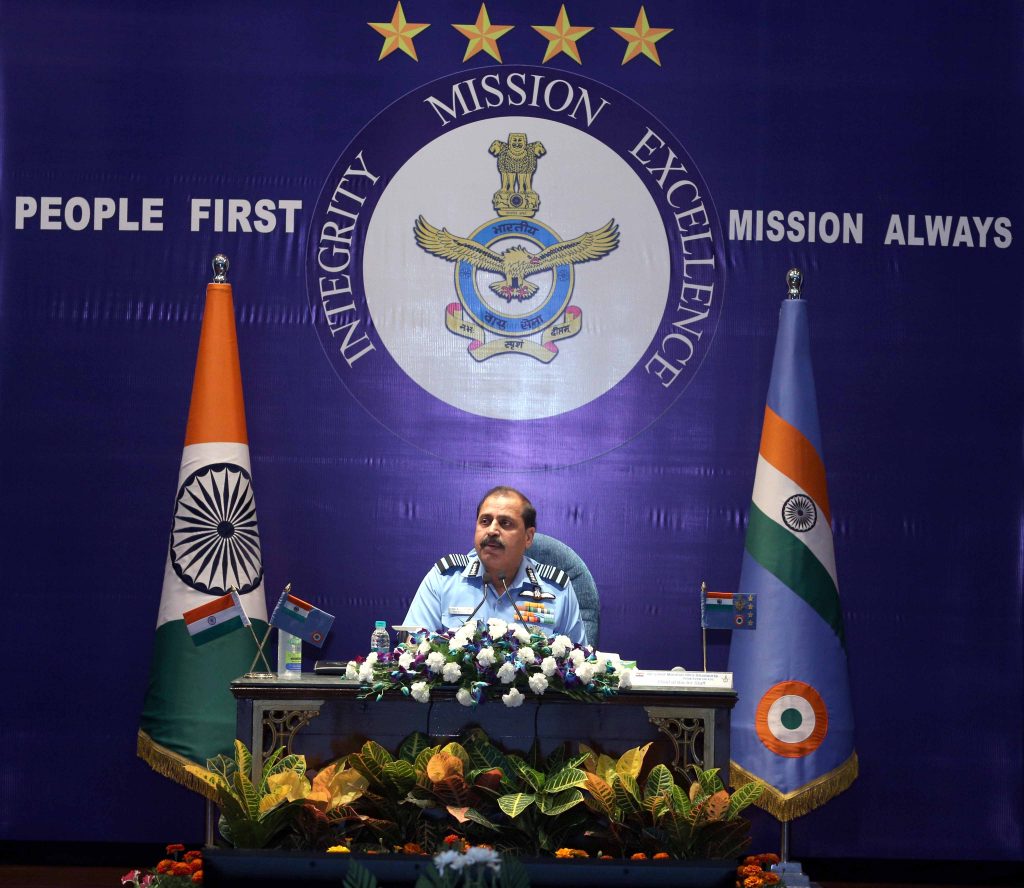 By Sangeeta Saxena
New Delhi. 05 October 2020. "In a conflict scenario China cannot take better of us.We are totally prepared for any conflict including a two war front. We have deployed strongly and are firmly in place to respond to any contingency. Operationally we are amongst the best and have a vision to scale up capability and credibility," reiterated Indian Air Force Chief, Air Chief Marshal RKS Bhadauria. He was addressing the media at the annual press conference ahead of the 88th Air Force Day.
"We have sustantial presence in North East and ofcourse a plan of action for North East is very much there. Capabilities will be very strong and will have substantial infrastructure for the region. We will also upgrade the existing infrastructure. Daulat Beg Oldie(DBO) is available for use and is operationalised now. For the Chinese it is a big threat as we have a capability so near to the Line of Actual control(LAC)," the Chief added.
He responded to a query on the next three months at LAC by saying that it will depend on how talks between India and China progress. "Current progress is slow, what we see is effort to dig in for the winter. We are taking action accordingly. Our further action will depend on the ground realities," Bhadauria said.
He said, "Our airlift capability was also brought into focus as we supported the Indian Army in rapid mobilisation of troops and equipment to operational area at a pace which our adversary didn't expect. The IAF is transforming at a rapid pace and over the years and has grown from being a tactical force to a strategic one with trans-oceanic reach."
Shifting focus to the force's latest induction Rafale he informed that in addition to the five which are in India, there are five more which are operational in France as the IAF pilots are getting trained on them. " Induction of Rafale jets have given us an edge. Every month 3-4 will come and by the end of 2021 the first squadron will be complete. By 2023 both squadrons will be fully operational," said the Air Chief Marshal.
"We have placed our trust in LCA. In the next five years we will induct LCA Mk 1. At the moment, we are concentrating on 83 LCA Mk 1A which will hopefully get inducted by 2029. And there will also be 100 more LCA later versions," he informed.
"Then we will have Advanced Medium Combat Aircraft (AMCA) , the fifth generation aircraft. Two squadrons of AMCA Mk1 and five squadrons of AMCA Mk2 are planned which we hopw to start inducting by the end of this decade and continue till next decade, " he stated.
"After that, the follow-up planned is MRFA (multi-role fighter aircraft), which is under 'Make in India' and a major opportunity for the private sector. 114 of these will form a part of the fleet in the next decade. In terms of whether we go in for more Rafale or MRFA, it will be an open competition as it is currently planned. We have received the RFI (Request for Information) responses. So this entire subject is under discussion and debate. As and when this situation and the picture becomes clear and we finalise the way forward, we will share with you," he added.
IAF will also be buying 106 Hindustan Turbo Trainer-40 (HTT-40) aircraft from Hindustan Aeronautics Limited (HAL). 70 HTT-40s will initially be procured, while a second group of 36 will be procured after operationalisation of the HTT-40 within the Indian Air Force.
61 Light Utility Helicopters (LUH) are also ordered by IAF to HAL. The LUH recently completed its high altitude trials. It took off from Leh and demonstrated its hot and high hover performance at Daulat Beg Oldie (DBO) Advanced Landing Ground (ALG) at 5000 MAMSL. The helicopter also demonstrated its payload capability in Siachen glacier high altitude.
So all these procurements in the line and the existing fleet will make IAF a force to reckon with. The Chief when asked how near to striking had IAF come in the last five months at LAC, he responed, " Did we come close to striking? No. Were we prepared? Yes."