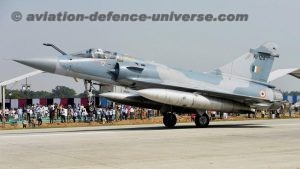 Acquisitions
1. Light Combat Aircraft (Tejas).In consonance with the 'Make in India' campaign launched by the Prime Minister, the first Squadron of Tejas, an advanced multirole aircraft with state-of-art avionics was formed on 01 Jul 16. This year the aircraft participated in the Republic Day Flypast, Aero India and in the AF Day flypast.
2.  Su-30 MKI.Induction of Su-30 MKI aircraft in the IAF is under progress. The current lot of Su-30 MKI aircraft are being manufactured in HAL through Transfer of Technology. Advanced indigenous weapons like 'BrahMos' supersonic cruise missile and 'Astra' Beyond Visual Range (BVR) missile has been indigenously integrated and fired from aircraft.
3. Rafale.Inter Governmental Agreement (IGA) was signed with the Govt. of France for procurement of 36 Rafale aircraft on 23 Sep 16. The squadrons are expected to form by 2022.
4. Hercules C-130J-30.IAF has inducted additional six C-130J all-weather transport aircraft which is designed for Special Operations. The aircraft has proven its worth in a number of HADR operations in Nepal, Bihar and J&K. The aircraft was instrumental in the operations against ANEs at AF Station Pathankot and deployment of para military troops in Srinagar. IAF is enhancing the operational capability of the ac by procuring Night Vision Goggles.
5. Mi-17 V5 Helicopters.IAF has been operating Mi-17 V5 and case for procurement of additional helicopters is in progress. Mi-17 V5 helicopter is specially designed with full glass cockpit, advanced avionics, weather radar and powerful aero engines for high altitude operations. The helicopter is being exploited for various civil and military operations such as transportation, paratrooper induction, search & rescue, medical evacuation and fire fighting in all weather conditions. The Night Vision Goggles compatibility enables its unhindered operations even during low visibility and dark night conditions.
6. Sensor Fuzed Weapon. IAF has procured Sensor Fuzed Weapons and associated equipment which can be utilised against concentration of tanks and other mechanized vehicles. Weapon integration has been completed in Sep 2017.
Upgrades
7. MiG-29 Upgrade. The MiG-29 aircraft are being upgraded with state of theart avionics, an array of smart air to air and air to ground weapons. The addition of in-flight refuelling capability on MiG-29 upgrade has significantly increased its combat potential. The first phase of the project was Design & Development (D&D) in Russia. The Series Upgrade in second phase of the remaining aircraft is being undertaken in India, at the Base Repair Depot, Nasik.
8. Advanced Light Helicopter Mk-IV.Advance Light Helicopter has been further developed into ALH Mk-IV version. It has been transformed into armed platform by integration of various modern weapons. ALH Mk-IV is armed with rockets, guns and air to air missiles for carrying out the armed role
9. MLH Upgrade.Contract for upgrade of Medium Lift Helicopters was signed with M/s Elbit Systems Ltd on 30 Jan 17. The upgrade will improve the Electronic Warfare (EW) and night operations capability of thefleet.
10.  Restoration of Vintage Flight.Vintage aircraft of World War-II era form an important part of Indian aviation and heritage of the IAF. One Tiger Moth and one Harvard aircraft, after restoration, are operating in IAF colours. Being an integral part of most air displays, both aircraft have enthralled audiences all over the country. They remind us of our rich aviation heritage besides motivating the young generation.
11.  Procurement and Upgradation of Aeromedical Simulators. IAF is in the process of upgrading the existing aeromedical simulators and procuring new ones to enhance the operational training of aircrew using these simulators with the ultimate aim of achieving aerospace safety. Two Ejection Procedure Simulators have been installed at 1 and 2 Aero Medical Training Centres (AMTC) and are used for training aircrew in the correct procedure and posture to be adopted before ejection from a fighter aircraft. The Software and Hardware of the Spatial Disorientation (SD) Simulators installed at IAM and 1 & 2 AMTC have been upgraded in the month of Aug 2017. The state-of-the-art simulators are being operated by qualified aeromedicalinstructors of Indian Air Force who helps in enhancing aerospace safety and optimizing human performance.
12. Software Defined Radio. The contract for Software Defined Radio (SDR) was signed in Jul 2017. The SDR will be integrated on various IAF Airborne and Ground platforms, and will enhance Network Centric Warfare capability of the IAF.
13. AEW&C (Indigenous) System. The first DRDO designed and developed Airborne Early Warning &Control (AEW&C) system, aboard Embraer-145 aircraft, was inducted in the IAF in Feb 2017. The state of the art Active Electronically Scanned Array based Radar system can detect airborne objects from far off distances and provides early warning to the Air Defence Command and Control Centres. AEW&C is a huge leap by India towards achieving self-reliance in development of military capabilities.
14. Pechora & OSA-AK.Pechora missiles are being refurbished with a fresh lease of life for 10 years. The process involves extensive technical examinations of missiles frames/components, testing, repairs and replacement of propellants, indigenised by Ordnance factories. The equipment is planned to be digitised from the existing valve-based technology. The missiles of OSA-AK have been refurbished with the help of Bharat Dynamics Ltd, Hyderabad.
15. SPYDER LLQRM System. The SPYDER Low Level Quick Reaction Missile system, equipped with Python 5 and Derby missiles, has been inducted into the IAF. This system provides a comprehensive response to the saturation attacks with multiple target engagement, thus boosting the short range AD capability.
16.  MRSAM.On completion of successful Verification Firing Tests of MRSAM system by DRDO, IAF is in the process of inducting these systems. MRSAM is capable of engaging targets from extreme low altitude to high altitude and very close range to medium ranges. This extremely capable Area Air Defence weapon networked in the modern IACCS system of IAF would defeat all types of hostile targets, including those with extremely low RCS, even in a dense jamming environment.
Operations
17. Modernisation of Airfield Infrastructure (MAFI).IAF has modernised 25 bases out of planned 30 bases as on date with advanced navigational aids and Cat-II Airfield Lighting system under MAFI Project Phase-I. Work execution at remaining 5 bases is under progress.
18.  Joint Use of IAF Bases.     IAF has opened up 30 of its airfields and seven Advance Landing Grounds (ALGs) in North-East for joint use and extended watch hours of various airfields to accommodate more number of civil scheduled flights. Further, 20 Conditional Routes have been cleared within IAF restricted airspaces, for use of civil airlines, thereby reducing the time of travel and saving of fuel & reducing carbon footprint.
19. Flight Trials. The following flight trials were undertaken for the indigenously developed air launched weapons:
(a)    500 Kg General Purpose (GP) Bomb. Indigenously      designed and developed by ARDE, partial flight trials were conducted from Su-30 MKI ac in the month of May 17.
(b)         Thermobaric Bomb. Flight trials of indigenously developed thermobaric bomb, was undertaken during the same period on MiG-27 UPG aircraft.
(c)         Precision Guidance Kit for 450 Kg HSLD Bomb (PGHSLD-500). Captive flight trials of PGHSLD-500 along with 450 Kg HSLD were conducted during the same period from Su-30 MKI aircraft.
(d)        Flight Trials of SANT Missile. Captive flight trials of Stand-off Anti Tank (SANT) Missile, designed and developed by RCI Hyderabad in association with IAF, was undertaken on Mi-35 helicopter.
Security
20. In the aftermath of Pathankot incident, IAF re-assessed its Security Resources and training aspects of its personnel. It was therefore decided to raise Security Training Schools at Bhatinda (Punjab) and Naliya (Gujarat). The basic aim was to enhance physical fitness and combat efficiency air warriors. Composite Security Training Courses (CSTCs) are being conducted at Bhatinda and Naliya with effect from 01 Aug 16. A total of 5766 air warriors including 603 Officers and 5163 airmen have been trained so far at Security Training Schools.
Defence Co-operation with Foreign Countries
21.  Ex SIAM BHARAT-2017. A Command Post Exercise (CPX) was held in Chiang Mai, Thailand from 22 -26 May 17. 11 member IAF team participated in the exercise.
22.  Russia: Tri Service Exercise INDRA-2017.Ex lndra-17 was held in Russia from 19-29 Oct 17. HQ IDS was the steering agency for Ex Indra-17. IAF participated with 1 x IL-76 along with 80 personnel chosen from various areas of core competencies. Additionally, one IL-76 was utilised for induction/de-induction of the contingent.
23.  Ex Blue Flag-2017 (OUT). IAF participated in a multilateral exercise, Blue Flag-2017 at Uvda and Nevatim AFB, Israel from 05-16 Nov 17. The IAF contingent included 1 x C-130 ac and 45 personnel including Garuds. DG Air (Ops) attended the Distinguished Visitor's Day of the exercise at Uvda and Nevatim AFB, Israel on November 14, 2017.
24. Joint Military Training (JMT-17). Joint Military Training (JMT-17) with Republic ofSingapore AirForce was held at AFStn Kalaikunda from 29 Oct 17 as part of Bilateral agreement with RSAF. RSAF inducted 6 x F-16 C/D on November 6, 2017 and de-inducted on 14 Dec 17. Bilateral phase of JMT-17 was held from 27 Nov 17 to 11 Dec 17.
HADR Operations
25. Airlift of Oil Tankers.Due to Manipur economic blockade, a total of two 20KL
oil tankers and twelve 12KL oil tankers were airlifted from Guwahati to Imphal, between 22 Jan 17 and 22 Feb 17, employing the C-17 and IL-76 aircraft.
26.  Srinagar Bi-Election.In view of Srinagar Bi-Election, C-17 aircraft were tasked to airlift CRPF personnel from Imphal to Srinagar from 01-04 Apr 17. A total of 856 CRPF personnel and 60 tons of loads were airlifted.
27.  Rajasthan Flood Relief (24 Jul 17 – 02 Aug 17).IAF helicopters were used during the flash floods in Rajasthan, where in 3.25 T of food packets were air dropped for in the areas affected by floods.
28. Flood relief in UP, Bihar and Assam (13 Aug 17 -24 Aug 17)IAFdeployed C-17 and AN-32 fleet to airlift NDRF and Army teams to undertook rescue missions in flood affected areas in Purnia due to heavy rainfall in Aug 2017. The aircraft was also used to move relief material to AF Stn Purnia to meet the demand of the flood affected region. Further IAF deployed Mi-17 V5 helicopters at Purnia to undertake distribution of relief materials. IAF undertook around 300 missions for evacuating more than 1500 personnel and distributing 570 T of relief materials.
29.  Rescue of Foreign Nationals.IAF helicopters rescued stranded foreigners from high peaks inLadakh regions on various occasions. Air effort was provided for search and rescue of citizens of Switzerland in Jul 2017, Israel and Germany in Aug 2017, Italy, New Zealand, Sweden and USA in Sep 2017.
30.  Relief Mission for Rohingya Refugees- Bangladesh. Two C-17 aircraft airlifted 107 tons of relief material from Delhi to Dhaka, Bangladesh on 14-15 Sep 17 as an aid to the Rohingya refugees in Bangladesh.
31. Relief Mission for Rohingya Refugees — Myanmar.One C-17 aircraft airlifted42tons of relief material from Delhi to Yangon (Myanmar) on 24 Nov 17 as an aid to the Rohingya refugees in Myanmar.
32. Anti-Naxal Ops.04 X Mi-17V5 MLHs, 02 x Mi-17 MLHs and 01 x ALH Mk-III helicopters are deployed since Oct 2009 in support of MHA for Anti-Naxal operations, code named 'Op Triveni'. The Mi-17V5s are deployed two each at Raipur and Jagdalpur and the Mi-17s operate ex-Ranchi. ALH Mk-Ills operate ex-Raipur/Jagdalpur. All operations are undertaken as per 'Joint SOP' and 'Rules of Engagement' for 'OP Triveni' approved by MHA and MoD.
33.  Op Sahayam (SAR for Missing Fishermen at Trivandrum). In the aftermath of cyclone 'Ockhi' the IAF unrelentingly pursued HADR missions, by employing its air assets, and rescued 17 fishermen from the sea. Additionally, one C-130J was kept ready at Hindan along with NDRF team and load to be flown directly to Agatti, Lakshadweep Islands, in case of any contingency.
Make In India
34. One of the main focus areas of the IAF is to support indigenisationandmanufacturing of defence equipment, thus reducing dependency on import of defence equipment. Light Combat Aircraft, Akash Missile, Advance Light Helicopters (ALH) have already been inducted, thus giving impetus to indigenisation. Further, IAF plans to induct more capable and potent LCA Mk-IA in the future. IAF is also actively supporting DoD of LCH, RPAs, Medium Power Radars, Low Level Tracking Radars and other systems. IAF is also closely coordinating with DRDO for development of various types of state of art weapons.
35. Modernisation plan is being pursued to beef up the defence manufacturing base and the eco system. IAF has already identified series of defence equipment that can be manufactured under 'Make' category. MoD has been striving to include the private sector in production of defence equipment. Various projects under 'Strategic Partner' model will give impetus to 'Make in India' initiative. This will not only generate employment,enhance skill level but also assist in harnessing key technologies for growth of aerospace sector in the country.
Digital India Initiative
36.   AFCEL Project.         IAF has established pan IAF captive 3G WCDMAMobileNetwork AFCEL. The network has been fully operational with voice call and data services. In-house initiatives have also seen development of the following apps:-
(a)            Instant Messaging App (AFCHAT)
(b)            IAF Directory Search App
(c)            Conference Scheduler App
(d)            Caller-ID App
(e)            Air Force Central Accounts Office (AFCAO) App and Website.
(f)             MedWatch App
Women Empowerment
 37. Induction of Women Pilots in the Fighter Stream.         On 18 Jun 16, three lightCadets – Avani Chaturvedi, Bhawana Kanth and Mohana Singh created history by becoming the first women pilots to be commissioned into the fighter stream. These women pilots, now Flying Officers, have been posted to MiG-21Bison and Hawk units as Sqn Pilots on successful completion of their fighter flying training.39. A second batch of women cadets also have been selected in Fighter stream in Jun 2017. Presently, they are completing Stage-II (Fighter) training at Air Force Station Hakimpet and are expected to be commissioned into the Fighter stream in Dec 2017 after successful completion of their training.
Honours and Awards
38.  The Hon'ble President of India has conferred the following Gallantry Awards to theIAF personnel during the year 2017:-
(a) 26 Jan 17
(i)  Vayu Sena Medal (Gallantry) – Four
(b)  15 Aug 17
(i)   Vayu Sena Medal (Gallantry) – Two
(ii)  Mention-in-Despatches – One
39. Award of President's Standards. The President's Standard was awarded to 125 (H) Squadron and Colours to MTI at Air Force Station Tambaram on 03 Mar 17. Further the President's Standard was awarded to 223 Squadron, AF and 117 HU, AF on 16 Nov 17 at Air Force Station Adampur.
40. Gold Medal in Commonwealth Shooting Championship.Sergeant  Shahzar Rizvi won Gold medal in 10M Pistol at Commonwealth Shooting Championship held at Gold Coast, Australia from 28 Oct 17 to 08 Nov 17. In addition, Sergeant Deepak Kumar won Bronze medal in 10M Air Rifle.
41. Expedition to Mt Dhaulagiri.  Three airwarriors from IAF, Squadron Leader
Kevin Nishanth, Corporal JS Raina and Corporal Ravindar summitted Mt Dhaulagiri peak and hoisted the IAF flag on top of the seventh highest peak in the world on 20 May 17. The team was flagged-in by the Chief of Air Staff, Air Chief Marshal BS Dhanoa PVSM AVSM YSM VM ADC, on 21 Jun 17.
42. Visit of IAF Skydiving Team to Sri Lanka (09 Jul to 14 Jul 17). IAF Skydiving team visited Sri Lanka from 09 Jul to 14 Jul 17. The team consisted of jumpers from Paratroopers' Training School Agra as well as from Dte of Adventure. IAF skydiving team consisting of a total of 18 Air Warriors.
43. Trekking Expedition to Tololing Heights.The Directorate of Adventure conducted a Commemorative Trek to Tololing Heights in 16-23 Aug 17 and 24-31 Aug 17. Two groups of total 56 serving and veteran Air Warriors participated in the trekking expedition. The trek rekindled the memories of participants who had taken part in Op Safed Sagar in 1999. Keeping the spirit of its motto 'Touch the Sky with Glory', besides remembering the sacrifice of military personnel during the operations, this expedition also aimed to promote adventure activities in IAF and gratitude to warriors who sacrificed their lives for the country.
44. Joint IAF — BSF Camel Expedition.      Nine women Air Warriors of IAF took part in all women camel expedition in desert areas of Gujrat, Rajasthan and Punjab which was jointly executed with Border Security Force. The expedition was flagged off from Barmer, Rajasthan on 15 Aug 17 and was flagged in at Attari (Amritsar, Punjab) on 02 Oct 17.
45. Flag off ceremony: IAF Mountaineering Expedition to Mt Vinson. A team of IAFmountaineers has successfully scaled highest peaks of six continents and is now embarking on last of the culminating expedition to Mt Vinson in Antarctica to complete `Mission Seven Summits'. A team of 05 IAF mountaineers led by Gp Capt RC Tripathi VM (Gallantry) have been embarked on the mountaineering expedition to Mt Vinson (4897 mtr) on 13 Dec 17. The expedition has been flagged off by Air Chief Marshal BS Dhanoa PVSM AVSM VSM VM ADC, Chief of the Air Staff on 08 Dec 17 in a befitting ceremony.
46. Tri Serivces Military Band Perfomance at Russia.     One officer and 11 otherranks from IAF have participated in the Tri-Services Military Band which was invited byRussia to participate in the 10th International Military Music Festival-2017 held from 24 Aug to 03 Sep 17 at Red Square, Moscow, Russia.
Miscellaneous
47. President's Parchment Commission.       Govt sanction has been accorded for issue of President's Parchment Commission Certificate to Master Warrant Officers/Warrant Officers granted Honorary Commission. Accordingly, all Master Warrant Officers/Warrant Officers granted Honorary Commission on 26 Jan 16 or thereafter arebeing issued with President's Parchment Commission Certificate akin to the sister services.
48. The e-Maintenance Management System (e-MMS).    The e-MMS project has been implemented for centralised and web based e-maintenance solution for the IAF The project is conceptualized on Digital India model and is one of the largest Maintain Repair Overhaul (MRO) IT implementation project in the World. This would help IAF to transform from paper based legacy maintenance system to an online system. The Project would be implemented at 170 sites of IAF covering the entire spectrum of assets. The solution was rolled out at Air Force Station Pune in May 2016. Subsequently, on 09 Jun 17, the application has also been rolled out at Air Force Station Gwalior. Various activities are in progress to complete the project by Dec 18 across all 170 bases.
49.  Inauguration of Online Examination Web Portal of Indian Air Force by Hon,ble RRM  Raksha Rajya Mantri Shri Subhash Bhamre inaugurated the online examination web portal of Indian Air Force on 11 Dec 17. A MoU was signed by IAF and CDAC on 31 Oct 17. For Scheduled Test planned in Mar 18, online registration will open from 05-29 Dec 17 and online test will be conducted on 10-11 Mar 18.
50. E——-Training. In line with Gol's Digital India initiative, IAF has taken a lead to bring about a paradigm change in the present training methodology for ab-initio air warriors. Towards this, an e-Training project for 400 ab-initio trainees at AF Stn Jalahalli in Bengaluru has been successfully implemented. Actions have been initiated to replicate a similar model at other Training establishments of the IAF.
51. Foreign Training.  IAF undertakes training of trainees from Friendly Foreign Countries (FFCs) under the Indian Technical and Economical Cooperation (ITEC) scheme of Ministry of External Affairs. For the training year 2017-18 (01 Jul 17- 30 Jun 18), a total of 754 vacancies have been allotted by MEA to 22 countries in 125 various courses at 39 Training Establishments of the IAF. IAF officers are also being nominated to attend courses in various Friendly Foreign Countries (FFCs). IAF avails courses offered by USA, Bangladesh, UK, Japan, Australia, Indonesia, Thailand, Malaysia, Spain and various other countries.
52. Centralised Disbursement System of Salary.  The Centralized Disbursement System (CDS) of salary has been implemented in the Indian Air Force with its formal launch on 03 Apr 17. The erstwhile system of disbursement of salary had certain inherent limitations which caused delays in compilation of expenditure under the Head "Salary". Implementation of the Centralised System of Disbursement of Salary through AFCAO has weeded out the stated limitations and dispense acquaintance roll, revenue stamps and pay books.