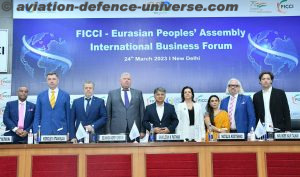 New Delhi. 24 March 2023. Natalya Kostenko, Deputy of the State Duma of the Federal Assembly of the Russian Federation of the VII, VIII convocations  stated that India and Russia have a strong cultural and economic relation and there are a lot of sectors with potential collaboration.
Addressing the 'FICCI-Eurasian Peoples' Assembly International Business Forum',  Kostenko remarked that tourism plays an important role inside the Russian Federation. She further stated that tourism can help to revive the economies and both nations will together work to further strengthen this sector. "While Russia is the 3rd largest country in attracting international tourists, India has a lot to offer in the sector with its rich heritage, history and culture," she emphasized.
Mr BELYANINOV Andrey Yurievich, Secretary General, Eurasian Peoples' Assembly spoke on the prominent presence of Indian industry across the world and development in trade and science & technology is commendable. "Indian and Eurasian business community needs to collaborate in the sectors of technology, manufacturing of spare parts, machine tools, education, pharmaceuticals," he added.
Yurievich also reiterated the shared values and cultural ties between India and Russia and there is the twin cities arrangement which is crucial for strengthening bilateral ties. Shailesh Pathak, Secretary General, FICCI said that the resurgent Indian economy and the country's entrepreneurial zeal is actively assessing and perceiving time-tested old-friend Russia and other Eurasian countries and forge new linkages for sourcing new technologies, innovations, natural resources and business opportunities.
"India and Russia have very warm ties not just at the govt level but also at the people-to-people level. The question is how we expand this to more commerce, more trade and more investment," he added.
Dr Harjinder Kaur Talwar, MD & CEO of Comvision (India) and Past President, FICCI Ladies Organisation, spoke about India's niche in IT sector and cutting-edge technologies. She added that there is immense potential for collaboration between both the nations and India can extend its partnership in the IT sector to its Eurasian partners.
Sergei Glazyev, Minister for Integration and Macroeconomics of the Eurasian Economic Commission noted that while Europe is moving towards East, India is making efforts to move towards the Russian Federation in terms of enhancing trade and investment.
He mentioned that there is a need to improve transportation between the countries by ensuring greater cooperation in the International North–South Transport Corridor and by improving infrastructure and connectivity through the creation of railroads and speed highways.
Arun Chawla, Director General, FICCI alluded on the imperative for the Indian industry to identify the business opportunities in the region and expand the trade and investment potential.