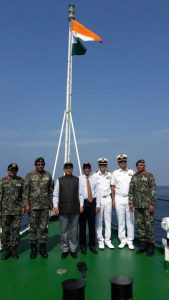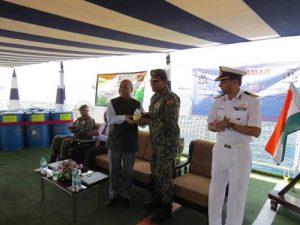 Maldives. 21 December 2016. The Ambassador of India to Maldives Akhilesh Mishra and senior officials from the government of Maldives and the Maldives national defence force attended a ceremony on board Indian Coast Guard ship Samar to hand over 2000 litres of environment friendly pollution dispersant to the chief of defence force of MNDF, Major General Ahmed Shiyam.
This critical requirement was felt after recent incidents where oil spills could have threatened the pristine waters of Maldives and the pollution dispersant was specially sent to Maldives by the director general of the Indian Coast Guard Rajendra Singh.
This ready stock of dispersant will be transported across the Maldives by MNDF and help in responding to oil spills swiftly. The CDF thanked Indian coast guard ship Samar for delivering the items. Minister of State for Defence, Mohamed Zuhair, vice chief of defence force, brigadier general Ahmed Shahid and Commandant of Maldives Coast Guard, Colonel Mohamed Ibrahim for graced the occasion, along with Indian Coast Guard and MNDF personnel.