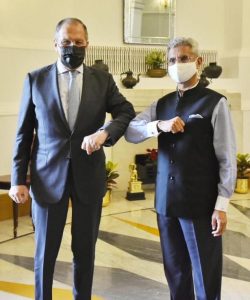 Russian Foreign Minister Lavrov also continues the act by maintaining equilibrium between India and Pakistan
By Jai Kumar Verma
New Delhi. 10 April 2021. Sergey Lavrov the Russian Foreign Minister was in India recently and his next stop was Islamabad. A Russian Foreign Minister visited Pakistan after nine years and that too just after calling on India, which had been previously a practice with U.S. visiting dignitaries.
Islamabad gave a red-carpet welcome to Lavrov. Foreign Minister Shah Mahmood Qureshi received him and his delegation at the Islamabad airport and the Russian Foreign Minister also met Prime Minister Imran Khan and Army Chief General Qamar Javed Bajwa. The main discussion was about Afghanistan as the peace talks between US and Taliban have reached at a dead-end and the chances of implementation of negotiated settlement became remote. Imran Khan emphasised on a negotiated political settlement in Afghanistan.
Khan also lauded Russia for hosting one day international conference in Moscow on March 18 in which the representatives of U.S., China, Russia, and Pakistan were present. In the conference India was not invited but the representatives of Afghan government and Taliban were present. The object of the conference was to make peace between Taliban and Afghan government. Pakistan which is passing from a difficult economic crisis also discussed about the economic relations, North South Gas pipeline project, defence and security cooperation and COVID-19 pandemic. Former U.S. President Trump fixed May 1 as the deadline of withdrawal of all U.S. troops from war ravaged Afghanistan however it appears that Biden administration may not adhere to the cut-off date. Nonetheless at present Russia, China, Iran, Pakistan, and other neighbouring countries of Afghanistan are worried as Islamic State (IS) is also strengthening itself. If IS comes to power in Afghanistan firstly it will render all assistance to diverse Muslim groups in these countries. Both Russia & China have sizable Muslim population which is fighting for their rights. Iran is a Shia dominated country and IS claims that Shias are pretend Muslims hence they should be eliminated, Pakistan also does not want the influence of IS to increase in its neighbourhood as organisations like Tehrik-i-Taliban Pakistan (TTP) will get support and it will strengthen itself. TTP is fighting against Pakistan government.
Afghanistan watchers claim that Russia had not invited India in the March 2021 conference on Afghanistan on behest of Pakistan however Russian Embassy in New Delhi refuted this report. But with passage of time the differences between Moscow and New Delhi are enhancing on various international issues and Afghanistan is one of them. Russia's clash with West especially with U.S. is increasing hence it is leaning more towards China while the relations between India and China are hostile and it effects India Russia relations also. The military relationship between Russia and China is increasing and besides conventional weapons Russia is also assisting China in fixing missile early warning system. There were also reports that China and Russia have signed a defence pact although the visiting Russian foreign minister denied the same.
Lavrov was in India post Indian Foreign Secretary Harsh Vardhan Shringla who visited Moscow in February 2021. During the visit Shringla discussed several important topics with Lavrov pertaining to regional and international issues and the strategy of both the countries in United Nations where Russia is a permanent member while India is a non-permanent member. The leaders also discussed special issues concerning both the countries.
In India he conversed about the bilateral ties of both the countries and also discussed various issues for the forthcoming India-Russia annual submit scheduled to be held later this year. So far both countries had 20 annual summit meetings by turns in which Indian Prime Minister and Russian President analysed all the issues and assessed the bilateral ties. Last year the annual summit was postponed due to COVID-19 pandemic.
Russia is a trusted friend and traditionally India's leading arms supplier but slowly and slowly India started importing arms and ammunition from United States and Israel. In 2020 India bought weapons worth $3.4 billion from USA, while India became the biggest purchaser of Israeli weaponry and now acquires about 46 percent of Israel total arms exports.
In the recent visit Lavrov also mentioned that both the countries are keen that more military equipment should be produced in India. It will give a big boost to 'Make in India' initiative of the present government. However, it will annoy U.S. which wants that no country should purchase weapons from Russia. U.S. has already warned India that it may put sanctions if India purchase S-400 surface to air missiles from Russia. U.S. has already put sanctions against Turkey as it purchased S-400 system from Russia. India has already paid $ 800 million in 2019 to Russia and the missile system may be delivered in the end of 2021.
In the joint press conference of both the foreign ministers at New Delhi Lavrov had not identified which weapons Russia would allow India to manufacture, nevertheless Indian sources mentioned that negotiations are going on about the production of Russian military helicopters in India. Lavrov stated that "We have confirmed our determination towards the development of military-technical cooperation" and the subject is dealt by an inter-governmental commission. India produced MiG fighter planes as well as Su-30 jets and both the countries are jointly producing supersonic BrahMos cruise missiles in India.
It is also interesting that John Kerry U.S. Special Presidential Envoy for Climate also came to New Delhi on the same dates when Lavrov was in India and stayed in the same hotel. John Kerry also served as United States Secretary of State from 2013 to 2017. Zamir Kabulov a high-ranking diplomat and Russian presidential envoy to Afghanistan also went to Pakistan along with Lavrov to discuss Afghanistan issue.
At present India is getting lot of military equipment from Russia however in view of developing close Russia China relations India should be careful. Russia is very critical of Quad and mentioned that it is anti-China and U.S. is pushing India in it. In view of the aggressive posture of China, Quad is important for India. China needs high technology weapons and also political support from Russia as it has antagonised several countries.
U.S. should also consider that now sanctions are not effective, in fact several times it helps China and counter-productive to U.S. Iran have signed 25 year economic and security agreement with China and the latter became an important commercial and defence partner. The U.S. sanctions on Iran harmed India and Japan while China was benefitted immensely.
In view of close relationship of Pakistan with China, the Biden administration is giving cold shoulder to Islamabad. President Biden has spoken to many Heads of State but not spoken to Imran Khan, although U.S. invited 40 world leaders for online climate summit including India, Bangladesh, and Bhutan but Pakistan was not invited. Not only this, Kerry visited UAE, India and Bangladesh but missed out Pakistan. Same way US Secretary of Defence Lloyd Austin toured India and Afghanistan but avoided Pakistan. Imran government is realising it, but not touching this topic. Pakistan needs financial assistance from U.S. and its help in getting loan from international organisations like International Monetary Fund and World Bank, but Biden government is cold shouldering it due to its close relations with Beijing. Biden administration is also infuriated as Islamabad acquitted the killer of Daniel Pearl. Islamabad has to choose between Beijing and Washington DC as the rivalry between the two will increase and Biden government will not allow middle path to Islamabad.
Biden administration would also like to use India against China and will also try to persuade India to take more active role in Afghanistan may be by sending the troops. U.S. will also threaten India to impose sanctions if India buys S 400 surface to air missiles. Hence India should be careful although Delhi has problems with expansionist China, and it is member of Quad but in foreign relations no body is permanent friend or foe hence India should not fight China on instigation of U.S. As regards sending of troops to Afghanistan is concerned it may be a suicidal move as the terrain of Afghanistan is such that foreign forces do not emerge victorious. Secondly at present India's image is of a helpful nation in Afghanistan and that image will be shattered if India sends troops in the country. India must buy S 400 missile system from Russia and should try to convince U.S. not to put sanctions as it may be counterproductive. India should not leave Russia which is a time-tested friend and Russia allows India to manufacture few equipment and transfer the technology while U.S. firms are very possessive about the technology. India should maintain cordial relations with both U.S. and Russia.
(Jai Kumar Verma is a Delhi-based strategic analyst and member of United Services Institute of India and Institute for Defence Studies and Analyses. The views in the article are solely the author's. He can be contacted at [email protected])