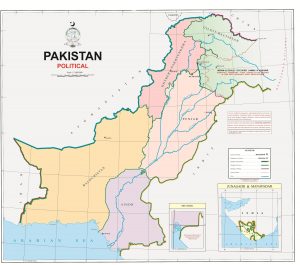 New Delhi. 05 August 2020. "We have seen a so-called "political map" of Pakistan that has been released by Prime Minister Imran Khan. This is an exercise in political absurdity, laying untenable claims to territories in the Indian State of Gujarat and our Union Territories of Jammu & Kashmir and of Ladakh. These ridiculous assertions have neither legal validity nor international credibility. In fact, this new effort only confirms reality of Pakistan's obsession with territorial aggrandisement supported by cross-border terrorism," said an official statement by the Indian Ministry of External Affairs.
A day ahead of the first anniversary of the Abrogation of Article 370 and bifurcation of Jammu & Kashmir into Ladakh and J&K , Imran Khan trying to impress the internal audience and it's supporting nations, not only staked a claim on the whole of Kashmir but also released the new political map and called it official by stating that the Federal Government had approved it. The map also shows Pakistan claiming Siachen glacier.
And if so much was not sufficient Pakistan also decided that parts of Gujarat including Junagadh, Sir Creek and Manavadar, belonged to it. Gujarat CM Vijay Rupani rejected the new map saying, " this action of Pakistan is both preposterous and obnoxious. Gujarat condemns this absurd act of Pakistan unequivocally,"
And the most interesting is that Pakistani Prime Minister Imran Khan tweeted 28 times officially to reiterate his justification on the release of the new map and sympathies with Jammu Kashmir residents. And all this to keep Pakistani citizens' minds away from his administrative failures on all fronts.