Airforce Chief BS Dhanoa flew the last sortie of the Hawkeyes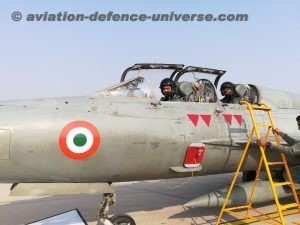 New Delhi. 29 December 2017. All good things come to an end! What was the once the workhorse of the Indian Air Force and pride of the Indian forces, T-96 MiG-21 took off for the last time with the Chief of Air Staff Air Chief Marshal BS Dhanoa flying in it-a nostalgic but befitting goodbye. An the 108 Squadron, the 'Hawkeyes' is on its way to get Number Plated or decommissioned.
India has been the third largest operator of MiG-21s, behind Russia and China. In 1961, the Indian Air Force (IAF) opted to purchase the MiG-21 over several other Western competitors. As part of the deal, the Soviet Union offered India full transfer of technology and rights for local assembly. In 1964, the MiG-21 became the first supersonic fighter jet to enter service with the IAF.
The last sortie on MiG 21 aircraft of 108 Sqn. The Chief of Air Staff taxying out, in the foreground of a water cannon salute. Chief of the Air Staff, call sign 'Air Force One', flew the last sortie of the 'Hawkeyes' thus bringing a glorious end to the reign of the T-96 aircraft, with the Squadron.  During the course of his visit, he addressed and interacted with personnel of the Station.  During his address he emphasized on the importance of aerospace safety, its various aspects and stressed on the physical security of the base. The Chief congratulated and conveyed his best wishes to all personnel and their families for the New Year.