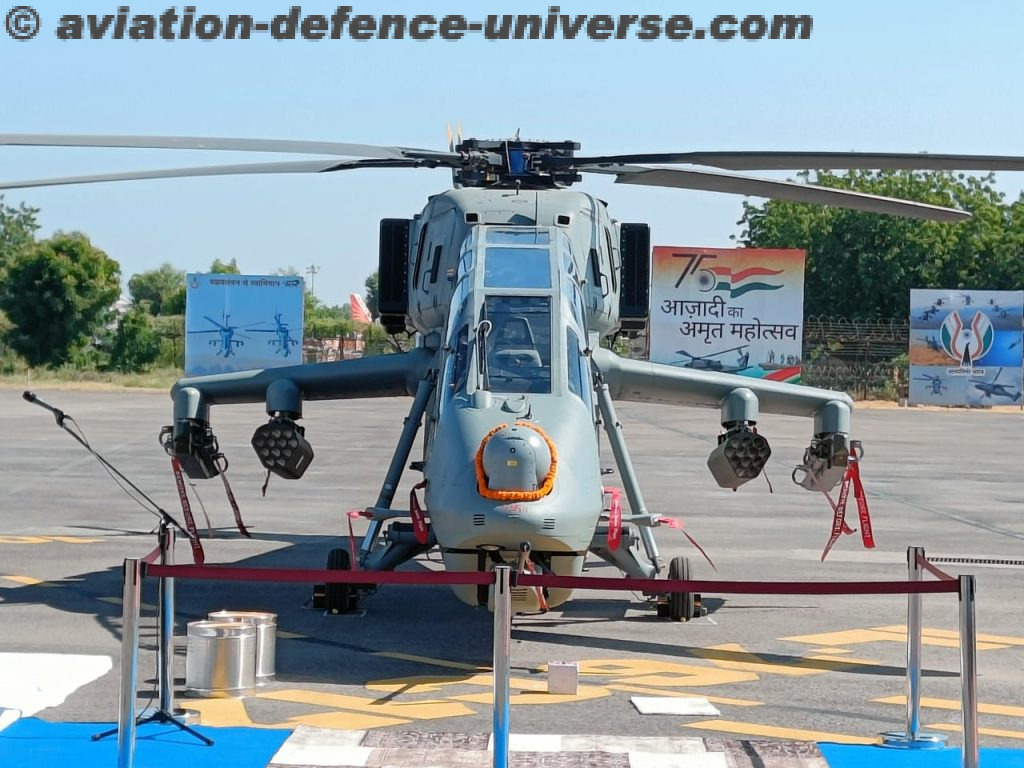 Defence Minister, Chief of Defence Staff & IAF Chief welcome  Prachand into the IAF
By Sangeeta Saxena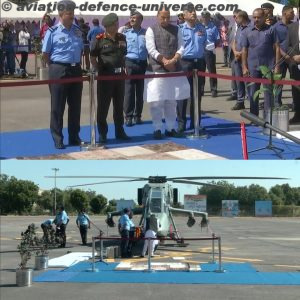 New Delhi/Jodhpur. 03 October 2022. This is a successful story of Atmanirbhar Bharat in Defence and a tried & tested Make in India asset.  Light Combat Helicopter (LCH) made by Hindustan Aeronautics Ltd. (HAL) after two years of keeping vigil over the northern borders from Leh, has got inducted into the Indian Air Force today. 143 Helicopter Unit 'Dhanash' in absolute bridal finery welcomed the 4 LCHs into it's fold. IAF is  bolstering its combative prowess and getting sharper teeth.
"For a long time, there was a need for attack helicopters in the country. During the Kargil war in 1999, its need was felt seriously. LCH is designed to suit the needs of modern battlefield. It has ability to deal with all challenges. It is capable of dodging the enemy, carrying a variety of ammunition, and delivering it to the site quickly, "  stated Defence Minister Rajnath Singh while inducting the India made LCH in the squadron at Jodhpur.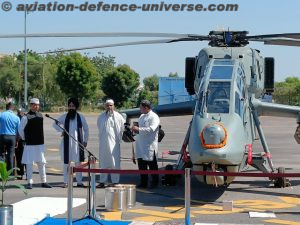 The ceremony started with a 'sarv-dharam' prayer being performed for the first indigenously developed LCH entering the Indian Air Force, in the presence of Defence minister Rajnath Singh, CDS General Anil Chauhan and IAF chief Air Chief Marshal VR Chaudhari. Prachand was given the traditional water cannon salute.
"Induction of the LCH adds a unique capability to the Indian Air Force's combat potential.Our helicopter crew displayed courage & determination during HADR, the helicopter fleet are first to go for indigenization.The induction of LCH provides a unique capability. It has proved itself in the Himalayan region as well " said Chief of the Air Staff Air Chief Marshal VR Chaudhari while welcoming Prachand into IAF.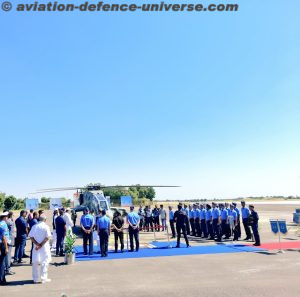 IAF Sukhois welcomed the just induction 4 choppers. IAF will receive the other 6 very soon. Equipped with 20mm gun, 70mm rocket, MISTRAL 2 and Dhruvastra, India's Prachand will prove to be true to it's name. " The induction of LightCombatHelicopter marks a new chapter in the IAF. The LCH is at par or better than similar attack helicopters available globally, " claimed the IAF Chief . 
Maharajah of Jodhpur Gaj Singh was a special invitee to the event happening at the Airforce Station in his city. "Induction of Light Combat Helicopters (LCH) will enhance our capability and will boost defence production. There could not have been a better timing for LCH induction than Navaratri and in the land of warriors, Rajasthan," added the Defence Minister.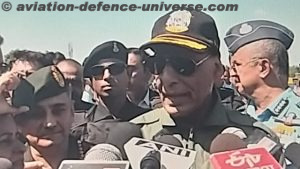 The Defence Minister took the first sortie on Prachand immediately after it's induction in the force and on landing said it was a great experience. "IAF has always played a crucial role in the nation's security. Whether it's internal threats or external war, IAF has always strengthened national security with their courage &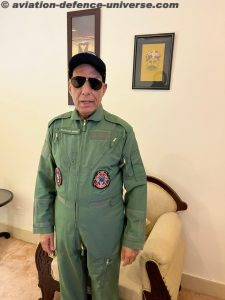 bravery. The induction of indigenously developed LCH will increase the efficiency of IAF. Induction of LCH today is a symbol of the fact that as much as the country trusts the IAF, the IAF equally trusts the indigenous equipment. LCH is one of the best light combat helicopters in the world. From Kargil to Kanyakumari, it can perform in any terrain and has all-weather, all-altitude combat capabilities. There is no need to define 'Prachand', it is itself capable of sending out a message to the enemy, " he reiterated. 
On 7 August 2020, IAF's Vice Chief Air Marshal Harjit Singh Arora flew an LCH from Thoise to Leh accompanied by a HAL test pilot in full mission configuration. On 12 August 2020, HAL announced that the Indian Air Force has deployed two LCH prototypes to Ladakh for conducting armed patrols from forward air bases. It can perform offensive operations at Siachen Glacier-Saltoro Mountains region. In January 2021, government gave initial approval for the production of an initial batch of 15 LCHs, ten for the IAF and five for the AAC.
General characteristics of Prachand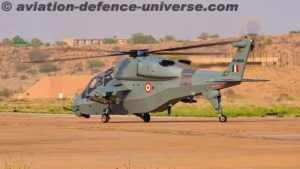 Crew: 2
Length: 15.8 m (51 ft 10 in)
Wingspan: 4.60 m (15 ft 1 in)
Height: 4.70 m (15 ft 5 in)
Empty weight: 2,250 kg (4,960 lb)
Max takeoff weight: 5,800 kg (12,787 lb)
Payload: 1,750 kg (3,860 lb) weapons
Powerplant: 2 × HAL/Turbomeca Shakti-1H1 turboshaft, 1,032 kW (1,384 shp) each
Main rotor diameter: 13.2 m (43 ft 4 in)
Performance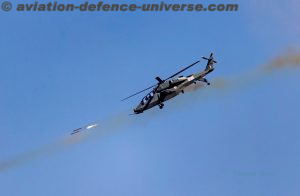 Maximum speed: 268 km/h (167 mph, 145 kn)
Never exceed speed: 330 km/h (205 mph, 178 kn)
Range: 550 km (340 mi, 300 nmi) with weapons
Endurance: 3 hours 10 minutes
Service ceiling: 6,500 m (21,300 ft)
Rate of climb: 12 m/s (2,400 ft/min)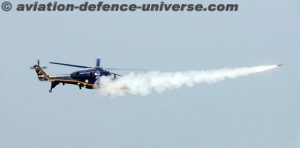 Armaments
Guns: 1 x 20 mm M621 cannon on Nexter THL-20 turret
Hardpoints: 4 , with provisions to carry combinations of:

Rockets:
Missiles:

Air-to-air missiles:
Anti-tank guided missile

Bombs:

Cluster munition
Unguided bomb
Grenade launcher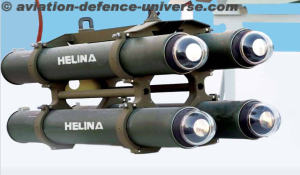 Avionics
Elbit CoMPASS optoelectronic suite
Missile approach warning system
Saab radar and laser warning system
Chaff and flare dispensers
The HAL Light Combat Helicopter (LCH) is a multirole combat helicopter, designed to perform various attack profiles, including relatively high altitude flight. The design and development of the LCH was done in-house, by the Rotary Wing Research and Design Centre (RWR&DC), an internal design office of HAL dedicated to the design of helicopters. On 30 March 2022, the Cabinet Committee on Security approved the limited series production of 15 LCHs under a contract worth Rs. 3,887 Cr along with infrastructure sanctions at Rs. 377 Cr. 
Speaking at the Induction Ceremony of Light Combat Helicopters (LCH) in Jodhpur.
https://t.co/7lQ6yYpNAG

— Rajnath Singh (@rajnathsingh) October 3, 2022
नाम है 'प्रचंड' pic.twitter.com/dCa3WGvw9A

— Rajnath Singh (@rajnathsingh) October 3, 2022