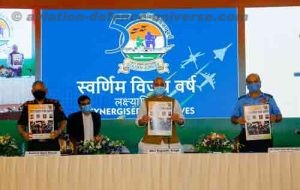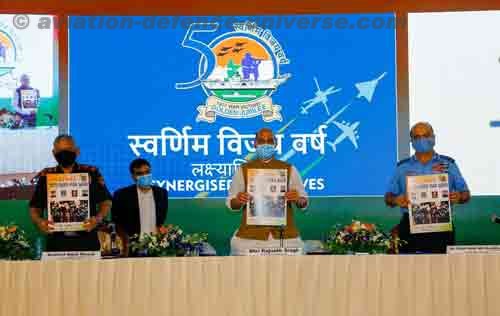 Bangalore. 22 October 2021. "Indian Defence Minister Rajnath Singh , CDS General Bipin Rawat, Revenue Minister Karnataka R Ashoka Ji, Defence Secretary Ajay Kumar AOC-in-C TC Air Mshl Manvendra Singh, Veterans from the Armed Forces, Eminent speakers, Military experts, distinguished guests, members from the media, Ladies and Gentlemen.
On behalf of the Indian Air Force, I welcome each one of you to Chandan Singh Convention Centre at Air Force Station Yelahanka for the Swarnim Vijay Varsh conclave being hosted by the IAF to commemorate 50 years of India's greatest military triumph against Pakistan in 1971 that led to the creation of Bangladesh.
I would like to begin by conveying my sincere gratitude to our distinguished speakers for having taken time off their busy schedules and for having accepted our invite to grace today's inaugural session.
The genesis of the 13-day military conflict emanates from 1970 elections in East Pakistan, wherein Bangabandhu Shiekh Mujibur Rehman's Awami League party secured a clear majority. Pakistani military tried to scuttle the election results by a brutal crackdown and imposing martial law resulting in mass flow of refugees to India. Such large influx of almost 10 million refugees, over a year put immense strain on Indian resources. This posed a huge economic burden, social stability and integrity problems and above all, a security dilemma for India.
Our nation explored all possible approaches at the global and diplomatic level to secure a peaceful solution to the problem and to ensure constitutional rights of Bengalis in East Pakistan. Eventually, the situation escalated due to Pakistani politico-military establishment's attempt to hold on to power at any cost. The events leading up to the war saw India supporting the 'Mukti Bahini' which represented the voice of Bengali people who were waging an armed struggle for liberation of Bangladesh.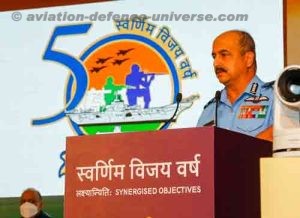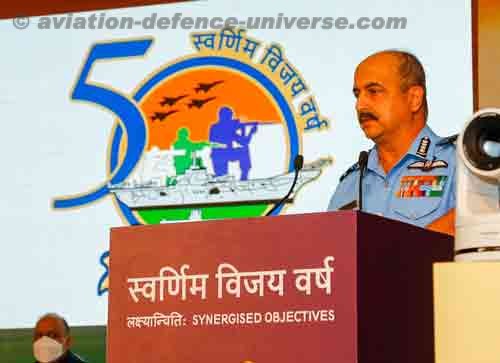 The conflict mobilized all sections of Indian government and military to generate clear understanding of national objectives and was backed by robust decision making at national level. Clear mandate, highlighting the underlying intent of the national leadership was provided to the Indian Armed forces. The Forces, on their part translated the mandate to efficient operational plans and executed these with resolve and determination.
Indian Armed forces fought synergistically on both Western and Eastern fronts and demonstrated their prowess in air and over land and on the sea. Indian Army, Navy and Air Force dominated all domains of warfare to compel Pakistani forces to surrender in the shortest time. The political support and diplomatic efforts complemented the whole of nation' approach in ensuring an all round victory.
1971 war is one of the shortest and swiftest victories ever recorded in the history of military warfare. Surrender of 93,000 Pakistani troops represents largest ever surrender by an Army after WW-II. We proudly celebrate 16 December as 'Vijay Diwas' to mark this momentous victory.
Two important aspects emerge out of the analysis of 1971 war. Firstly, it demonstrates the excellent synergy in Indian politico-military setup and the trust placed in the capabilities of our armed forces by all sections of Indian society. Secondly, it brings forth professionalism, jointmanship, operational readiness, innovative planning and execution capabilities of the Indian Armed Forces. All concepts of warfare were employed and effectively executed by Indian forces to achieve the desired objectives.
In spite of winning the war, we showcased our national character, principles and morals by treating the 93000 POWs with dignity and returning all the POWs to Pakistan. We also demonstrated our astute diplomatic character to the world wherein we helped Bangladesh build itself as a nation with its own ethos, culture and values.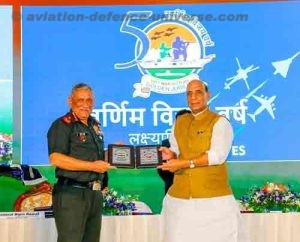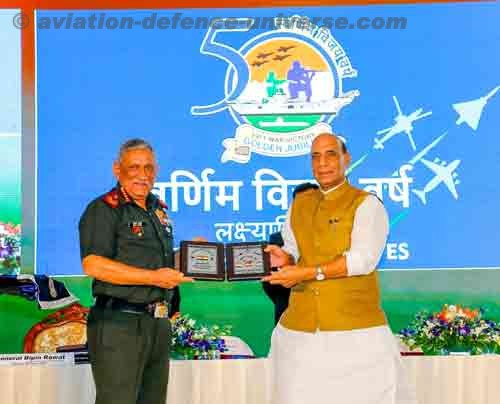 1971 war shall always be remembered for the national effort and precise application of military capabilities wherein the Indian officers and men exhibited exemplary leadership, courage and nationalistic spirit, as also for the tenacity and fortitude of the Indian Armed Forces. This conclave is aimed at revisiting the situation, analyzing the responses and learning useful lessons for the future of politico-military arrangement in India. I am sanguine that there will be a healthy exchange of thoughts during the course of this event that will ignite the minds of each one of us present here and attending online. The conclave shall also be a platform that will draw inspiration and pay homage to the heroes of the war who made it all possible.
I thank the accomplished armed forces veterans for making it convenient to attend this conclave. I also convey my gratitude to the distinguished speakers who have given their time and are here to share their views.I complement AOC-in-C Trg Cmd and his entire team for having organized this conclave and wish all its participants the very best."