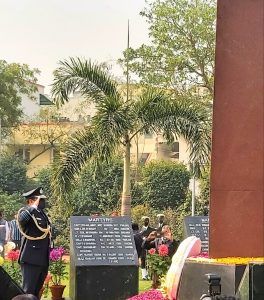 Wreath laying ceremony at Shaheed Smarak NOIDA celebrated with élan
By Brig Vijay Atray
New Delhi . 19 February 2021. The nation was led by the Indian Air Force Chief, Air Chief Marshal RKS Bhadauria PVSM, AVSM, VSM, ADC, Chief of the Air Staff in paying homage to the martyrs at the war memorial in NOIDA.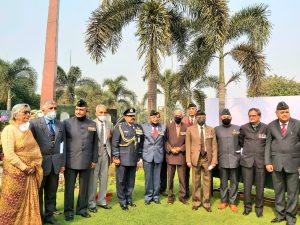 CAS stated warmly, "today we remember with pride & honour, the valour & sacrifice made by our martyrs in the best traditions of our services & their ultimate dedication to protect the sovereignty of our country , which continues to inspire us in uniform & the future generations to come."
He was overwhelmed to see so many family members of the martyrs & assuring them reiterated, " we are always with you ,though you have lost your dear ones ,yet your mere presence motivates us to do our work with dedication & achieve our mission at any cost."
He thanked them for attending the ceremony and appreciated the Shaheed Smarak thereby showering a tribute, " this Tri Services memorial is very unique in its foundation, the way it has come up, the way it is attended to & its objective itself ,specially keeping association with the family members of our martyrs ." He was deeply appreciative of the work done by the Shahheed Smarak Sanstha who organize such functions regularly & so well. He was sanguine for having an opportunity to meet the veterans. However, he questioned , "whether we in services are doing enough for the veterans & family members of martyrs " & in the same breath answered," this issue is our focus area & we continue to address the issue . We care for our soldiers & people & this focus for all services will continue."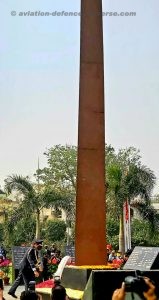 Noida has a large presence of ex – servicemen (ESM) and they have built a Shaheed Smarak which is the first Tri Service Memorial raised by a township to honour its war dead and they are proud of it. The three Service Chiefs dedicated the Memorial to the nation on 13th April 2002. Since then they hold three functions every year viz 'Annual Wreath Laying Ceremony ' in February in which the Chief Guest is one of the Service Chief in rotation , Dedication Day Function which is organized as a candle light ceremony held on 13 April & the Vijay Diwas function organized on the first Saturday after 16 December. For this year, the Wreath Laying Ceremony -being Air Force's turn – Air Chief Marshal RKS Bhadauria was the Chief Guest.
One wonders as to how such a magnificent War Memorial could be constructed by ex servicemen (ESM) and managed with such grandeur. The Shaheed Smarak Sanstha managed to raise reasonable funds from civil sources, business companies owned by ESM , active formations & some units . Besides the individual members , schools in Noida , AVI, AVCC & AVRWA contributed generously. The Floriculture Society of Noida undertook the development work and builder Wig Brothers built it at 50 % cost. GOC in C Western Command & GOC Delhi Area heartily supported the cause & instructed APS school to provide assistance whenever required. The contribution of Noida Authority is immense , who not only agreed to let the Sanstha build the Smarak on their land but also agreed to provide financial and maintenance support .In view of the benevolence of the cause donation to Shaheed Smarak Sanstha has been exempted from Income Tax under Section 80 G.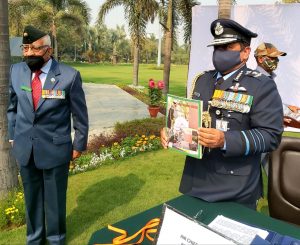 As reported earlier ,over the years all the three services have given various vintage items viz AD gun, Naval Surface to Air Missile, Trainer Jet Aircraft ISKRA and a model of INS Chennai. Thus the Smarak of Noida has become an Icon and has a large footfall of visitors as well as morning & evening walkers. It is looked after by a Registered Society ' Shaheed Smarak Sanstha ' wherein dedicated ESMs of Noida work with zeal in an honorary capacity.
This year due to the ongoing Covid-19 the strength was restricted to 100 ,which included the Chief Guest and his staff, GOC Delhi Area, two star representatives of Chief of Naval Staff & Chief of Army Staff, Honor Guard -which comprised of all the three service Army, Air Force & the Navy , one Next of Kin (NOK) of each martyr, media , heads of five Community Institutions viz Arun Vihar Residents' Welfare association (AVRWA), Jal Vayu Vihar Residents' Welfare Association (JVRWA), Arun Vihar Institute (AVI), Arun Vihar Community Centre (AVCC) & Jal Vayu Vihar Community Centre (JVCC), senior officers of the Civil Administration and of course the organizers.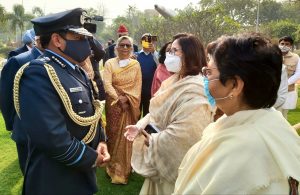 Like every other year the Wreath Laying Ceremony  was organized – 17th time in a row – by first wreath being laid by the Chief Guest Air Chief Marshal Bhaduria followed by Maj Gen Alok Kacker ,COS Delhi Area , Maj Gen P R Murali ,representative of Indian Army , Rear Adm IB Uthaiah, representative of Indian Navy . Out of the kinfolks of 38 martyrs from Gautam Buddha Nagar 28 were present who laid the wreaths. These include 9 gallantry award winners viz MVC, Vr C, KC, SM & SC. Thereafter, wreaths were laid by Lt Gen GL Bakshi, Chairman Shaheed Smarak Sanstha, Col IP Singh , Chairman AVRWA, Lt Col Pardaman Singh, President AVCC, Lt Col Mahendra Kumar ,President AVI & AVM Pradeep Kumar ,President JVCC, Mrs. Jyoti Rana ,Principal Army Public School & from APS School two students viz Kunwar Rudranath Singh of Class XII & Khush Sharma – National level Tennis player  -laid wreath on behalf of the youth.Wg Cdr Abdul Nasir Hanfee ,VrC laid wreath for the unsung heroes.
On the conclusion of wreath laying Lt Gen Bakshi, Chairman Shaheed Smarak Sanstha welcomed every one , particularly the elite of the armed forces & the kinfolks of the martyrs. He mentioned that the large presence of ESM & the kinfolks of martyrs motivated the Sanastha to create the Shaheed Smarak. Its location is great inspiration & motivation to the youth to join the armed forces he said .He concluded by saying that it has now become an iconic structure which has raised the image of the defence forces in the citizenery.
It was followed by the release of the Souvenir by the Chief Guest Air Chief Marshal Bhadauria & his address , who called it a privilege to be here on this occasion . He concluded by thanking Shahhed Smarak Sanstha for giving him an opportunity to interact with the families of martyrs , which is so unique & perhaps his first interaction of this nature.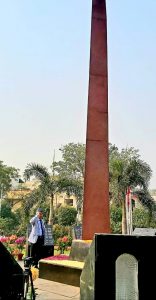 Wing Commander Abdul Nasir Hanfee receipient of Veer Chakra was the highest gallantry award winner present & thus laid wreath for the Unsung Heroes. On being asked about his impressions at Shaheed Smarak , he stated ' Shaheed Smarak in Sector 29 was created after Kargil War in memory of soldiers, sailors & airmen who laid down their lives in line of duty for the country. There are 38 such brave -hearts from Gautam Buddha Nagar. Wreath is laid twice a year. Once to commemorate Vijay Diwas & second to lay wreath to honour unknown soldiers who sacrificed their lives protecting the country '. He added that this is our way of ensuring that our soldiers are not forgotten.
While interacting with the widow of Maj Anurag Nauriyal , Keerti Chakra she mentioned that Maj Nauriyal made supreme sacrifice on 23 October 1990 during Op Rakshak ,he was full of life had a Jazba to do something for the country & thus martyred as a soldier. She said ' the life was tough initially ,but now 30 years have passed since his departure & the coming up of Shaheed Smarak has given me lease of life. I come here twice a year & pay my homage to my warrior by laying a wreath which has given me zest for life'.
Mrs Tripta Thapar mother of Capt Vijayant Thapar mentioned that Vijayant was a fourth generation officer in army who always wanted to do something for the country ;even it meant sacrifice of life & so be it. His end came during Kargil War. In his last letter he said ' by the time you get this letter I shall be looking at you from above & be in the company of angels ; if I get rebirth then I will again join the army ' She concluded that our youth should take inspiration from such brave hearts & serve in the defence forces.
A solemn ceremony planned to the minutest details & executed meticulously in colorful environs of blooming flowers just after Basant Panchmi. The address by the Chief Guest was a reassurance to the NOKs that we as a nation do not forget our heroes who laid down their lives for our today and was inspiration for the future generations.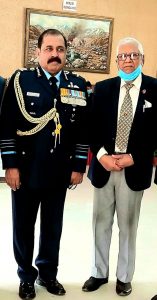 I end by saying that we can only pay our heartiest homage to this great Institution, though,
'The generations of thy peers have fled.
And we ourselves shall go.
And thou possessest an immortal lot,
And we imagine thee exempt from age '.