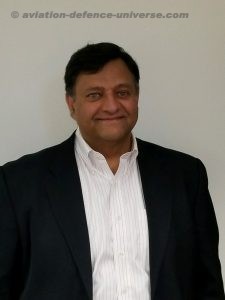 New Delhi. 06 November 2017. "Throughout the world, Honeywell's ballistic materials are used in vests for the U.S. Military, Special Forces, Coast Guard, Border Patrol, FBI, CIA, Customs and Secret Services; Australian Special Forces; Royal Netherlands Army; Ecuadorian Army; Indian Border Security Force; Israeli MOD; National Police Agency of Japan; Royal Thai Police; Spanish Ministry of Defence and Taiwan National Police Agency and Army," informed Sanjay Sharma, Vice President & General Manager, Packaging & Composites at Honeywell in an  exclusive chat with Aviation&DefenceUniverse(ADU). 
ADU. Indian defence sector is looking at upgrading its protective equipment for the Indian armed forces. Honeywell being a technology player, what are the solutions being offered in this space?
SS. For law enforcement agencies and the armed forces, bullet-resistant vests and helmets are an essential part of their kit. The Indian forces are also increasingly transitioning to body armor that is more protective, with lighter weight and increased flexibility. These materials should be comfortable enough to wear in regions with varied weather conditions, and they must also be concealable beneath officers' uniforms.
Honeywell's ballistic materials have been trusted to protect military and police forces around the world for more than two decades. For instance, Honeywell Spectra® fiber and ballistic composite materials – Spectra Shield®, Gold Shield® and Gold Flex® – are used in a variety of applications where lightweight strength is critical. Our materials can be found in bullet-resistant helmets, vests, plates and vehicles, in addition to industrial and recreational applications including rope and lifting slings, fishing lines, industrial gloves and helmets, and cut-resistant bags. Militaries and law enforcement officers around the world use Honeywell Spectra Shield composite materials for breakthrough armor systems that consistently meet some of the highest global performance standards for protection.
 ADU. The government's apex thinktank, Niti Aayog, has recently prepared a draft note on incentivising domestic manufacturing of light weight body armours for the army and paramilitary forces. Where do you see the opportunity for Honeywell Spectra here?
SS. Honeywell's Spectra Shield and Gold Shield materials are used by militaries and law enforcement agencies around the world because they provide superior lightweight strength and comfort compared with other materials. As a global Armor materials supplier, Honeywell supports the Government of India's efforts to modernize body armor and is committed to supporting increased demand for Spectra materials by the military and law enforcement.
ADU. In a recent US India Strategic Partnership Forum, Ashok Gupta- India's defence secretary mentioned that they are looking at partnerships with MNC's who are willing to provide full technology transfer to India. What is Honeywell's take on this?
SS. Honeywell supports the Government of India's Make in India initiative. We have seven manufacturing facilities and five technology centers in the country, with offices and sales presence in more than 50 cities. We have been in India for more than 80 years now. Our employee base in the country has grown from 1,000 employees in 2002 to more than 15,000 today, of which 8,000 are engineers tackling some of the world's toughest challenges in energy efficiency, safety, and productivity.
ADU. Honeywell provides advanced armour materials to Indian assemblers like MKU and Tata advanced materials. Can you elaborate on any recent deals or upcmoming orders that you may have received for the Indian forces?
SS. Honeywell works with partners around the world to guide them on how to best utilize our Spectra technology to achieve their product goals. We have been selling this special material to Indian companies like Kanpur-based MKU for more than 10 years, for use in advanced armor materials.
ADU. Indian soldiers often have to do without basic safety equipment like bullet proof jackets and helmets and a lot of times they face challenges with the individual load, how does Honeywell's advanced materials help mitigate this problem?
SS. Soldiers carry dozens of pounds of gear – the equivalent of a car tire – while on the job. In addition to firearms, the weight also comes from protective garments and accessories that are designed to hold their equipment. The law enforcement field is transitioning to lighter weight material to ease the overall load that personnel on the field must carry. Honeywell has worked extensively with manufacturers serving these sectors, and our scientists recently introduced a new fabric designed to meet this challenge. Centurion™ is a composite fabric that is designed for a range of applications where the product must be strong, yet lightweight. It is made from Honeywell's Spectra fiber, a high-performance, polyethylene material weight that is pound for pound 15 times stronger than steel, yet light enough to float on water!
When used in tactical vests, Centurion can reduce the vest's weight by up to 40 per cent. Because of the fabric's strength and durability, it can be laser-cut according to user preference, resulting in slits along the vests that take the place of the traditional heavier straps that have to be sewn in. The vest is not only lighter and more comfortable for personnel to wear, but also faster and easier for manufacturers to produce. Thanks to Spectra fiber, they are also resistant to cuts, abrasion and water, making them ideal for many tough environments.
ADU. Apart from the personnel protection equipment, what are the other areas where Spectra fibre is used?
SS. Honeywell has a broad offering of safety and security products to ensure the safety of our forces. Our technologies power military readiness. From turbine engines for the Abrams M1 Main Battle Tank and the CH-47 Chinook helicopter to systems that power unmanned vehicles and avionics for jet fighters, our life-cycle management and Six Sigma approach enable performance improvements in orders of magnitude. Our technology is important because it saves lives and money.
For force protection, we offer proven solutions that are in action to support internal security and military readiness. Honeywell has content worldwide on more than 275 platforms including fighter aircraft, military and commercial helicopters, human space vehicles, bomber aircrafts, satellites, tanker aircrafts, naval vessels, special mission aircraft and unmanned vehicles. These technologies also enable safer commercial and business travel.
ADU. Who are the already existing customers of Spectra on the international platform and which are the forces where the Spectra made products are being used.
SS. With excellent stopping power in multi-hit and angle-shot situations, today  Honeywell's protection materials are used by more than half of all NIJ.06 certified vest models. They rely on Honeywell ballistic materials to deliver the performance demanded by law enforcement and military personnel throughout the world.
Honeywell has been at the forefront of bullet-resistant technology for militaries and a leader in developing ballistic materials for the U.S. law enforcement market for more than 20 years. In South America, vests produced with Honeywell ballistic materials have passed the stringent RETEX requirements in Brazil and the RENAR requirements in Argentina.  Vests have been used by Fondo Rotatorio de la Policía (FORPO) and the Ministry of Defense (MOD) in Colombia, by the Departamento de Polícia Federa,the Polícia Rodoviária Federal, the Polícia Civil and the Forças Armadas Brasileira in Brazil and by the Carabineros de Chile.