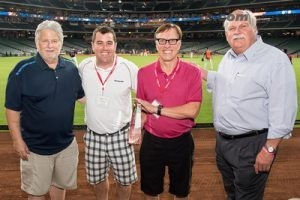 ATLANTA. 2 JULY 2018. Honeywell has received the prestigious Partners of Choice Award with an A, A rating, receiving top scores for both quality and service from David Weekley Homes, the largest privately held U.S. homebuilder.
"The experience of living in a Connected Home is like no other – it's safer, more secure, smarter, and adapts to you," said Mike Nefkens, president and CEO of Honeywell Homes. "Our trusted brand is in 150 million homes, and our relentless commitment to customers is why we believe we continue to be the best choice for connecting the home through the latest technology. We're honored to earn the continued acclaim by David Weekley Homes."
This is the 11th time in the last 14 years that Honeywell has received this award, a testament to the company's focus on maintaining a superior level of service and quality.
"We're proud of our long-standing relationship with premier homebuilder David Weekley Homes and thank them for recognizing our team's hard work," said AJ Smith, vice president and general manager, Honeywell Homes. "The Supplier Evaluation Platform consistently helps us identify ways to improve our support for David Weekley Homes and other homebuilders."
"What better way to determine world-class performance than to put your products and services up against suppliers from around the world in support of the homebuilding industry, and come out on top," Bill Justus, vice president of Supply Chain Services for David Weekley Homes and author of this rigorous supplier evaluation program. "Our friends at Honeywell have done just that, and for the 11th time in 14 years they have proven again to be world-class in delivering quality products and services to our company."
Each year, David Weekley Homes awards its Partners of Choice Award based on rankings of the company's strategic channel alignment in support of David Weekely Homes' business requirements, compared to all other participating companies. The awards are based on David Weekley's comprehensive Supplier Evaluation Platform that features its National Trading Partners Survey, a quarterly review of approximately 200 suppliers. The rigorous assessment is based on the builder's unique supplier ranking system by about 1,000 team members from every market and every level inside their organization. Beyond evaluating trading partners on quality and service, Weekley team members respond to specific questions on the challenges and preferences in managing business-to-business relationships.
Honeywell has announced its intention to spin its Honeywell Homes product portfolio and ADI global distribution business into a standalone, publicly traded company. The Honeywell Homes spin is expected to close by the end of the year. The new company's portfolio of Home products will include its award-winning Connected Home solutions, rich partnerships with other leading smart home device makers, and comfort and care, security and safety solutions trusted around the world.