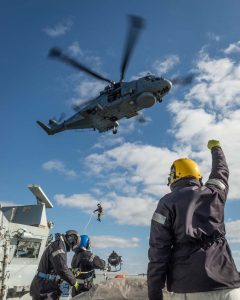 Portsmouth. 24 April 2019. HMS St Albans lit up the Atlantic with a stunning 'firework' display as gunners practised their marksmanship by night recently. The Portsmouth-based frigate – currently the Royal Navy's Fleet Ready Escort, charged with protecting UK waters – took time during her patrol to hone her 'quickdraw' skills: the response of gunners to protect the warship from incoming fast-attack craft.
They use a combination of Miniguns – six-barrelled Gatling guns which spew out up to 2,000 rounds a minute – machine-guns and rifles as the last line of defence against incoming threats. With the sun setting, the gun crews lit up the sky with flares, as they used night vision goggles to shoot a series of targets at sea.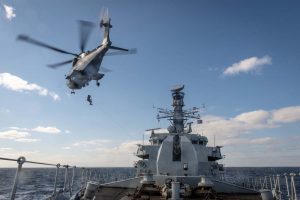 While on patrol it is essential we continue our training in order to prepare ourselves for any eventuality. By day, the 190 sailors on board have been kept on their toes by practising winching people aboard from her helicopter.
The Saint – as the frigate is affectionately known by her crew – has a Merlin Mk2 helicopter embarked to support her patrol. The helicopter – from 814 Naval Air Squadron (aka the Flying Tigers) and normally based at RNAS Culdrose in Cornwall – carried out a series of personnel transfers from the bridge wing.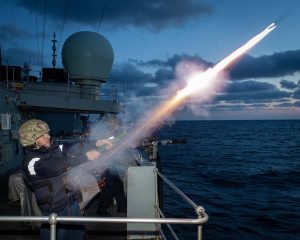 Instead of winching up people from the flight deck as normal, the aviators – more at home hunting submarines – made use of the narrow, rather cluttered space on both sides of the bridge, standing in for similar confined spaces on yachts and fishing boats should St Albans be called upon to rescue seafarers from vessels in distress.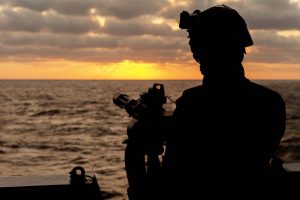 Commander John Cromie, the ship's Commanding Officer, said: "As the UK's Fleet Ready Escort, HMS St Albans spends a significant proportion of her time on patrol far out in the Atlantic. While on patrol it is essential we continue our training in order to prepare ourselves for any eventuality. These activities undertaken in quick succession demonstrate the versatility of a modern warship and its ability to deliver violence to the enemy in one moment and provide essential life-saving assistance the next."
As the UK's very-high-readiness warship, St Albans regularly spends long periods on patrol in the Atlantic, Western Approaches and North Sea. Last year, the frigate spent nearly 250 days away from her base port of Portsmouth.