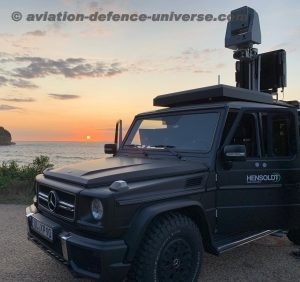 Singapore.11 February 2020. At Singapore Air Show, HENSOLDT and MyDefence announced their cooperation on a delivery of a counter-UAS system for an unnamed Southeast Asian customer. The system will be integrated into anti-drone vehicles to monitor the challenging airspace of urban environments. The order marks another chapter in the success story of HENSOLDT's modular counter-UAS system Xpeller and MyDefence' robust RF-sensors and C2- system.
"Drones are becoming smaller and smaller. In an urban environment, where potential targets are grouped closely together, monitoring the airspace to detect unmanned threats and take action is a crucial and challenging task," explains Markus Wolf, Head of Sales and Business Development at HENSOLDT Ventures. "Our modular approach enables us to easily join forces with partners like MyDefence to offer the customer a perfectly tailored solution for his needs."
The system for the civilian customer consists of one unit of HENSOLDT's Spexer 360 radar. MyDefence from Denmark adds their networked Watchdog 200 Direction Finding radio frequency drone detector (WD200) as well as the command and control alarm system. The system will be used in an urban environment, a new challenge for the counter-UAS solution. The counter-UAS suite allows the user to see a threat detected by the system on a map with an overlay of chosen zones. An alarm is instantly displayed on the server screen.
"Since 2014 we have worked extensively to mature our RF sensing capabilities to detect, classify and locate drones in urban environments, where the wireless spectrum is heavily congested from various types of wireless signals," says Dan Hermansen, CEO at MyDefence. "Through our cooperation with prisons, stadiums and police forces we have created a best-in-class solution that works as stand-alone as well as in larger solutions like Xpeller".
HENSOLDT's modular Xpeller system proved its performance several times in 2019, monitoring the G7 Summit in Biarritz, protecting Paris Air Show in Le Bourget and securing the French national parade on the 14th of July in Paris. MyDefence' RF sensors have been in operational use since 2015 for military and civilian customers, and in largest numbers it has protected soldiers in the US Army at both rural and urban conflict areas.