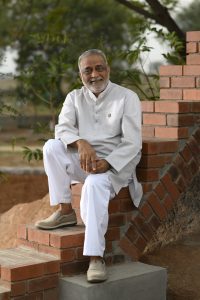 New Delhi. 18 October 2020. What do Air Force stations at Srinagar, Gwalior, Bareilly, Lucknow, Leh and Bengaluru have in common with the Army establishments in Jaipur, Dehra Dun, Roorkee, Srinagar, Kargil, Karu and Leh and with the Naval bases in Cochin and Visakhapatnam? They have all been a part of a strategy in creating soldier resilience by using Heartfulness Meditation. Similar programs have been held at the training workshop in CISF, RTC, Arakkonam, TN, in which more than 800 cadets, staff and families (including 100 from the NDRF) benefitted; TN Special Police 2nd and 5th Battalion in Avadi; BSF HQs, NSG at Manesar and Tambaram, SSB at Ghitorni, GREF at Kargil and Leh, and other Military establishments. Sessions have also been conducted in various training and other establishments of the CRPF across the country including Neemuch, Srinagar, Ambikapur, Delhi, and Raipur.
Kamlesh D Patel (Daaji), Guide of Heartfulness meditation in an exclusive interview with Aviation & Defence Universe (ADU) stated, "the frontline warriors of this nation carry great burden for which we are all grateful. The dangers of their jobs are well known and among each unit, teamwork is indispensable."
ADU. Will meditating on a daily basis make combat easier and war zones more peaceful?
Daaji. First, we recognize the immense dangers of war zones, and are always grateful to the soldiers who risk their lives and serve this nation.
Many people serve in armed forces with the ultimate goal of creating peace. Meditation is an exercise that helps to create peace, and this is accomplished in a few ways. First of all, by taking time each day to connect with ourselves through meditation, we create a peaceful environment within. Additionally, meditation guides us toward rightful action, and rightful action results in peace. Similarly, meditation helps us avoid performing wrong actions, which would otherwise destroy our peace.
ADU. For a soldier both pre-deployment and post return from battlefield times are very stressful. How will meditation help in easing out this situation? Do you think meditation should be a part of training at all levels and what could the curriculum look like?
Daaji. The techniques in the Heartfulness practice: relaxation, meditation, cleaning, and prayer, are all tools that, if applied routinely and consistently, can help to ease stress and anxiety, and other imbalances that impede soldiers from living a healthy life.
Heartfulness meditation teaches us to screen our thoughts—just as we screen our phone calls. When irrelevant or negative thoughts arise, we can simply put them aside and focus on something more productive and appropriate to the present moment. This allows us to maintain clarity, balance, and restfulness in the face of so many challenges.
Another technique in the Heartfulness practice that can help with this is something called Cleaning. We've all emerged from the battlefield of life with various scars and this method helps heal them.
Soldiers can include meditation in their curriculum during their physical therapy hour, perhaps, or early morning. Alternatively, then can do thirty minutes of meditation in the evening, after roll call. If willing, soldiers can also be prepared as volunteer trainers to assist others to meditate.
ADU. Is the need for soldier alone to meditate or for wholesome peace do the people around him also need to practice? Can heartfulness be wholesome therapy for the militaries?
Daaji. We cannot wait for the rest of the world to become peaceful. Peace begins with each of us, with the simple act of meditation. Initially, Heartfulness practice is an individual journey. A soldier meditates on their own and creates peace within themselves; however, that peace must become dynamic and find expression in one's speech and actions. You must be able to share your peace with your unit; but imagine how much greater the effect would be if the entire unit were meditating together.
Teamwork is critical to the movement of an army. When soldiers are connected through the same purpose, their chance of working as one cohesive unit increases. When multiple people meditate together, it facilitates a tightened sense of camaraderie. With a stronger bond, a unit thinks as one, communicates more effectively, and works together in a manner that is more efficient and successful.
ADU. Military strategies of western armies have mindfulness as a part of the training process. How is it different from heartfulness?
Daaji. Heartfulness has also been holding sessions with our armed forces for many years; the practice has proven beneficial as a tool for this high-pressure environment. The main distinction between the two approaches is that mindfulness techniques fabricate temporary states of focused awareness, whereas regular Heartfulness practice creates a permanently meditative mind.
ADU. Is incorporating meditative practices into the defence forces a need of the hour?
Daaji. Meditation is a tool that can successfully support the needs of an armed force. On an individual level, meditation can help a single soldier create increased diligence, develop a calm but focused disposition, enhance communication with their fellow soldiers, and manage stress during periods of high tension and pressure.
When a group of soldiers meditate together, all of those qualities increase and tighten the bond and teamwork between soldiers both on and off of a combat zone.
ADU. How will this form be useful to the mental wellbeing of pilots of the Air forces of the world and sailors who are away from land months on stretch in seas both calm and rough?
Daaji. We recognize the sacrifice and stress that arise from spending months on end at sea, or from being posted far away from family. Meditation is well known for its usefulness in keeping a person balanced and grounded in the present circumstances, whatever they may be, instead of getting lost in future plans or remembering the past. With meditation, one meets all situations with cheerful acceptance.
ADU. Youth join the forces at 18 or 21 which is an age to take stress easily. So can we start stress management at that level?
Daaji. Yes. People can begin practicing the Heartfulness Way as early as fifteen-years-old. Youth are more malleable in adopting new habits. By teaching them how to meditate at an earlier age, they will learn how to handle stress, pressure, and tension at a much faster rate.
ADU. Indian Army has close combat training and the best soldiers both in the fighting and support arms. Do you feel it can be an overboard meditation therapy or para commandos and infantry need a different training from engineer or doctors or other specialists?
Daaji. Every plant — regardless of the type of plant — requires both water and sunlight. A young tree needs water and sunlight just as much as a small flower. Humans are no different. A soldier, para commando, engineer, doctor — everyone needs inner nourishment and balance. Meditation helps everyone find this inner balance.
ADU. Indian forces have training establishments. So, can there be a possibility of collaborating and how can that be managed?
Daaji. We stand ready to cooperate with HQ ARTRAC and conduct training at various levels, i.e. at the entry level in respective centers, within units, and later, in specialized training establishments on specific courses.
ADU. Keeping in mind that yogic transmission with meditation is the key to heartfulness training will it be a challenge to provide preceptors to the defence forces as the soldiers are located in remote areas?
Daaji. Just as there are already teachers of religion posted within each unit, we can provide Heartfulness trainers or even certify existing soldiers who are willing to train their own units in Heartfulness. Additionally, we have thousands of trainers located across the country who can be contacted remotely by phone, SMS, video conferencing, or via our HeartsApp to provide individual or group sessions on a regular basis.
ADU. Can military resilience be improved by the heartfulness way?
Daaji. Yes. Meditation reduces physical and mental fatigue. When a soldier meditates consistently, he will learn to be more self-sufficient, live a balanced and tranquil life, be more productive and energetic, and work enthusiastically with his team to achieve the goals of the unit. When a group of people in a high-pressure environment meditate together, focus and momentum increase. Applying each technique in the Heartfulness Way supports teamwork and cohesion and will improve resilience.
As told to Sangeeta Saxena