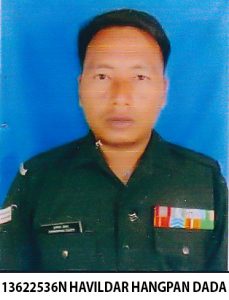 New Delhi. Havildar (Hav) Hangpan Dada was born on 02 Oct 1979 in village Borduria, near Khonsa in District Tirap of Arunachal Pradesh. He was the younger of his two siblings and was always motivated to join the Indian Army. After finishing school he got selected into PARA Regiment. On successful completion of training, he was enrolled into 3 PARA. He reverted to his parent unit 4 ASSAM in Jan 2008.
Hav Hangpan Dada was always known as a soft spoken, God fearing soldier with resolute will and sharp soldierly skills. He married Mrs Chasen Lowang on 28 Oct 2005 and eventually had two children, Miss Roukhin Dada (10 years old) and Mr Senwang Dada (7 years old). Driven by his deep call for adventure and challenging operational life, he volunteered to serve in 35 Rashtriya Rifles in Mar 2016.
On 27 May 2016, the observation post sentry of his company spotted four militants moving into the mountain folds near his post. The company commander called Hav Hangpan Dada and told him to cordon the militants and prevent their escape. While he was deploying the stops, he encountered two militants face to face. In a swift soldierly reflex, Hav Dada pulled the trigger on the ingressing Militants. He instantly dropped one militant dead and grievously injured the other. The injured militant, took cover behind a huge bolder while two others fled down the Nallah.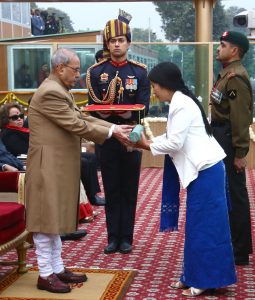 Unmindful of personal danger, fatigue and safety; he chased both the militants using exemplary profession acumen and killed them both. Having eliminated three militants, he now started trailing the fourth who was injured initially. After great efforts he managed to locate him. When 'Dada' was in the process of eliminating him, he got shot in the stomach. Undeterred, by the grievous wound and sensing his end the valorous soldier instructed his team to surround the militant in order to prevent his escape; while he himself rose like a phoenix and charged at him. He unfortunately got shot in the neck area while attempting this and dropped down breathless instantaneously.
For this act of bravery beyond the call of duty, Hav Hangpan Dada was awarded Ashok Chakra posthumously on 15 August 2016. His wife received the award on 26th January 2017 from the Honourable President of India.