Team Harris Speaking To Chaitali Bag At IDEX 2019. (Transcribed Videos)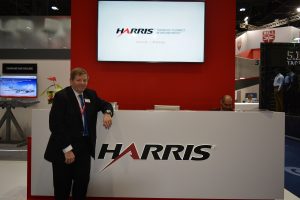 Good morning, my name is Christopher Tucker, I'm the Vice President and managing Director for Harris corporation in the Middle East. I'm coming to you from IDEX, the international defence exhibition here at Abu Dhabi in the United Arab Emirates. Harris is here because the Middle East is one of our major markets for our communications and integrated battle management systems. Harris is the worldwide leader in tactical communications and we have been installing an integrated battle management system here in the UAE and we are looking forward to discussing these programs, with our customers here in the Middle East, so we can continue to expand and provide defence and security capabilities throughout the region.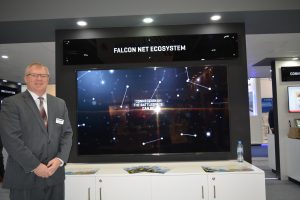 I'm Jeffery Kroon, I'm a senior director of product line management at Harris corporation and I'm here to introduce the falcon net ecosystem. The falcon net ecosystem is a collection of wave forms, radio products, applications and services that all come together to solve the complicated battlefield connectivity problem. In essence, we use a whole suite of our wave phones almost, fifty one in total, for different applications on the battlefield to solve beyond line of sight, line of slight, high capacity and resilient communications problems. We do that with a whole family of radios, in the air, on the ground and unmanned vehicles to be able to inter operate seamlessly across the battlefield. We call this an ecosystem because we manage it all as one technical solution, so all the pieces come together are easy to configure, easy to deploy and operate. That's really what the ecosystem is all about from Harris corporation.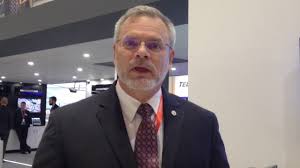 Good morning, I'm Eric Hansen, I'm the business development manager for international weapons release systems for Harris corporation. Today I'm going to talk a little bit about our Brut 57, it's a bomb release unit. What this system does is, it allows combat aircraft like the F16 or the F18, to carry twice as much ordnance as they would normally be able to carry. That's beneficial for pilots, because it makes them safer, they can get up in the air at once. They can use the types of weapons that this fires, which are joint direct attack munitions. They are GPS enabled, they are also laser guided and because of those capabilities they're able to release them in a much wider area, which gives them more options for a safe approach to the target and then egress, egress the target or return from the target.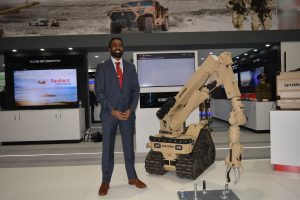 Hi, my name is Vivek Thanbal and I'm an engineer with Harris corporation. We have created this product here. This is is the T7, multi mission robot. This is primarily used for the IED defeat mission, so any improvised explosive device, this is the system that could handle it, this system in particular is very ruggedised. It can operate in hot temperatures up to 60 degrees C and to cold temperatures down to minus 20 degrees C. The abilities of this system include intuitive motion control which allows the operator to very easily learn how to manipulate very finely and accomplish very complex tasks. Our system is capable of doing haptic feedback, meaning that the operator can feel what the robot also feels essentially the robot becomes an extension of the operator, this allows the operator to complete their mission in faster times than with previous systems. This is a state of the art robotic system and will allow any defence operation to go smoothly.
Our Harris T7 system is a state of the art robot that can complete the most complex IED defeat mission, it can operate in all climate conditions, from the coldest to the hottest of minus 20 degrees C, all the way up to 60 degrees C. The reliability and ruggedness of this system allows it to continue operating for many, many missions. In addition,the training is very quick in only one week, our users can learn how to operate the system and maintain the system for the life of the product. The United Kingdom has adopted this robot as their new large DoD defeat robot for the next 10 to 20 years, they will be using this system for their operations outside of the country of the UK. Given this we are taking this robot and we want to bring it to the rest of the world as well, to provide our operators and our armed forces. The tools they need to complete their missions and protect their citizens.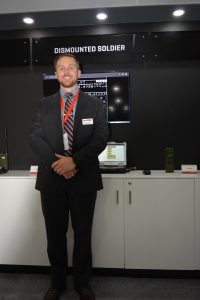 Hi, my name is Michael Kalusz, I'm the product line manager at Harris corporation for RF78 50S soldier radio. This radio is great for your squad platoon level operations. It operates in both a UHF and VHF band. It's really ideal for a soldier that needs to keep their hand on their weapon or whatever they're doing in the operational battlefield, because it has no buttons on it, that can be, messed up during operation. What we are showcasing here at IDEX, is the ability to incorporate things like custom applications. Here, we have an Arabic KDU, so users whose native language isn't English, this makes it much easier to use the radio for building their mission plan and changing configurations on the radio. We also have Wi-Fi and Bluetooth in the radio, so we can do things like connect wireless, push to talk devices, which means less cables for the soldier to carry, so they can focus on the mission, that's at hand and not have to worry about cables interfering.