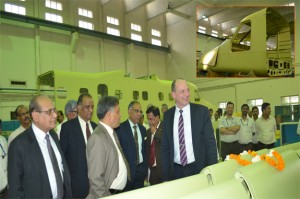 Bengaluru, March 11, 2016. HAL has handed over the first ship-set to RUAG, Germany at a function held at its Transport Aircraft Division (TAD) at Kanpur recently, as part of export orders for structural assemblies of Do-228-212 NG (New Generation).
"We have manufactured and supplied the ship-set in a record time, ahead of schedule commitment", says  T. Suvarna Raju, CMD, HAL. This is the first of the four ship-sets for which HAL had received the export order only about four months ago.
RUAG is a Swiss technology company with its headquarters in Bern and it is OEM of Dornier-228-NG aircraft. HAL has manufactured these ship-sets at its Transport Aircraft Division, Kanpur and exported them to the OEM.
Volker Wallrodt, MD- RUAG and his team of senior officials were present at the handing-over program. Speaking on the occasion, both  Raju and Wallrodt felt that the business alliance has been rewarding for both the Companies in terms of technological advancement and costs. They stressed on strengthening the ties with continued mutual support and cooperation by exploring more avenues and business opportunities in larger interests of both the companies.
HAL is also exploring cost reduction to make the aircraft viable for more export opportunities and internal civil operations.HAL's Kanpur division has produced more than 120 aircraft for the IAF, Navy, Coast Guard and to other export customers in Mauritius and Seychelles.  The Company has plans to upgrade these aircraft.  HAL Board has sanctioned for manufacture of two civil Dornier aircraft. HAL intends to operate from its own airport at Nasik.
HAL Kanpur has received Directorate General of Civil Aviation (DGCA)'s approval for manufacture of Dornier (Do-228) aircraft in civil role in accordance with India's Civil Aviation Requirement (CAR 21G). HAL has achieved an important milestone by becoming a production organization for Dornier (Do-228).
Rajiv Kumar, CEO, HAL's Accessories Complex (Lucknow) and  M M Tapase, GM, Kanpur congratulated the employees for setting high standards in terms of quality and delivery schedules.