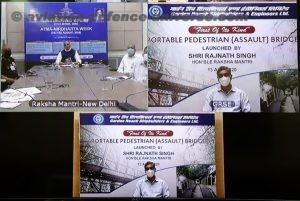 Kolkata. 13 August 2020. Moving forward with the Atmanirbhar Mission, Garden Reach Shipbuilders and Engineers (GRSE) Ltd., a Miniratna Category 1 Defence PSU and premier warship builder of the nation, launched a "First of its Kind" Portable Bridge (Assault) .
The Bridge was virtually launched by Rajnath Singh at GRSE's 61 Park Unit, Kolkata. This is a major milestone towards achieving Self Reliance. Rear Admiral VK Saxena, IN (Retd.), Chairman& Managing Director, GRSE, Cmde. Sanjeev Nayyar, IN (Retd), Director (Shipbuilding), Cmde. P R Hari, Director (Personnel) & R K Dash, Director (Finance), and Senior Officials of GRSE were present on the occasion.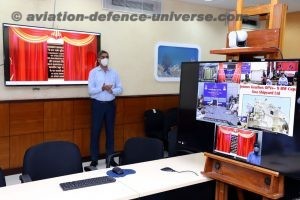 Apart from shipbuilding & ship repair, GRSE is the only Defence Shipyard to have diversified into Engineering Business with a product profile of Pre-fabricated Steel Bridges. Bailey Bridge Unit of the shipyard is engaged in designing, developing and installing bailey bridges to far flung areas& terrain in India and abroad having delivered over 5300 Bailey Bridges to Indian Army, BRO, Central and State PWDs and also friendly neighbourhood countries like Bhutan, Nepal, Sri Lanka and Myanmar. Recently, the Bailey Bridge division has designed and developed a new product, the "Portable (Assault) Bridge". This bridge is made of Carbon Fibre Polymer Composite Material and can be used by pedestrians & light vehicles.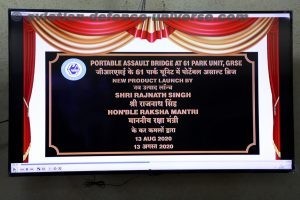 The salient features and advantages of this assault bridge is that it has a span of 30 ft (9.15 m), width of 2.10 m and weight of 336 kg. It also has a load capacity of IRC-6, 400 kg/sqm (Foot Bridge) & 1.10 MT of ATV.The bridge is Man – Portable and reusable using Crew of 10-12. This Assault Bridge will be an ideal solution for Forward Areas and Disaster Relief Management.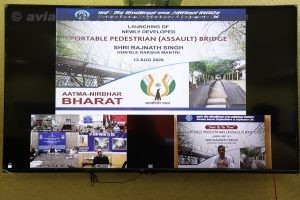 Garden Reach Shipbuilders and Engineers has been at the forefront of the nation's maritime progress aimed towards self reliance in the sixty years since its inception in 1960with the delivery of the first Indigenous warship of independent India in 1961, INS Ajay, a Seaward Defence Boat for the Indian Navy. The shipyard has delivered 105 warships to the Indian Maritime Forces, the highest deliveries by any shipyard in the country, till date.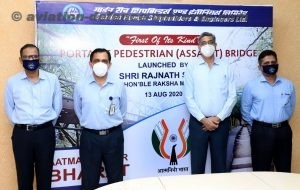 GRSE has undertaken major modernisation of infrastructure at its Main Unit with modular integrated construction technology. Celebrating the "Atmanirbhar Bharat Abhiyaan", a State-of-the-Art Modern Hull Block Complex and Indigenous Underwater CNC Plasma Cutting Facility was virtually inaugurated by Rajnath Singh at the Rajabagan Dockyard Unit of GRSE on 10 Aug 2020 to augment the existing infrastructure at the Main Unit of the shipyard.
Thus a step towards concurrent construction of 24 ships from the existing capacity of 20 has been initiated. GRSE has a dedicated, multi disciplinary, strong Design Team which is continuously working towards developing various concept designs for ships, deck machinery items and pre fabricated bridges that can cater to the current and future requirement of its existing and prospective customers in India and friendly foreign countries.
GRSE continues to strive towards Indigenisation and self-sufficiency in all its future projects focussed on its core verticals of shipbuilding, engineering and engine production.