Interactive Media Workshop for Civil Aviation Correspondents Organised
Aviation Jobs Portal Launched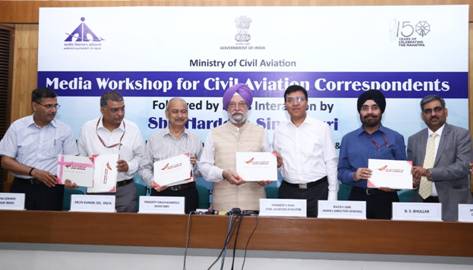 New Delhi. 31 August 2019. Hardeep S Puri, the Ministerof State (I/C) for Civil Aviation has stated that the government is moving in the direction to make India a MRO and leasing Hub. He was addressing a press conference at the conclusion of a workshop organised for the media persons covering the Civil Aviation sector
On this occasion the Minister also released an Air India Book titled "Air India- Celebrating India through Images". He alsolaunched the 'Aviation Jobs Portal''- a unique web-based portal which brings together job seekers and prospective employers in the Indian civil aviation sector. The Portal can be accessed at the following link:http://aviationjobs.co.in/
The workshop began with an overview of the sector provided by P.S Kharola, Secretary, Ministry of Civil Aviation and was followed by presentations from Anuj Agarwal, Chairman, Airports Authority of India, Arun Kumar, Director General of Civil Aviation, AshwaniLohani, CMD, Air India andi Jyoti Narayan, Jt DG, Bureau of Civil Aviation Security. B.S. Bhullar, Chairman, AERA and senior officials of the Ministry also attended the workshop. More than 100 senior media persons covering the sector attended the workshop.
Addressing the media persons Kharola said that the fast-paced growth of Indian economy is reflected in ever increasing passenger and cargo traffic at Indian airports. Double digit growth is registered in passenger traffic consistently during the last five years. Not only airports in Metro cities, but other major airports are also witnessing growth. According to IATA, India is poised to become the third largest aviation market by 2024. The same is reflected in terms of growth rate of 11.1% and 15.3%.for aircraft movements and passenger traffic respectively during the last five years (2014-19) he said.
Anuj Agarwal, Chairman Airports Authority of India while making a presentation said that the Airports Authority of India has made rapid strides during the past 5 years. Air traffic in India continues to grow rapidly and this trend is likely to continue in the future. Airports Authority of India has up scaled the services and systems to ensure efficient, smooth and uninterrupted air traffic management. Some of the major new initiatives taken during the last five years are
Implementation of Central-Air Traffic Flow Management System at IGIA, New Delhi.
Implementation of Mobile tower at Eight RCS Airports.
Implementation of Ground based Augmentation system (G-BAS) at Chennai Airport
Among other achievements, he said that 4 new greenfield airports viz., Durgapur, Shirdi, Pakyong and Kannur have been operationalised during 2014-2019. To provide more international options from Indian airports, 3 more airports viz Tirupati, Vijayawada and Kannur have been designated as international airports. Surat and Indore airports have been notified as Customs Airport. The sector has generated tremendous employment opportunities. AAI has recruited 6906 personnel in various disciplines in last 05 years (2014-19) as compared to number of candidates recruited being 4860 during the period of 10 years (2004-14).
He also added that AAI has launched and Implemented Online No Objection Certificate Application System (NOCAS) for giving height clearances for the construction of the building around any airport across the country in an efficient, transparent and accurate way. The Airports Authority of India has implemented DigiYatra, which is a Bio-metric e-boarding system with a facial recognition facilitating seamless passenger movement across multiple touch points at airport terminal building. It is being implemented at 4 AAI airports viz: Kolkata, Pune, Varanasi and Vishakhapatnam.
The Government has launched Air Sewa web portal and mobile app providing a common platform to all the stakeholders for handling customer grievances and disseminating real-time data about flight status and airports. During the period of ten years (2004-14), the Instrument Landing System of Category III was installed at only one airport whereas over period of five years (2014-19), four more airports namely Jaipur, Lucknow, Amritsar, Kolkata got equipped with ILS CAT-III making these airports fit for efficient operations in low visibility conditions like fog, rain and snow.
Ashwini Lohani,CMD,Air India during his address said that Air India Group operates 159 aircraft and commenced new/increased frequencies at 83 domestic and 51 international destinations, and established 35 UDAN routes in the last 5 years. The Revenues have grown from Rs.16,000 crore during 2012-13 to Rs.23,900 crore in 2017-18 while the passenger load factor has increased from 72% to 79.6%.Air India has record number of women pilots i.e. 11% of total strength of pilots compared to average 2-3% even in advanced countries. The Air India Engineering Services Ltd (AIESL) has set up a state of art Aircraft Maintenance Engineer (AME) Finishing School in collaboration with Boeing at Mumbai for facilitating undergraduate training programmes as well as advanced programmes in Aviation Maintenance, he added and said that in line with Government's "Make in India" initiative, AIESL has entered in to MRO Services agreement with several airlines for Maintenance of their aircrafts in its facilities.
Arun Kumar, Director General of Civil Aviation gave an overview of the organisation's endeavour to promote safe and efficient Air Transportation through regulation and proactive safety oversight system.