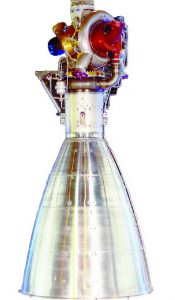 New Delhi, February 16, 2017: In a massive show of strength and prowess, ISRO's PSLV C37 rocket has successfully launched 104 satellites, the most in a single mission anywhere in the world. This was a mammoth leap from the previously held record of 37 satellites by Russia in 2014 and 29 by NASA in 2013.
This historical achievement by ISRO has placed India in a new orbit amongst the space faring nations. Godrej Aerospace (GA), a business unit of Godrej & Boyce Mfg. Co. Ltd., has contributed to the mission by manufacturing critical systems and components for the launch vehicle. The second stage liquid propulsion engine and the fourth stage reaction control system components for the launch vehicle were manufactured by GA.
Speaking on the announcement ISRO Chairman A S Kiran Kumar said, "All 104 satellites successfully placed in orbit. My hearty congratulations to the entire ISRO team for the wonderful job they have done." He further added, "Now we are targeting GSLV MkII and then Mk III…A series of launch activities planned to ensure like last year this year also we have many exciting events coming."
Mr. Kaustubh Shukla, Chief Operating Officer, Industrial Products Group, Godrej & Boyce added, "Godrej Aerospace is proud to be partnering with ISRO since 1985 on several break-through missions including the record that was set today. It is remarkable that out of 104 satellites, around 100 are from foreign countries including the United States, UAE, Israel, Netherlands, Kazakhstan and Switzerland. This proves that India is trusted globally for its technology, innovation and capabilities, which has become a mark of 'Make in India'. "
The PSLV is a remarkably versatile rocket capable of launching 1.4 tonne class satellites. Having proven its reliability in its 37 previous launches since 1993, this launch will help ISRO garner more business in the multi-billion-dollar commercial satellite launch market.
For over three decades, GA has been associated with ISRO including for complex systems such as liquid propulsion engines for PSLV and GSLV rockets, thrusters for satellites and antenna systems. GA was also an integral part of the prestigious Chandrayaan and Mangalyaan missions. The company has been committed to the cause of indigenous manufacturing for India's space programs, and at Godrej & Boyce, partnering the Indian space program is another way to propel India's technological prowess.