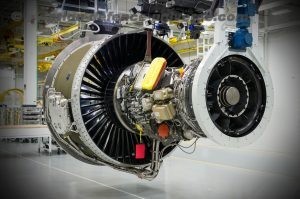 Paris. 19 June 2019. GKN Aerospace announced at the Paris Airshow that it has expanded its Risk and Revenue Sharing Partnership (RRSP) with Pratt & Whitney, a division of United Technologies Corp., for the PW1500G and PW1900G engines, adding the Fabricated Fan Case Mount Ring and the Fan Spacer to its workshare. These systems will feature GKN Aerospace's latest technologies on additive manufacturing (AM) and composites. Process automation technologies enable high rate production in Trollhättan (SE), Newington and Cromwell (USA).
The original RRSP agreement for the PW1900G engine that powers the Embraer E190-E2 aircraft, and the PW1500G engine that powers the Airbus A220 aircraft, represents a share in the engine program. Under the agreement GKN Aerospace is responsible for the design and manufacture of the turbine exhaust case (TEC) and intermediate compressor case (IMC) along with the manufacture of the engine's low pressure turbine (LPT) shaft. This contract expands GKN Aerospace's involvement in these programs and reinforces the company's role as a long-term supplier of engine components for Pratt & Whitney.
GKN Aerospace also has RRSPs in place with Pratt & Whitney for components for the PW1100G-JM engine which equips the Airbus A320neo family aircraft, and the PW1200G engine for the Mitsubishi Regional Jet (MRJ). Component commonality across the GTF engine family speeds development, simplifies certification and eases maintenance for Pratt & Whitney and its operator customers.
Joakim Andersson, CEO GKN Aerospace Engine Systems said: "This agreement is a milestone and it reaffirms the success of the engine participation programs. We are proud to be part of the P&W team and to expand our longstanding relationship. GKN Aerospace's Technology enables a huge reduction in source material use, and lifecycle energy cost, contributing to reduced CO2 emissions in the manufacturing process. This represents the largest fully automated deposition of AM to be certified on commercial aircraft and is a huge milestone for GKN Aerospace in the use of this exciting technology, paving the way for many opportunities to come."
"We look forward to continuing our partnership with GKN Aerospace," said Dave Emmerling, vice president, Strategy & Business Development at Pratt & Whitney. "Since entering service in early 2016, the revolutionary GTF engine family has delivered on its promised ability to reduce fuel burn by 16 to 20 percent, and to significantly reduce regulated emissions and noise footprint."