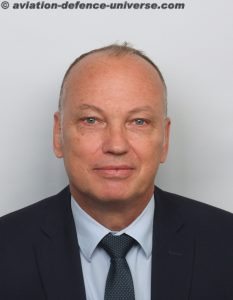 August 1st, 2023, Corps General of the French Air and Space Force Frédéric PARISOT will become the new Managing Director of GIFAS – the French Aerospace Industries Association, chaired by Airbus CEO Guillaume FAURY.
Frédéric PARISOT joined GIFAS on May 15th, 2023, amidst the preparations for the 54th Paris Air Show, which is set to be held at Le Bourget airport from June 19 to 25th, 2023.
Frédéric PARISOT will be replacing Pierre BOURLOT, who originally took up this position in 2012 and is now set to retire on August 1st.
As a former student of the Ecole de l'Air (France's air and space military school) and former Auditor for IHEDN (France's Institute for Advanced Studies in National Defence), he boasts over 3,000 flying hours, including 2,400 hours aboard Mirage 2000 and F-18 fighter aircraft. He has participated in 81 war missions in hostile territory.
In 2021, he was promoted to Major General of the French Air and Space Force.
After taking on several operational roles, he became Deputy-Head of Office for the "LPM Aggregate – French Military Programming Law" within the Financial Affairs Directorate of France's Ministry of Defence in 2001. He then went on to become the Military Assistant to the Chief of Staff of the French Air Force in 2004.
From 2011 to 2013, he acted as a Rapporteur, affiliated to France's Defence Staff, in the context of the Commission for France's 2013 White Paper on defence and national security. From 2013 to 2017, he assumed the role of Air Deputy to the Chief of Military Staff of France's President of the Republic.
In 2017, Frédéric PARISOT was appointed Director of Civil-Military Co-operation and Chief French Representative for Operation "Inherent Resolve", within the framework of France's Operation "Chammal" in Iraq.
In 2018, he became Deputy Chief of Procurement and Future Requirements for France's Air and Space Force Staff.
Frédéric PARISOT is an Officer of the National Order of the Legion of Honour, a Commander of the National Order of Merit and holds the Cross of Military Valour and the Aeronautical Medal.