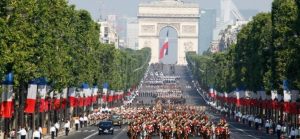 ADU wishes the French Pavilion at DEFEA 2021 a happy National Day
Athens, Greece. 14 July 2021. In a few hours from now Dassault airplanes will fly over the Champs-Élysées in Paris from 10:35 a.m. for Bastille Day, the national day of France which is formally called Fête nationale and commonly and legally le 14 juillet .
The French National Day is the anniversary of the Storming of the Bastille on 14 July 1789, a major event of the French Revolution, as well as the Fête de la Fédération that celebrated the unity of the French people on 14 July 1790.
Bastille Day, which is a national holiday in France, celebrates the actions of a mob of Frenchmen, tired of the rule of their king, who stormed a prison to get weapons and free prisoners. It marked the start of the French Revolution. Celebrations are held throughout France. One that has been reported as "the oldest and largest military parade in Europe"is held on 14 July on the Champs-Élysées in Paris in front of the President of the Republic, along with other French officials and foreign guests.
The Bastille Day military parade is the French military parade that has been held in the morning, each year in Paris since 1880. While previously held elsewhere within or near the capital city, since 1918 it has been held on the Champs-Élysées, with the participation of the Allies as represented in the Versailles Peace Conference, and with the exception of the period of German occupation from 1940 to 1944 (when the ceremony took place in London under the command of General Charles de Gaulle); and 2020 when the COVID-19 pandemic forced its cancellation.
The parade passes down the Champs-Élysées from the Arc de Triomphe to the Place de la Concorde, where the President of the French Republic, his government and foreign ambassadors to France stand. This is a popular event in France, broadcast on French TV, and is the oldest and largest regular military parade in Europe.[6][7] In some years, invited detachments of foreign troops take part in the parade and foreign statesmen attend as guests[. Smaller military parades are held in French garrison towns, including Toulon and Belfort, with local troops.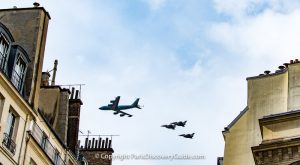 The schedule for today is as follows:
Opening: Patrouille de France with 9 Alpha Jet (Big Nine formation)
80 years of the first units of the Free French Air Forces (FAFL): 1 Mirage 2000 C and 2 Rafale
30 years of Operation Daguet: 1 KC-135, 1 Mirage 2000 C and 1 C160 Transall
60 years of the DGA (French Defense Procurement Agency): 1 Mirage 2000 B and 2 Alpha Jet
Mastering the airspace: 1 E-3F Awacs, 4 Mirage 2000-5 and 2 Mirage 2000 B
Acting in depth: 1 A330 Phénix, 6 Mirage 2000D, 4 Rafale C and 2 Rafale B
Dissuading (Strategic Air Forces): 1 A330 Phénix and 6 Rafale B
The Airborne Group (GAé): 1 Hawkeye and 8 Rafale M
Maritime patrol: 1 Falcon 50M and 2 ATL2