Nation mourns its stalwart politician & great statesman
A man loved across party lines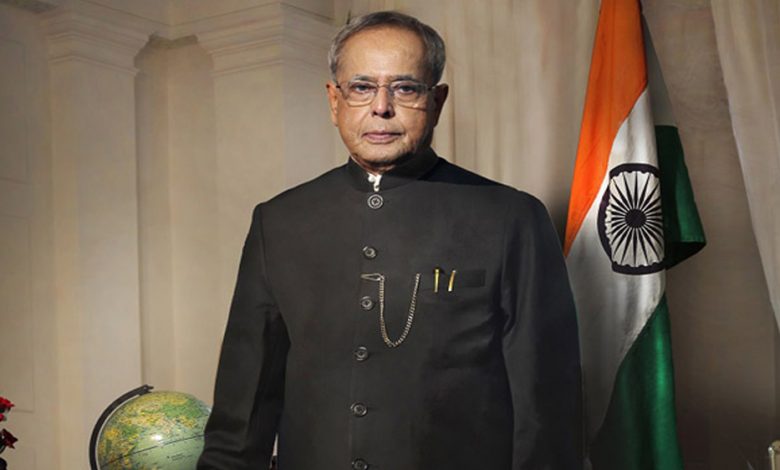 New Delhi. 31 August 2020. Former President of India Bharat Ratan Pranab Mukherjee merged with the brighter world . India today lost a great statesman and a stalwart politician who was loved across party lines.
During the COVID-19 pandemic, on 10 August 2020, Mukherjee announced on Twitter that he had tested positive for COVID-19 prior to his surgery to remove a blood clot in his brain. He was admitted to the hospital after accidentally slipping and falling in his bathroom. He was on ventilator support and in critical condition at the Army's Research and Referral (R&R) hospital in Delhi, where he breathed his last post going in coma.
He held a number of key cabinet portfolios in Prime Minister Manmohan Singh's government – Defence (2004–06), External Affairs (2006–09) and Finance (2009–12) – apart from heading several Groups of Ministers (GoMs) and being Leader of the House in the Lok Sabha, before becoming the President of the nation. In 2017, Mukherjee decided not to run for re-election and to retire from politics after leaving the presidency due to "health complications relating to old age." His term expired on 25 July 2017.
Dr. Manmohan Singh appointed Pranab Mukherjee as the Minister of Defence of India when the Congress came to power in 2004. Mukherjee held the post until 2006. He expanded co-operation with the United States during his tenure and in June 2005 had inked the ten-year Indo-US Defence Framework deal. As an astute statesman he maintained all along that Russia will remain India's 'topmost' defence partner. He asserted that "Russia has been and will remain India's largest defence partner in the years to come" while inaugurating the 5th session of the Indo-Russian Inter-Governmental Commission on Military-Technical Cooperation (IRIGC-MTC) in Moscow in 2005. In an era when defence ties were priority, he ensured old friends and new allies were balanced with goodwill and friendship.
Pranab Mukherjee was appointed the External Affairs Minister of India in 1995. Under his leadership, India was made "Full Dialogue Partner" of ASEAN as part of the Look East foreign policy initiated by Narasimha Rao. For the second time he became the External Affairs Minister in 2006. He oversaw the successful signing of the U.S.-India Civil Nuclear Agreement with the US government and then with the Nuclear Suppliers Group, allowing India to participate in civilian nuclear trade in spite of not having signed the Nuclear Non-Proliferation Treaty. Mukherjee played a crucial role in mobilising world opinion against Pakistan after the 2008 Mumbai attacks. When asked what legacy he wanted to leave behind as Foreign Minister of India, Mukherjee replied, "As the [man] who prepared Indian diplomacy to address the challenges of a more globalised, interdependent and uncertain world."
The portfolio he got the maximum number of times was Finance. Pranab Mukherjee's first stint as the Finance minister of India was during the Indira Gandhi government in 1982. He presented his first annual budget in 1982–83. Mukherjee's first term was noted for his work in improving the finances of the government and for successfully returning the last instalment of India's first IMF loan. Mukherjee signed the letter appointing Manmohan Singh as the Governor of the Reserve Bank of India in 1982. Mukherjee returned to handling the finance of India during the premiership of Narasimha Rao. He was appointed the Deputy Chairman of the Planning Commission. Since the Prime Minister of India happens to be the ex-officio chairperson of Planning Commission of India, the position of the deputy chairperson has great significance.
Mukherjee again became the Finance Minister of India in 2009. He presented the annual budgets in 2009, 2010 and 2011. The 2010–11 budget included the country's first explicit target to cut public debt as a proportion of GDP and Mukherjee had targeted a budget deficit reduction to 4.1% of GDP in the fiscal year 2012–13, from 6.5% in 2008–09. He implemented many tax reforms. He scrapped the Fringe Benefits Tax and the Commodities Transaction Tax.
Pranab was educated at the Suri Vidyasagar College (then affiliated with the University of Calcutta), and he later earned an advanced degree in history and political science as well as a law degree from the university. In 1963 he accepted a teaching position at a small college near Calcutta (now Kolkata) that was associated with the university. He also became editor of a Bengali-language monthly periodical and, later, worked for a weekly publication.
It was a long walk from the dust laden streets of Mirati in West Bengal to the Rashtrapati Bhawan via both South and North Blocks. Pranab da as he was fondly called , was still rooted both to his home town and political constituency. He had the distinction of being a hands on politician, a deep analyst, a voracious reader , the friend in need and a friend indeed all rolled into one. His political acumen, understanding of matters military, bilateral ties and international polity, humane aura, easy accessibility and problem solving attitude made him not only a strong pillar of the Congress party but also a great asset to the nation on international platforms.
An era actually passed away today with him. It was an era of straight forward old school politics with an scholarly mindset, amicable persona, respect for a strong opposition, active listening , analytical thinking and strong projection with nationalism as the beacon. The nation will always remember with respect and pride its former lovable President and a man of the masses Bharat Ratan Pranab Mukherjee.